Tag Archive for Karma Leigh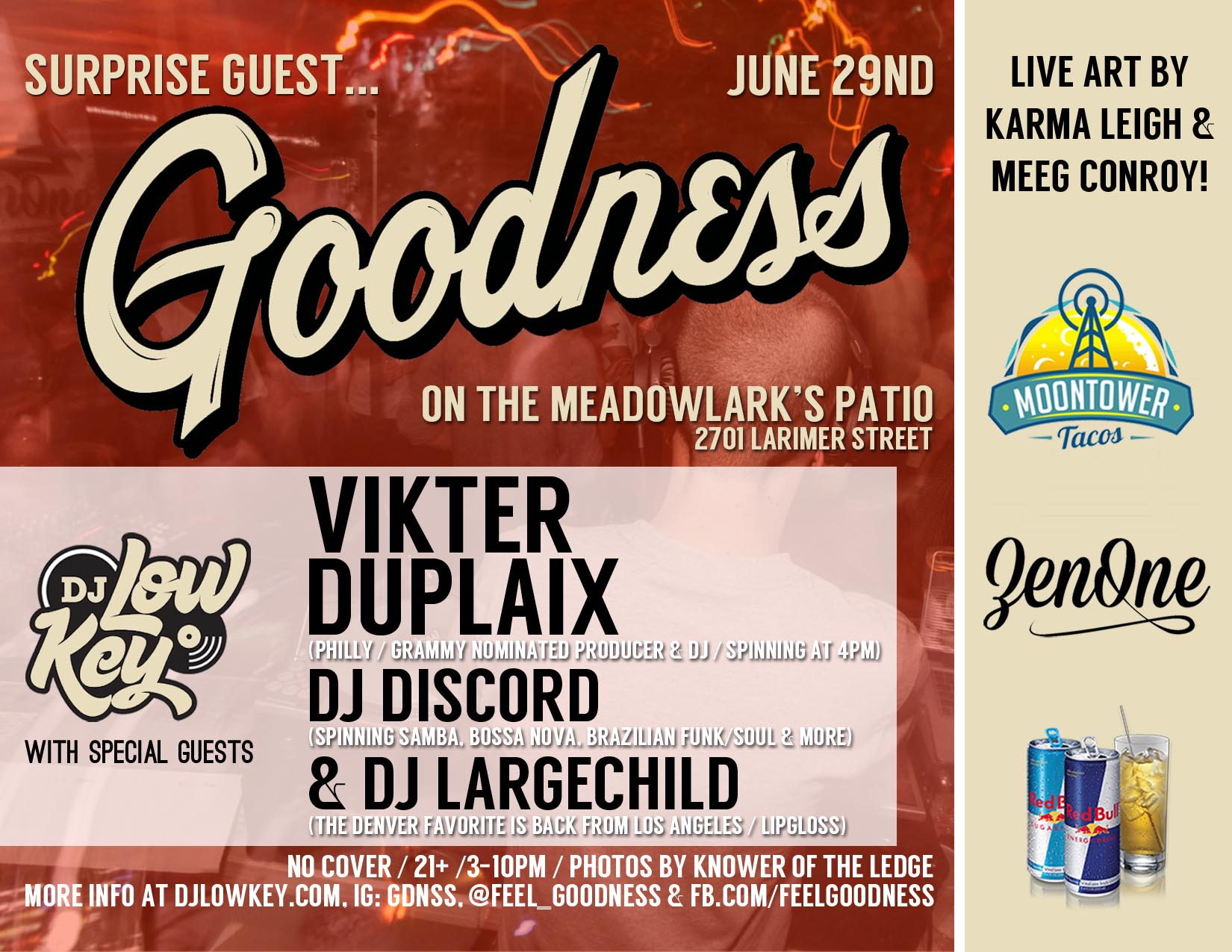 UPDATE: Double surprise! We've got legendary, Grammy-nominated DJ/producer Vikter Duplaix (Master Of The Mix/Kiss-N-Grind) & Colorado favorite DJ Largechild in from Los Angeles to rock for y'all!!! They'll be joining me & DJ Discord on the turntables for what should be an incredible day of music!
SUNDAY, 6/29 from 3-10pm -> Summer's in full swing, Goodness w/DJ Low Key & friends has been on a roll lately and things are just getting better. This time around, I'm GEEKED to be featuring a surprise guest who's a bit of a DJ legend throughout the world, a person who's renowned for their DJ skills, first and foremost, and someone you don't want to miss. We'll be announcing who it is the morning of the party and the mystery guest will be rocking at 4pm sharp, so make sure to come out early so you don't miss it. On top of the surprise guest, I'm super excited to be welcoming DJ Discord back to Goodness. Discord is the infamous Crunk Brother who's blessed the party with an amazing mix of samba, bossa nova, Brazilian funk & soul plus more from his numerous pilgrimages to South America to dig for records in years passed and he's back with even more fresh music we've never heard.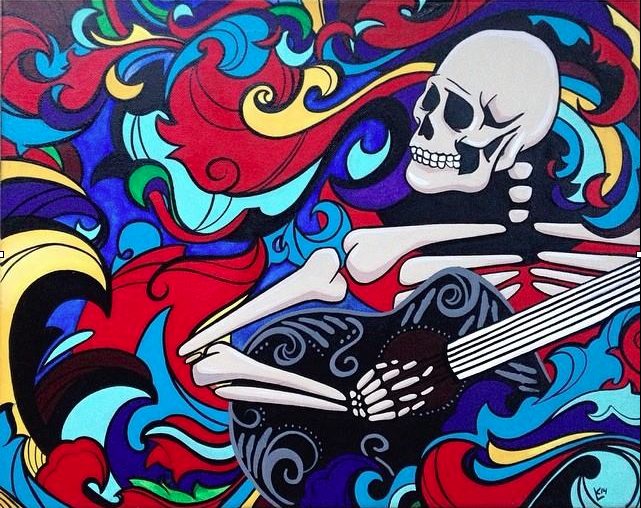 As if that wasn't enough, we've got renowned Denver artists Karma Leigh & Meeg Conroy coming down to bless your eyes and the party with some live art!!!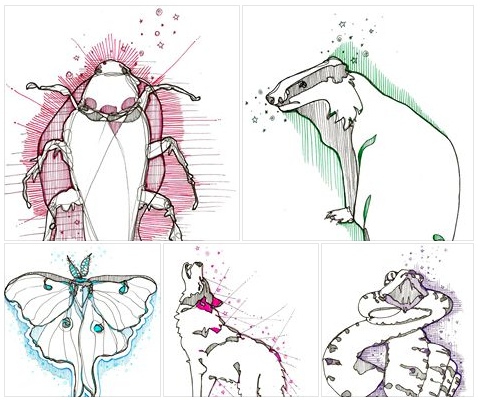 As usual we've also got complimentary stadium style Goodness cups for the first 25 people to get drinks, as well as complimentary buttons for everybody! And of course, Moontower Tacos will be out front making their incredible, uniquely tasty tacos to fuel the party, making the cipher complete.
Goodness/Solution photographer Knower Of The Ledge will be taking pics of the party (follow us on Instagram: @GDNSS), El Chingon is brewing refreshing agua frescas for us, ZenOne will be back & more on the Meadowlark's constantly improving patio (2701 Larimer St), come rock with us!!! No cover / 21+ / 3-10pm.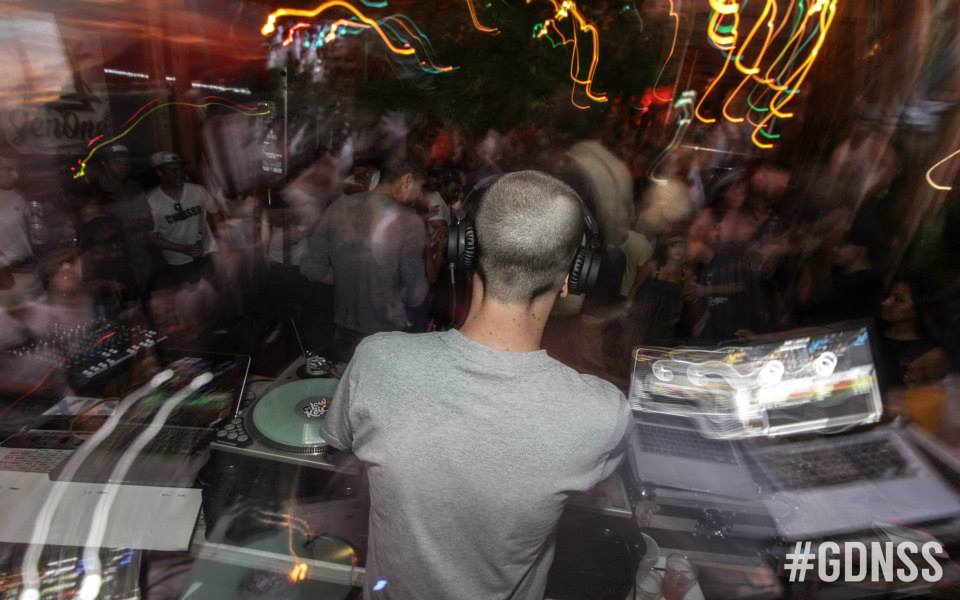 FRIDAY, 2/28 at 7pm -> We're excited to be wrapping up a ridiculously fun month of events for #TheSolution7 in grand fashion (no pun intended…LOL) with a the first ever Solution Beat Swap & Fashion Show!!! We'll be combining music and fashion with styles by Akomplice Clothing, Family Affair, Karma Leigh & Xencs L. Wing, records by ten top Denver diggers and both gear and vinyl from the lovely ladies at Judith & Joe Fashion & Records mobile boutique. We teamed up with the crew at Akomplice for sample sale back in December, which was a hit despite sub-zero temperatures all night, so we decided to bring back the sample sale for round 2; with a great selection of one of a kind items, rarities and more great Akomplice gear on sale at deeply discounted prices (tip: come early at 7pm for the choicest record & gear selections).
Combining music and fashion is just the start though, Moontower Tacos will be back at the Meadowlark too, bringing their uniquely delicious Austin-style tacos to the party. Solution residents DJ Low Key & Lazy Eyez will be on the turntables, Knower Of The Ledge will be catching the fun on film and the night's gonna be so much that we're gonna start early at 7pm. Should be a perfect way to cap off a fantastic month of events to celebrate our 7 years of bringing Denver the best in hip hop & lots more, hopefully we'll see you there!!! 2701 Larimer St / 21+ / No cover until 11, only $5 after.  More info on the party on Facebook/Twitter/Tumblr/Instagram.
Category:
Uncategorized
/ Tags:
#TheSolution7
,
Akomplice
,
DJ Low Key
,
Family Affair
,
Judith & Joe
,
Karma Leigh
,
Knower Of The Ledge
,
Lazy Eyez
,
Moontower Tacos
,
The Meadowlark
,
The Solution
,
Xencs L. Wing

FRIDAY, 2/7 -> 7 years!!!!!!!!!!!!!!!!!!!!!!!!!!  We're honored.  It's hard to believe that our little party's been around in some way, shape or form for so long, but time flies when you're having fun & who are we to complain.  We invited a bunch of our talented friends down to join in the fun, check it:
-Special guest, Solution co-founder DJ Sounds Supreme joins Solution residents DJ Low Key & Lazy Eyez on the turntables!
-Knower Of The Ledge aka Armando, Joe Blizzy & Blake Jackson's birthdays!
-Works from ridiculously talented artists Michael Coriano & Karma Leigh!
-Judith & Joe Fashion & Records!
+ more TBA at the Meadowlark!!!
Based on 6 previous anniversary parties, it should be one to remember at "Denver's best hip hop party" (c) Dear Denver, come see why!  2701 Larimer St / 9pm / 21+ / No cover until 11, only $5 after.  More info on the party on Facebook/Twitter/Tumblr/Instagram.
P.S.  This Friday also marks one year since our return to weekly status, at our home, the award-winning Meadowlark!  HUGE shout to the entire staff for letting us take over Fridays!!!
FRIDAY, 12/20 -> Lazy Claus is back!!!  That's right, everyone's favorite chimney hopping Asian DJ returns to The Solution and this Friday is your chance to get a pic with him (no sitting on his lap though, he's got a girl!) at the Meadowlark.  Him & DJ Low Key will be rocking turntables and giving out gifts throughout the night, as we celebrate the holiday season and a great year in 2013.  We'll also be welcoming our friends Karma Leigh, Xencs L. Wing & Knower Of The Ledge back with their super fly assortment of jewelry, prints & other goods to make your holiday shopping experience easier, more fun and a little cooler (not to mention it's a great way to support local entrepreneurs and keep money in the community, all while avoiding the madness of the mall while sipping a drink; what a win-win!!!).  Party photographer Knower Of The Ledge will be on-site doing double duty, taking your pic with Lazy Claus for our Instagram (@DenverSolution) & Facebook pages. Enclosed heated patio / $5 Red Bull & Svedka / 21+ / No cover until 11, only $5 after / 2701 Larimer St / More info on the party on Facebook/Twitter/Tumblr/Instagram.
Last but not least, in case you missed the release party for our second limited edition Art Of Records tee last Friday, with acclaimed Denver artist Gabe "Filthe" Parra and our favorite boutique in town, Family Affair; it's not to late to pick one of the last few remaining Tribe Called Quest Midnight Marauders-inspired tees.  Last week we sold out of some sizes, but last time we checked, there were still a few medium, large & extra larges available.  We'll have them at the party on Friday, but you can also order one online at FamilyAffairDenver.com.  There were only 25 initially available last week and once they sell out, they're gone forever; so make sure to get yours today!!!
.:ORDER ONE OF THE ART OF RECORDS FILTHE x THE SOLUTION x FAMILY AFFAIR LIMITED TEES AT FAMILYAFFAIRDENVER.COM:.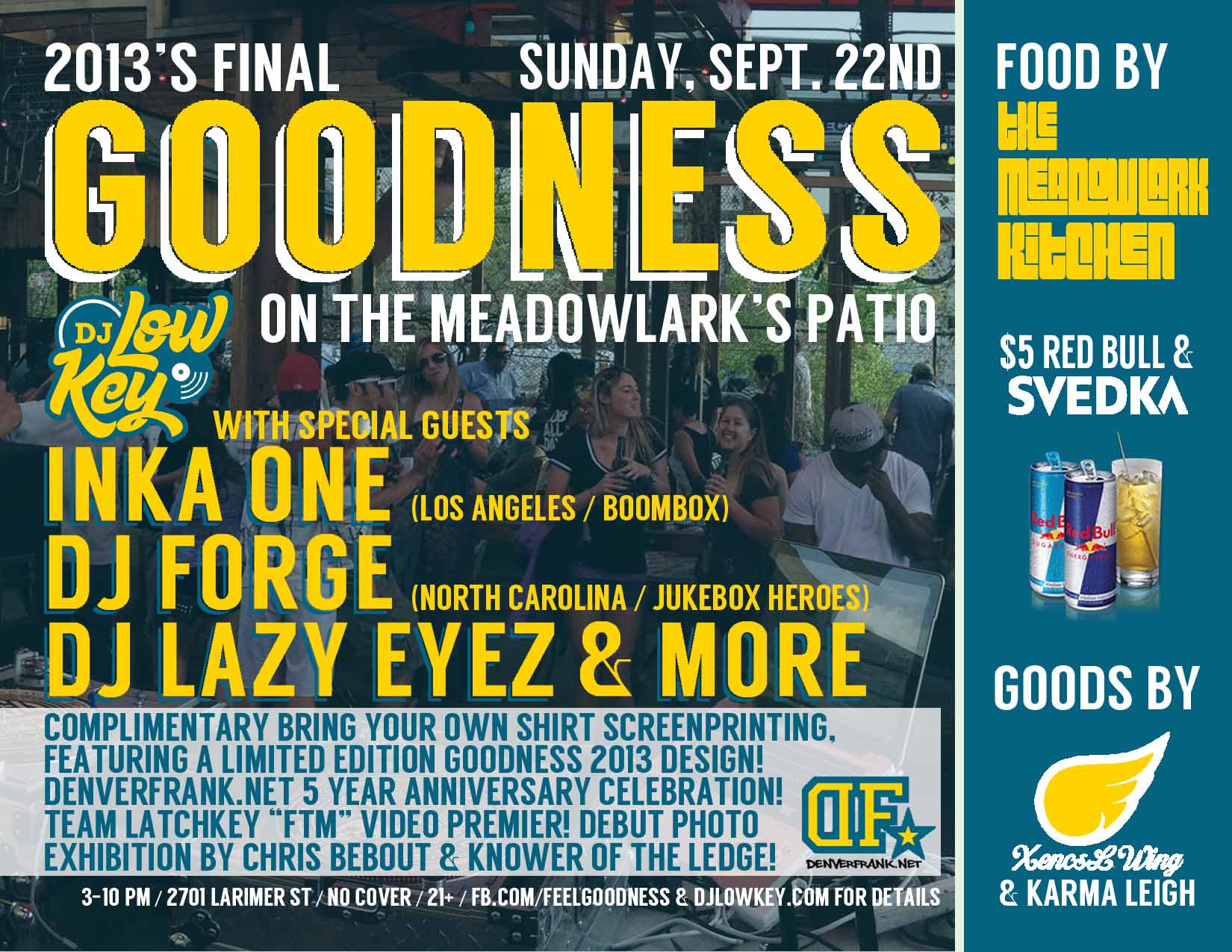 SUNDAY, 9/22 at 3pm -> Ah, parting is such sweet sorrow.  We all knew it was coming and it's here, the last Goodness of Summer 2013.  With that said, Summer 2013 has been INCREDIBLE and trust, the party is going to close it out in grand fashion.  As always, the DJ lineup is extra dope, with me, DJ Forge (2-time Red Bull Thre3 Style NC Champ / Jukebox Heroes), Basementalism legend Inka One (Los Angeles / Boombox), 2013 Westword "best hip hop DJ in Denver" winner Lazy Eyez & a surprise guest blessing the turntables.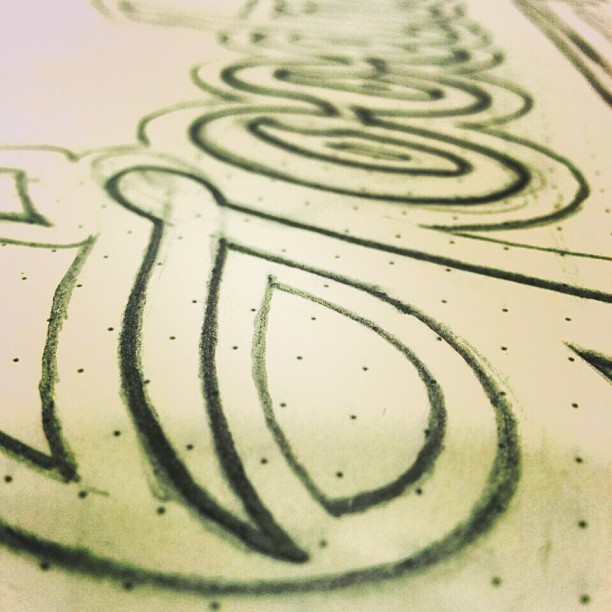 So yeah, you're more than covered on music, but that's just the tip of the iceberg.  To commemorate another fantastic Summer, we're having Gabe/Filthe come in to do complimentary bring your own shirt screenprinting.  What does that mean, you ask?  It meas you can bring in a blank shirt to the party and we'll turn it into a fresh, Goodness 2013 tee on the spot, for free!!!  Yeah, that's gonna be kinda dope.  There's a lot more going on though, I'm gonna let the pictures help with the rest.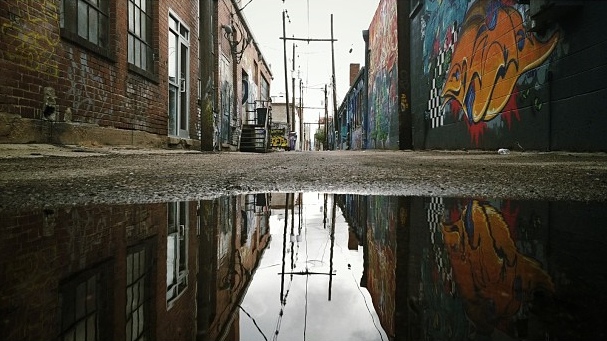 Debut photography exhibition by Knower Of The Ledge (photo above) & Chris Bebout (photo below)!
Our homegirl & Goodness regular Mandi's birthday!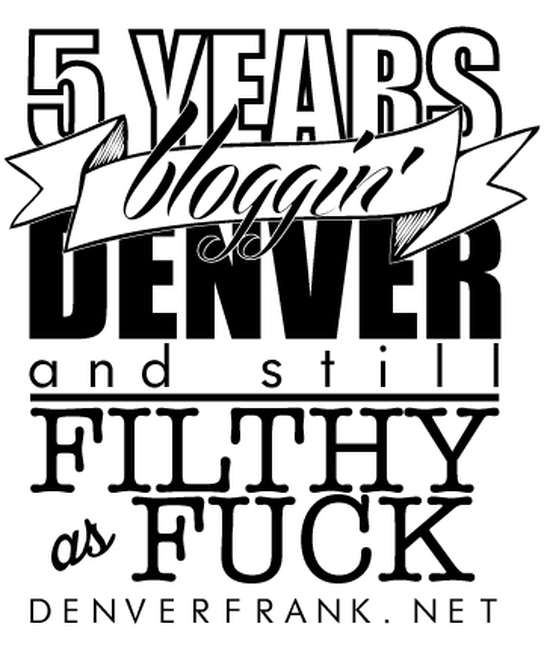 CO tastemaker site DenverFrank.net's 5 Year Anniversary Celebration!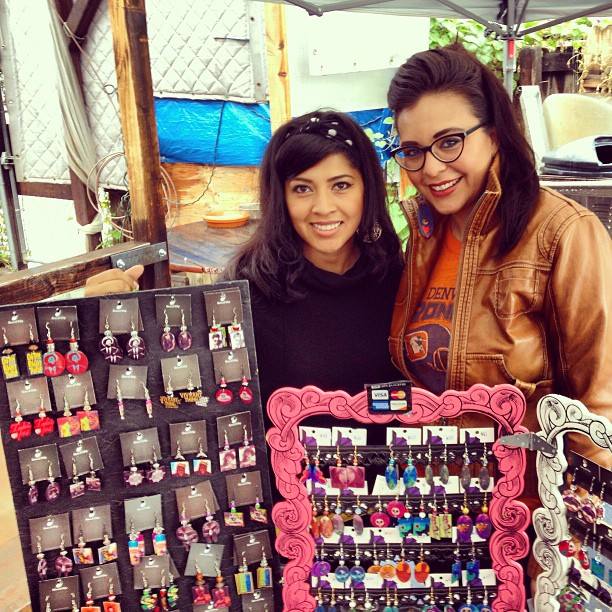 Goods by artisans extraordinaire Karma Leigh & Xencs L. Wing!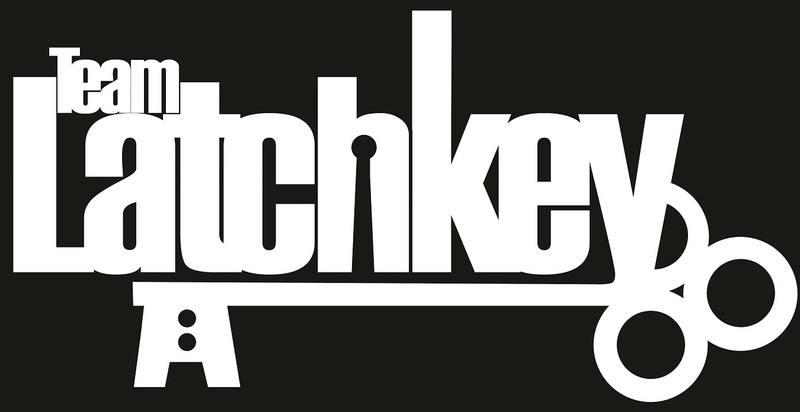 Team Latchkey's long-awaited "FTM" video premier!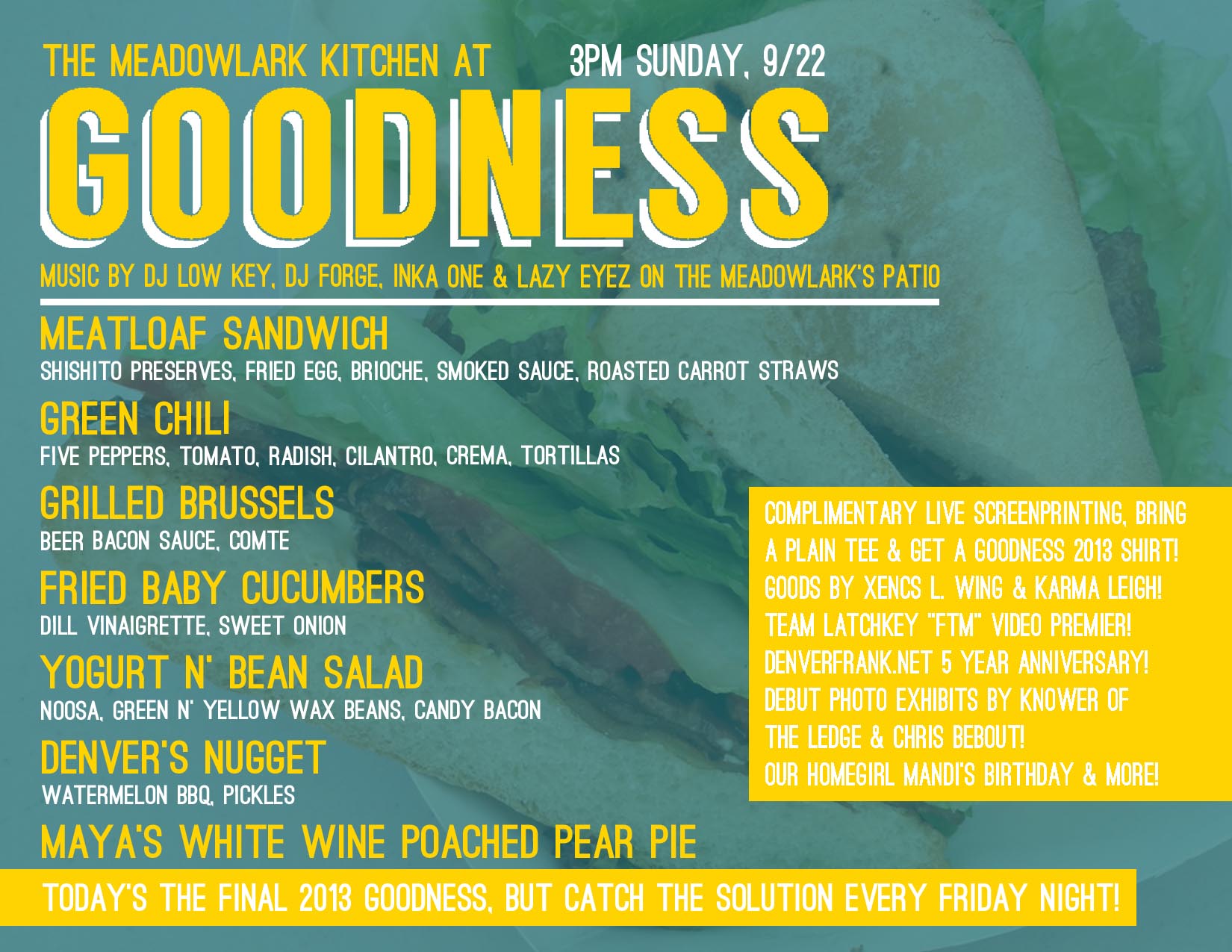 Food by acclaimed Chef Josh Bitz & The Meadowlark Kitchen!
Football on an outdoor TV (no Broncos though, they play the Raiders on Monday)!
Gonna be a crazy finale to an unforgettable year, I'd recommend you get there early, especially if you're after a table on the Meadowlark's incredible patio (2701 Larimer St).  No Cover / 21+ / 3-10pm.
Some parting words on Goodness (more to come):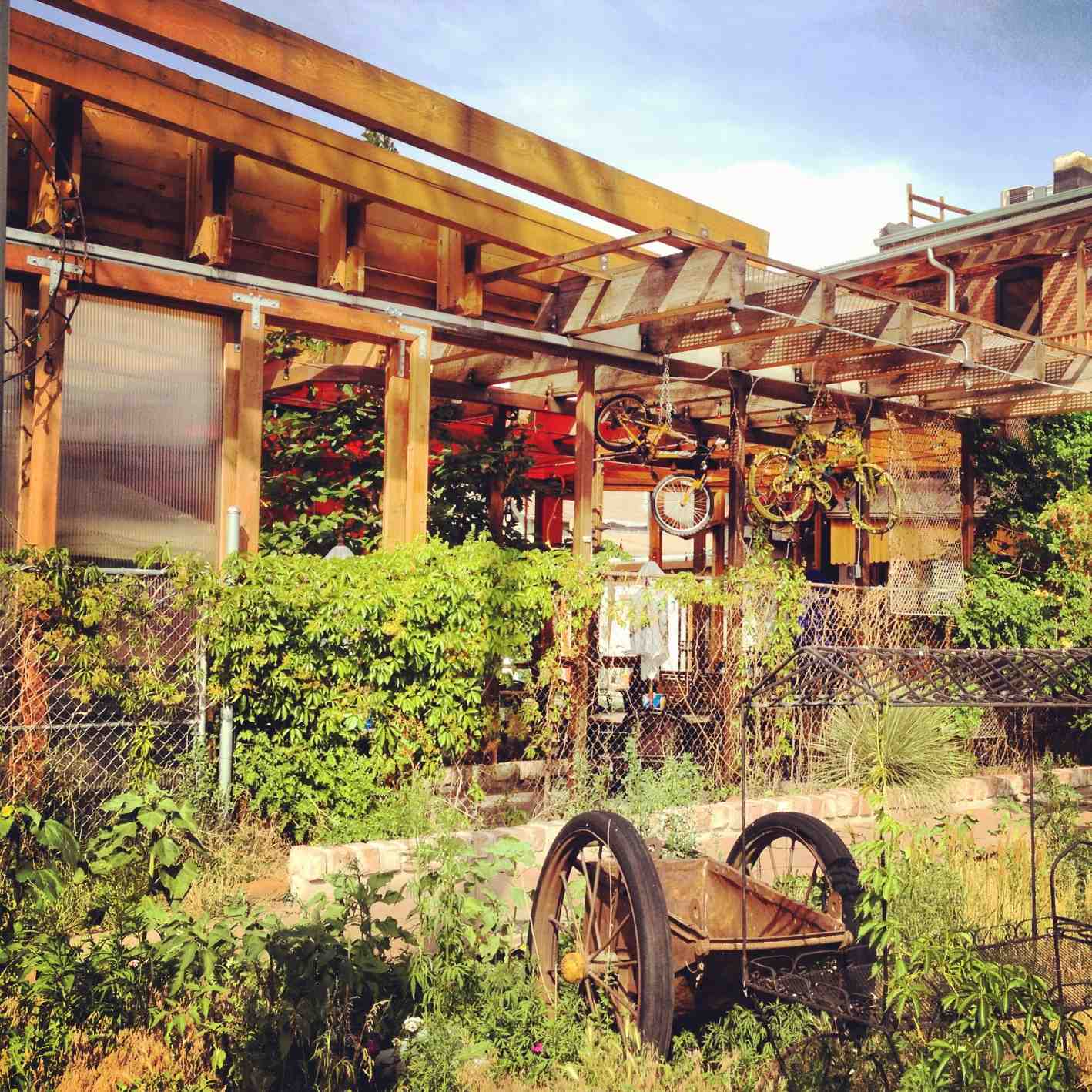 New York mixtape legend and Roc Nation DJ Mick (formerly Boogie) said "I love parties where I can just play.  And that party allowed me to do just that.  It was cleansing to my soul.  Thank Goodness.".
San Francisco's DJ Gordo, founder of nationally syndicated party Motown On Mondays, on the party: "Goodness is that rare kind of outdoor party where pouring rain and thunder only fuels the fire on the dance floor and brings people closer together.  Don't go to Denver and miss out on Goodness!"
Red Bull Thre3 Style Los Angeles champion & former US finals runner up D-JR has "Nothing but the best things to say about DJ Low Key's party Goodness"
World renowned artist & your favorite DJ's favorite DJ, Chris Karns describes it as "The only patio party I have ever given a shit enough about to go to.".
Von Pea (of the acclaimed rap group Tanya Morgan) says "Goodness is always a super chill, really dope experience.  If I come all the from the East Coast for this party, that tells you something.".
Category:
events
,
Goodness
/ Tags:
Boombox
,
Denver Frank
,
DJ Forge
,
DJ Lazy Eyez
,
DJ Low Key
,
Filthe
,
Goodness
,
Inka One
,
Jukebox Heroes
,
Karma Leigh
,
Team Latchkey
,
The Meadowlark
,
The Meadowlark Kitchen
,
Xencs L. Wing
SUNDAY, 9/15 at 3pm -> Only two more Goodnesses left.  The end of the Goodness 2013 season is near and we're packing in all sorts of fun stuff in to make sure we close it out right.   Here's what we've got going on this Sunday:
Goods by Karma Leigh & Xencs L. Wing
Dom of the 4th Door's Birthday
Pop Up Record by Dealz Makes Beats
Food by the Meadowlark Kitchen
The Broncos on an outdoor TV
& more on the Meadowlark's incredible patio (2701 Larimer St)
21+ / 3-10pm.