Tag Archive for Michael Coriano
Category:
events
,
The Solution
/ Tags:
Detour
,
DJ Lazy Eyez
,
DJ Low Key
,
Erok
,
Joseph Martinez
,
Meeg Conroy
,
Michael Coriano
,
Rawh
,
The Art Of Records
,
The Art Of Records V
,
The Meadowlark
,
The Solution
,
Thien
,
Thomas Evans
,
Tristan Minton
,
Xencs L. Wing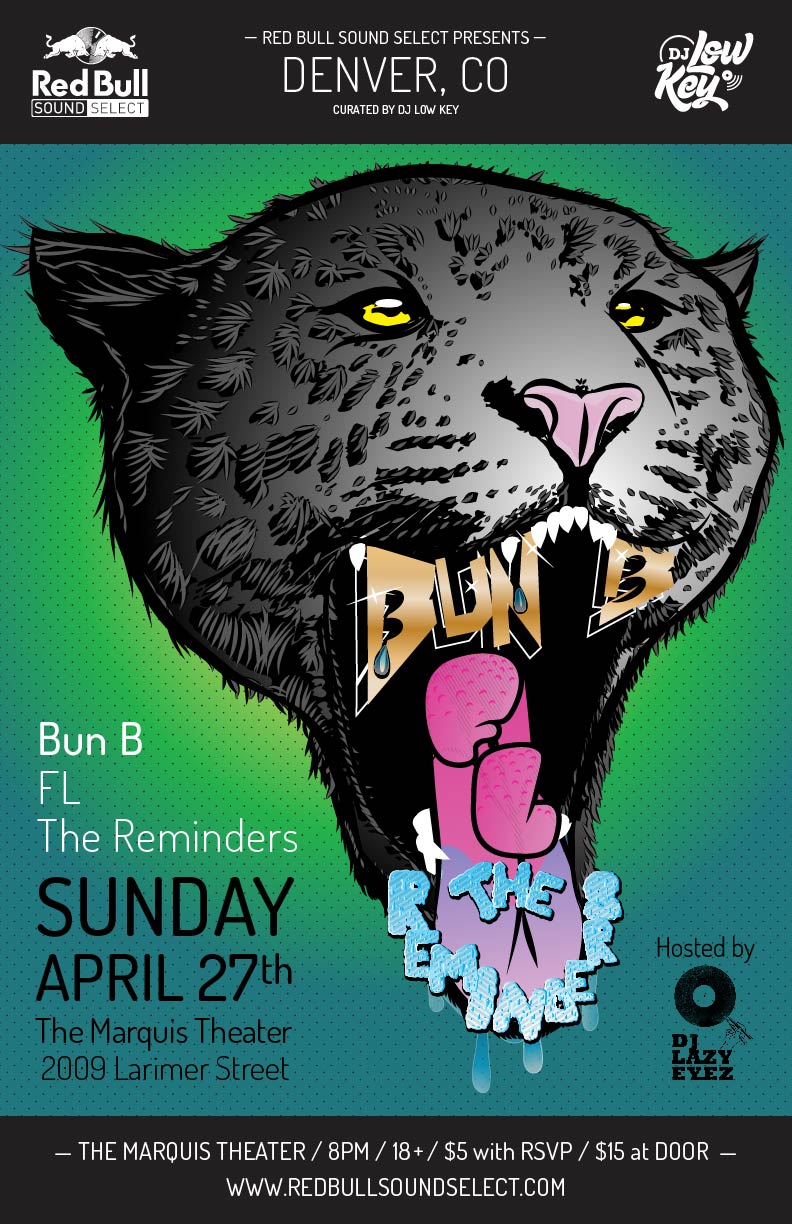 In one of the most exciting developments of an already amazing 2014, I'll be curating a series of Red Bull Sound Select shows here in Denver! What does that mean, exactly? It means that every few months this year, I'll be throwing shows with top national talent and the best of Denver's local scene, all around the city! My first RBSS show is features the legendary Bun B, Denver favorite FL and CO all-stars The Reminders, with Lazy Eyez & myself hosting and rocking the turntables at The Marquis Theater!!!
It's gonna be an honor to bring Houston's honorary mayor and half of pioneering Texas duo UGK (RIP Pimp C), Bun B, out to Denver for a show. As far as I know, he hasn't been out in Denver since the DNC in 2008 and hasn't had a public show out here that I can think of; so make sure you save the date and don't miss a rare chance to see a living legend live and in the flesh. Bun will be joined by The Foodchain's FL, who's probably my all-time favorite rapper to come out of Denver, based on his work on the three stellar Foodchain albums and his ridiculously good solo debut, Limbo. FL & Bun will be joined by The Reminders (aka Big Samir & Aja Black), a rare husband and wife rap duo who's been traveling the country, garnering tons of attention and props from Hiero Day in the Bay to London, England to the Kennedy Center in Washington with their thoughtful brand of hip hop. Me & Lazy Eyez will be rounding out the bill, doubling up between the turntables and hosting duties for what should be a classic night hip hop in The Mile High City.
Things get started at 8pm and with the lineup we've got, things should be packed. To make things better, you can RSVP at RedBullSoundSelect.com for $5 entry to the show (that's right, only $5!!! It's still first come, first serve til we hit capacity) and access to to some great music, videos and more online. Otherwise, it's still quite a deal of show at $15 (just make sure you show up early, because being ready to pay a heftier cover does you no good at a sold out show). Last but not least, huge shouts to artist Michael Coriano on the incredible flyer design! 18+/8pm/2009 Larimer St.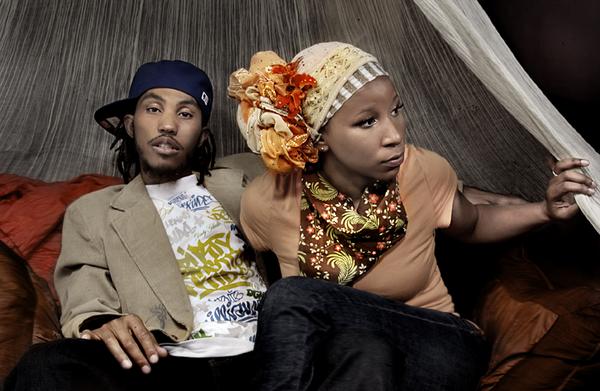 .:RSVP for $5 admission HERE:.
P.S. Stay tuned for more great monthly Red Bull Sound Select shows and new music in Denver, curated by myself, Holy Underground, Souls In Action & The UMS, all year long!!!
Category:
events
,
RBSS
,
updates
/ Tags:
Bun B
,
DJ Lazy Eyez
,
DJ Low Key
,
FL
,
Michael Coriano
,
Red Bull Sound Select
,
The Foodchain
,
The Marquis Theater
,
The Reminders

FRIDAY, 2/7 -> 7 years!!!!!!!!!!!!!!!!!!!!!!!!!!  We're honored.  It's hard to believe that our little party's been around in some way, shape or form for so long, but time flies when you're having fun & who are we to complain.  We invited a bunch of our talented friends down to join in the fun, check it:
-Special guest, Solution co-founder DJ Sounds Supreme joins Solution residents DJ Low Key & Lazy Eyez on the turntables!
–Knower Of The Ledge aka Armando, Joe Blizzy & Blake Jackson's birthdays!
-Works from ridiculously talented artists Michael Coriano & Karma Leigh!
–Judith & Joe Fashion & Records!
+ more TBA at the Meadowlark!!!
Based on 6 previous anniversary parties, it should be one to remember at "Denver's best hip hop party" (c) Dear Denver, come see why!  2701 Larimer St / 9pm / 21+ / No cover until 11, only $5 after.  More info on the party on Facebook/Twitter/Tumblr/Instagram.
P.S.  This Friday also marks one year since our return to weekly status, at our home, the award-winning Meadowlark!  HUGE shout to the entire staff for letting us take over Fridays!!!
FRIDAY, 12/13 -> Super excited to be joining forces with Family Affair for our second limited edition Art Of Records tee (!!!!!).  This time we're teaming up with them to bring Gabe "Filthe" Parra's BEAUTIFUL A Tribe Called Quest watercolor piece to t-shirt form!!!  We'll have 25 of the high quality, extra limited tees available at The Solution w/DJ Low Key & Lazy Eyez at the Meadowlark and based on what happened last time around, they should sell out quick (3 of the 5 sizes for our first tee sold out on release night and we pressed almost twice as many tees last time).  Yes, they do make a perfect Christmas gift and if you come out early, you'll get a raffle ticket at the door to win a free tee around 11:30pm (aka come early if you're cheap or want to win a crispy backup tee to vault up).
Party photographer Knower Of The Ledge will be documenting it all for our Instagram (@DenverSolution) & Facebook pages, the forecast calls for a high of 40 (huge shout to everyone who came out in below 0 weather for last week's Akomplice sample sale) and we'll be rocking the best in hip hop & a whole lot more on the turntables at "our town's longest running & most revered hip hop night…A testament to quality" – Westword / Enclosed heated patio / $5 Red Bull & Svedka / 21+ / No cover until 11, only $5 after / 2701 Larimer St / More info on the party on Facebook/Twitter/Tumblr/Instagram.
P.S. Stay tuned for our Family Affair x The Solution x Michael Coriano Enter The Wu-Tang (36 Chambers) limited tee, coming soon!!!
P.P.S. In case you missed our now sold out, first Beastie Boys Ill Communication-inspired Art Of Records collab tee with Family Affair & TiredPirate, check it here.
FRIDAY, 11/22 -> It's been a great year at The Solution in 2013 and right on time for the big holiday season, we're excited to give back some by helping collect new, unwrapped gifts to donate low income children via Hope Communities, an organization that provides low income housing and services to refugees and immigrants in the Denver area.  We'll be partying as usual at The Solution, with award-winning DJs Low Key & Lazy Eyez rocking on the turntables (4 best hip hop DJ in Denver awards between them!), no cover til 11 and such, but if you bring a present we'll waive the cover for you and a guest if you show up after 11 and send you home with a nice little gift or two from us (something like a super high quality Michael Coriano Art Of Records III Ink Monstr sticker, a Solution magnet for your fridge, mixtape, etc).  It doesn't need to be anything extravagant, you don't need to wrap it and half the crowd shows up after 11 on a given Friday anyway; might as well put that cover money to better use and bring a small gift for needy child, everybody ends up better off that way!!!  Party photos by Knower Of The Ledge at IG: @DenverSolution / 2701 Larimer St / 9pm / 21+ / No cover until 11, only $5 after without a present.
P.S.  This is just the first of a few different events we're involved in to help the community this holiday season, stay tuned for more ways to join us in having fun while helping good causes through the winter!!!
FRIDAY, 3/1 at 6pm + afterparty from 10pm on-> #TheSolution6 closes out with the opening of the second Art Of Records show, co-curated by Dunn the Signtologist and DJ Low Key, which features some of Denver's top artists flipping classic hip hop albums covers in all sorts of incredible directions, all while DJ Low Key rocks at all vinyl set of the records that inspired the pieces.  Last year's show at Family Affair was RIDICULOUS (see pics here) and things are shaping even even crazier for 2013, so please join us at the Meadowlark as we recognize and pay homage to the talented assortment of artists that make The Art Of Records such an indelible part of loving music.  After 10pm, things switch over to The Solution w/DJ Low Key & Lazy Eyez and the party continues on with the best in hip hop & more til 2am, so plan to make a night of it.  Check out a few pics from last year and more info on the show below. 21+/No cover until 11/$5 after/2701 Larimer St.
Over the last few decades album art has gone from a 12" canvases to a 2" screens, and that's usually the best-case scenario for the often incredible art that accompanies music releases.  Landmark albums like A Tribe Called Quest's Low End Theory, Nas's Illmatic and De La Soul is Dead have instantly recognizable covers that are embedded in music and art lovers' psyches forever, but the 12" as a canvas has become a rarity in the public eye.  Everyone from music and art lovers to average people on the street still connect to both the album art and 12" format, yet we rarely take the time to honor the truly great ones.  The Art Of Records is an exhibit that aims to do just that; focusing on the legacy of exceptional art accompanying exceptional music and the idea of introducing both to a new generation.
The Art Of Records combines art, music and tradition to celebrate and honor the rich history and mystique of record cover art, 12″ vinyl and the artists that create it (both musically and graphically). Curated by Dunn the Signtologist and DJ Low Key, the exhibit features a series of classic 12″ album and single covers re-imagined and recreated by top artists in Denver.  The 12" covers will also be on display and the concept comes full circle with DJ Low Key playing an all vinyl set of the featured records as the night's soundtrack.