Tag Archive for The Meadowlark Kitchen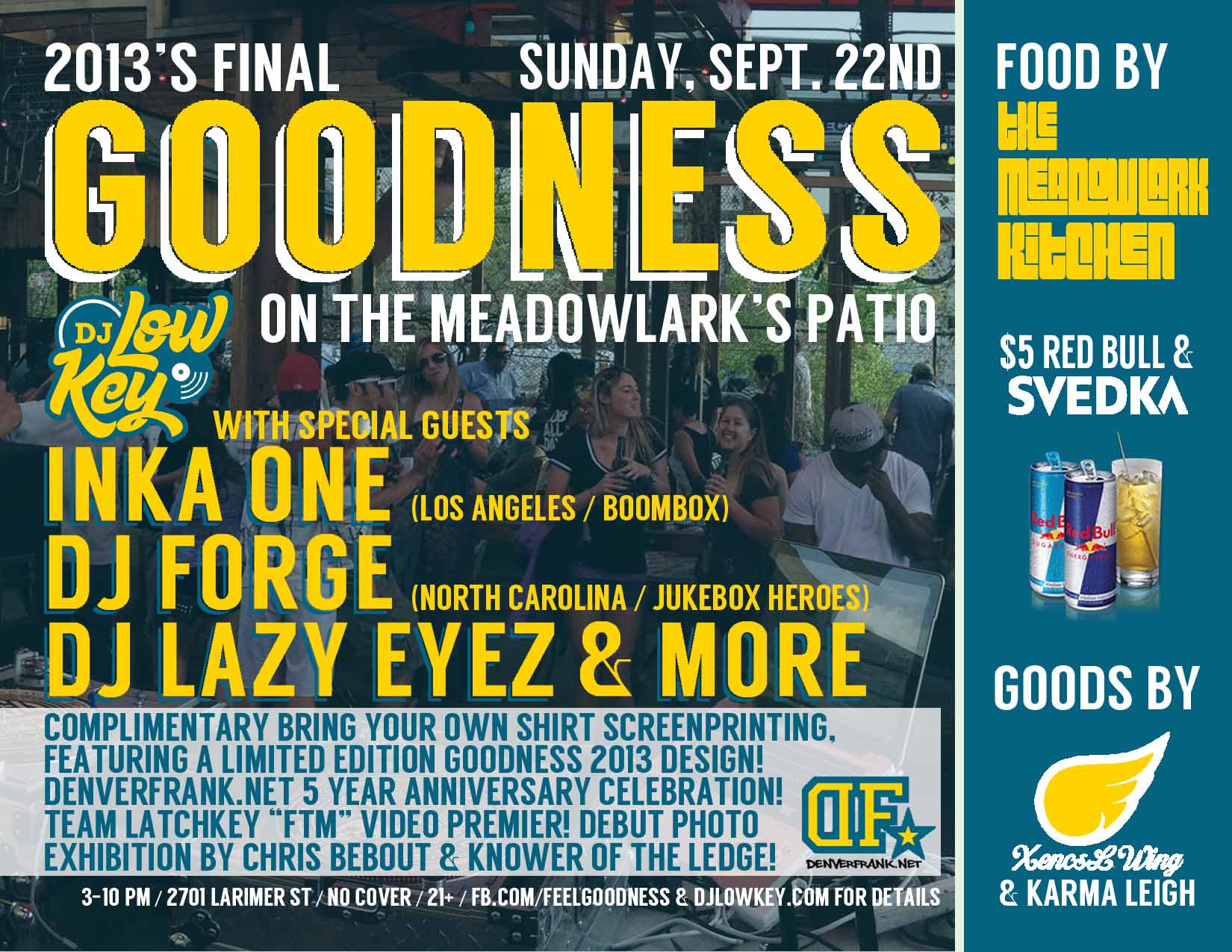 SUNDAY, 9/22 at 3pm -> Ah, parting is such sweet sorrow.  We all knew it was coming and it's here, the last Goodness of Summer 2013.  With that said, Summer 2013 has been INCREDIBLE and trust, the party is going to close it out in grand fashion.  As always, the DJ lineup is extra dope, with me, DJ Forge (2-time Red Bull Thre3 Style NC Champ / Jukebox Heroes), Basementalism legend Inka One (Los Angeles / Boombox), 2013 Westword "best hip hop DJ in Denver" winner Lazy Eyez & a surprise guest blessing the turntables.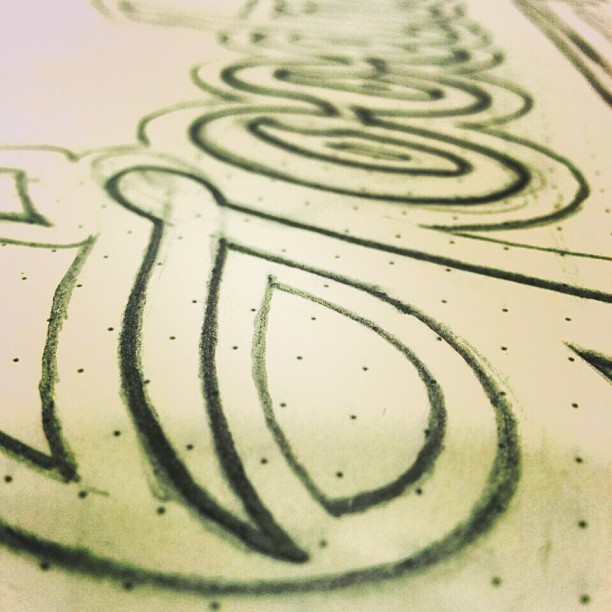 So yeah, you're more than covered on music, but that's just the tip of the iceberg.  To commemorate another fantastic Summer, we're having Gabe/Filthe come in to do complimentary bring your own shirt screenprinting.  What does that mean, you ask?  It meas you can bring in a blank shirt to the party and we'll turn it into a fresh, Goodness 2013 tee on the spot, for free!!!  Yeah, that's gonna be kinda dope.  There's a lot more going on though, I'm gonna let the pictures help with the rest.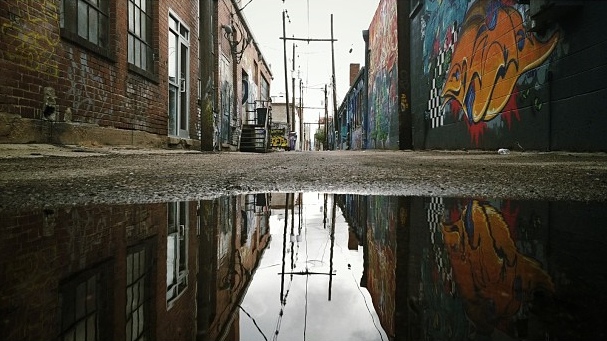 Debut photography exhibition by Knower Of The Ledge (photo above) & Chris Bebout (photo below)!
Our homegirl & Goodness regular Mandi's birthday!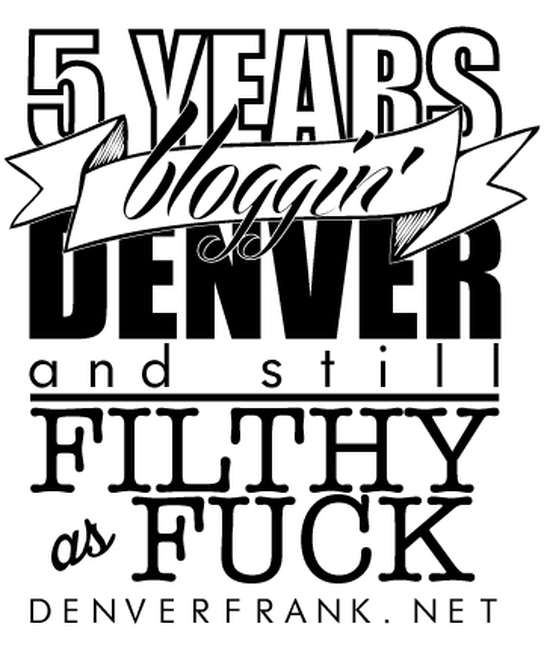 CO tastemaker site DenverFrank.net's 5 Year Anniversary Celebration!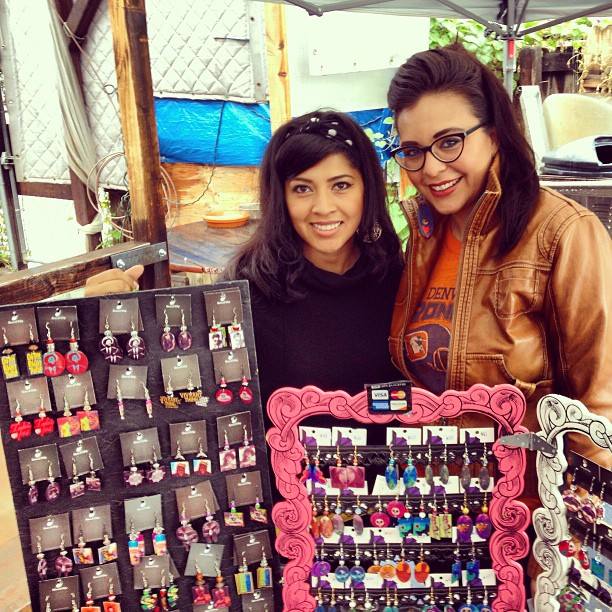 Goods by artisans extraordinaire Karma Leigh & Xencs L. Wing!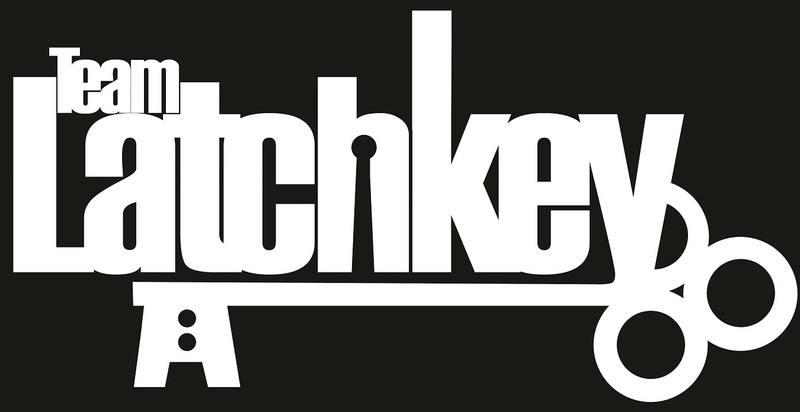 Team Latchkey's long-awaited "FTM" video premier!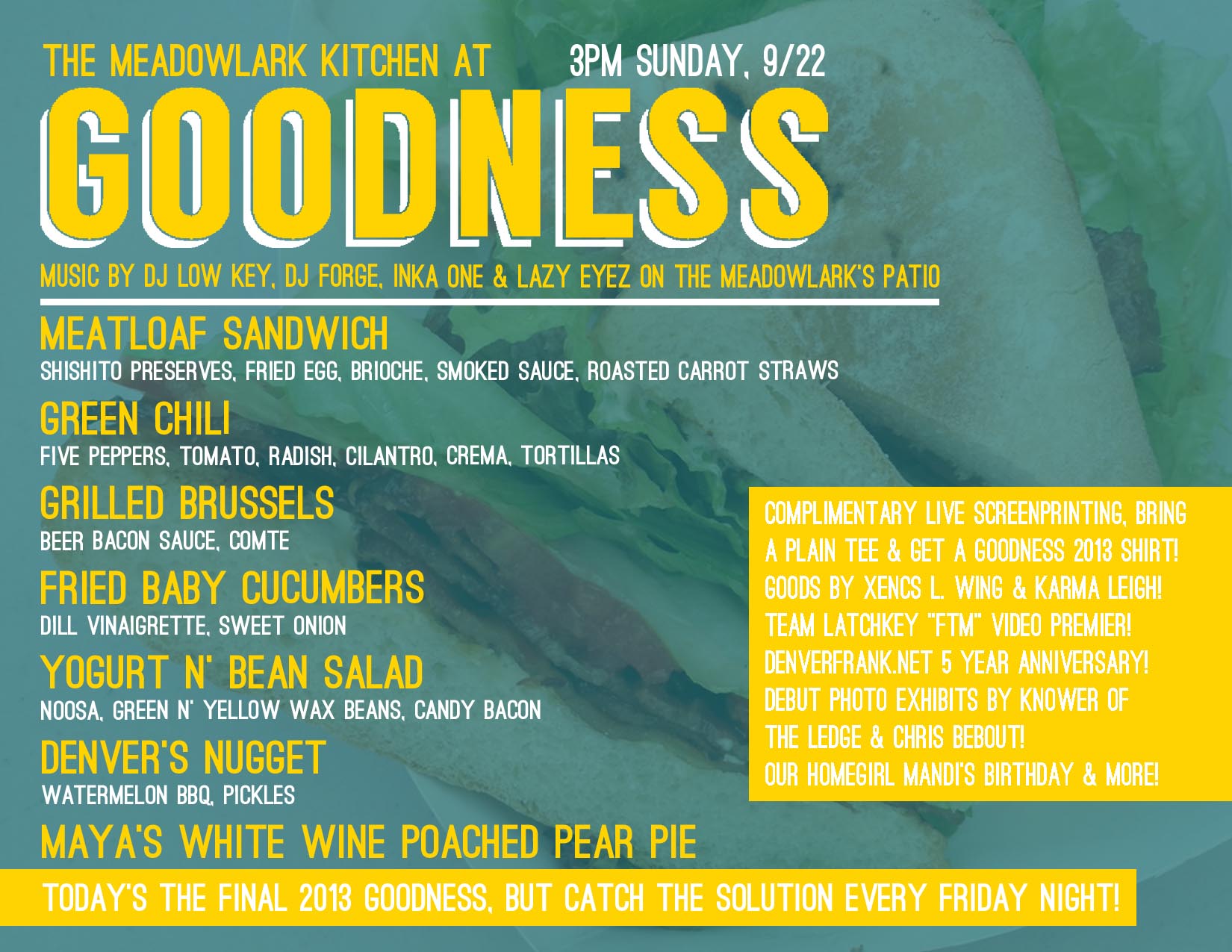 Food by acclaimed Chef Josh Bitz & The Meadowlark Kitchen!
Football on an outdoor TV (no Broncos though, they play the Raiders on Monday)!
Gonna be a crazy finale to an unforgettable year, I'd recommend you get there early, especially if you're after a table on the Meadowlark's incredible patio (2701 Larimer St).  No Cover / 21+ / 3-10pm.
Some parting words on Goodness (more to come):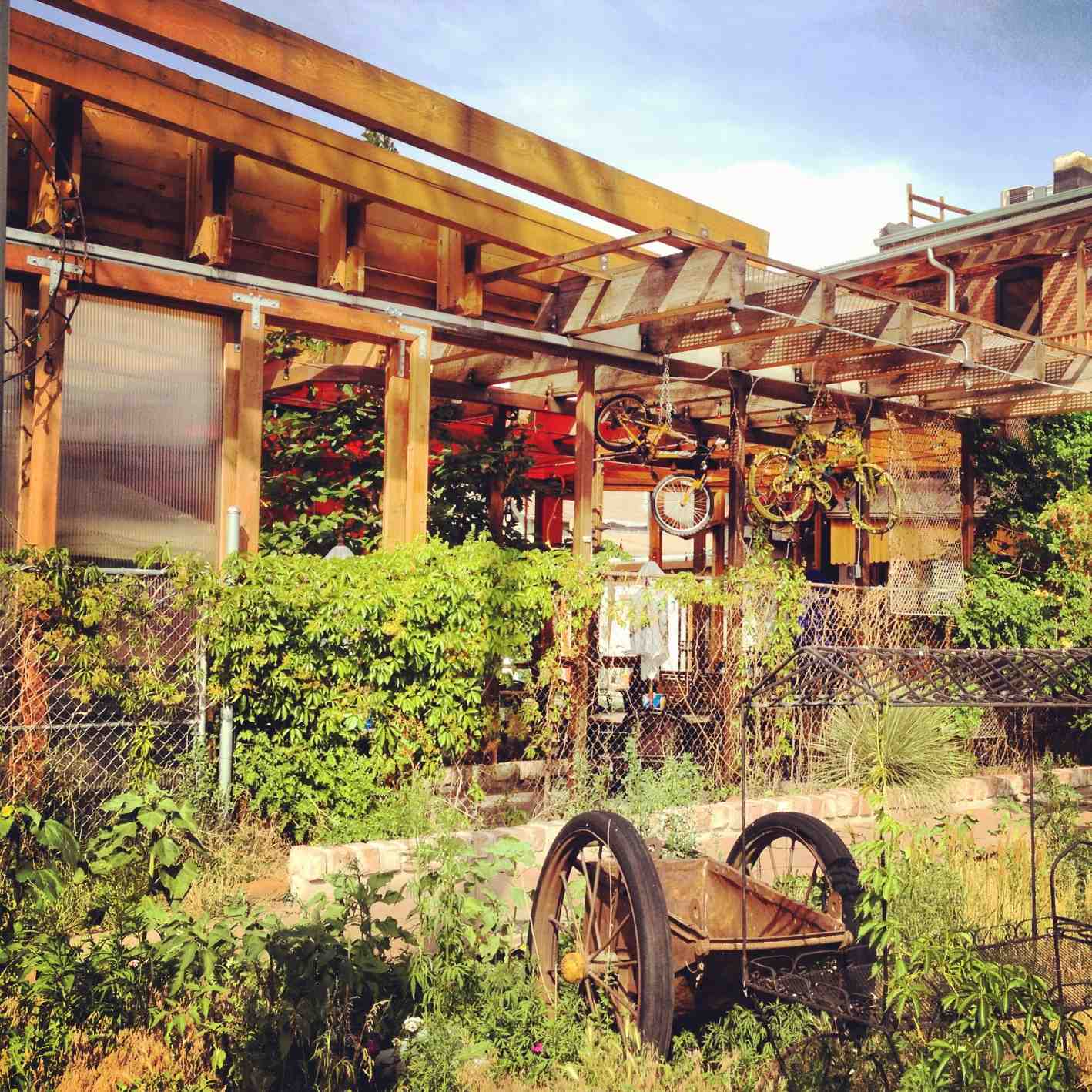 New York mixtape legend and Roc Nation DJ Mick (formerly Boogie) said "I love parties where I can just play.  And that party allowed me to do just that.  It was cleansing to my soul.  Thank Goodness.".
San Francisco's DJ Gordo, founder of nationally syndicated party Motown On Mondays, on the party: "Goodness is that rare kind of outdoor party where pouring rain and thunder only fuels the fire on the dance floor and brings people closer together.  Don't go to Denver and miss out on Goodness!"
Red Bull Thre3 Style Los Angeles champion & former US finals runner up D-JR has "Nothing but the best things to say about DJ Low Key's party Goodness"
World renowned artist & your favorite DJ's favorite DJ, Chris Karns describes it as "The only patio party I have ever given a shit enough about to go to.".
Von Pea (of the acclaimed rap group Tanya Morgan) says "Goodness is always a super chill, really dope experience.  If I come all the from the East Coast for this party, that tells you something.".
Category:
events
,
Goodness
/ Tags:
Boombox
,
Denver Frank
,
DJ Forge
,
DJ Lazy Eyez
,
DJ Low Key
,
Filthe
,
Goodness
,
Inka One
,
Jukebox Heroes
,
Karma Leigh
,
Team Latchkey
,
The Meadowlark
,
The Meadowlark Kitchen
,
Xencs L. Wing
SUNDAY, 9/15 at 3pm -> Only two more Goodnesses left.  The end of the Goodness 2013 season is near and we're packing in all sorts of fun stuff in to make sure we close it out right.   Here's what we've got going on this Sunday:
Goods by Karma Leigh & Xencs L. Wing
Dom of the 4th Door's Birthday
Pop Up Record by Dealz Makes Beats
Food by the Meadowlark Kitchen
The Broncos on an outdoor TV
& more on the Meadowlark's incredible patio (2701 Larimer St)
21+ / 3-10pm.
FRIDAY, 9/13 -> It's been a big year for The Solution's own Lazy Eyez; traveling the country DJing with the Reminders, winning "best hip hop DJ in Denver" in the Westword Music Showcase & spinning all sorts of other dope events around CO.  We're super proud of his success and on that note, we're going big to celebrate his birthday with special guests DJ Discord and DJ Deft joining DJ Low Key and Lazy on the turntables at the Meadowlark!!!
That's not all though, we're still beyond geeked to be featuring food from head chef Josh Bitz & the brand new Meadowlark Kitchen (official opening coming later this year) every Friday night.  After a couple of meals by the crew, we've been blown away by the top quality dishes, made with farmer's market produce and top quality ingredients.  In this week's Westword, Josh was mentioned as "the most underrated chef in Denver", and after sampling a few of his test menus, we have to agree.  21+ / 9pm / No cover until 11pm / Only $5 after.
SUNDAY, 9/8 at 3pm -> Some people say Labor Day marks the end of Summer, but they're way wrong.  Sunday, 9/22 is the Autumn Equinox and coincidentally the last day of Goodness 2013 (put it in your calendar now).  On that note, Summer keeps marching on in grand fashion with everything Colorado Crush this weekend, including Sunday's Colorado Crush Farewell Goodness w/me, special guests DJ Tense (Stay Tuned) & DJ Miggy Camacho (Lucha Rama), live art by ridiculously dope writers Miss Reds-AM7 & Deity, food by The Meadowlark Kitchen (menu below) & more on the Meadowlark's incredible patio  (2701 Larimer St).
Colorado Crush is a ridiculously dope art festival going into it's forth year of bringing CO all sorts of dope art, music & culture and is also responsible for a lot of the beautiful art around 27th & Larimer Street aka the Meadowlark's neighborhood aka RiNo.  The flyer above has details on Saturday's prime event (head over to Hiphoprollcall.com for more on all the weekend's festivities), now that you know all about that and Sunday's farewell party.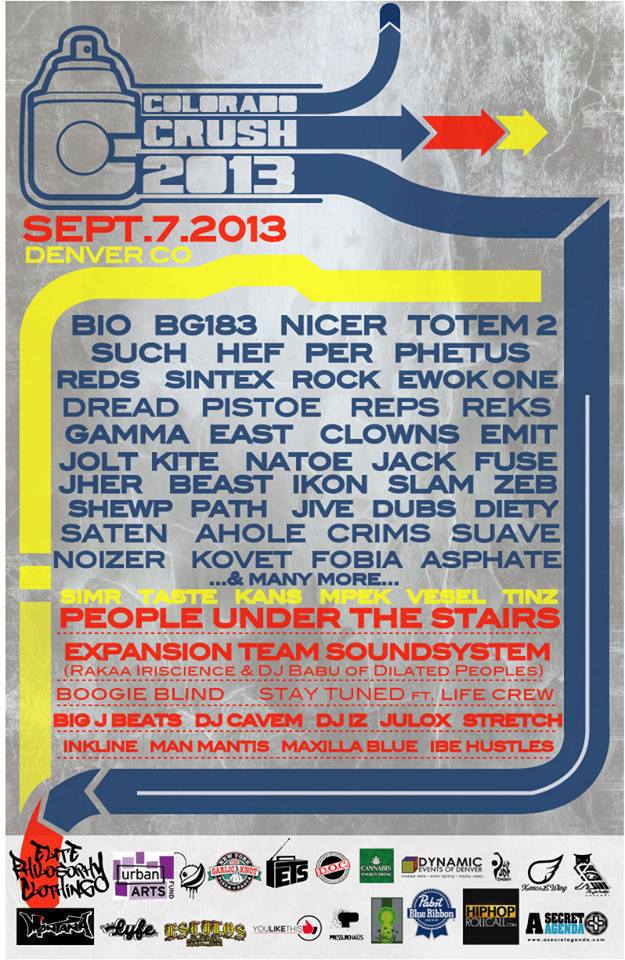 FRIDAY, 9/6 -> With Lazy Eyez out of town on official Reminders DJ business this week (he'll be back next Friday to celebrate his birthday), we've got some heavy hitting guests coming by to keep DJ Low Key company.  We're welcoming extra special guests Solution co-founder Sounds Supreme and youngest in charge DJ Dozen (Welcome to the D.O.P.E. Game), as well as celebrating Denver favorite/the D.O.P.E. Game's own Turner Jackson and our extra cool homegirl Lindsey's birthdays.
As if that wasn't enough, we're ecstatic to announce that we'll be featuring food from the test kitchen at the brand new Meadowlark Kitchen (official opening coming later this year) every Friday from here on out.  After a quick menu tasting, we couldn't be more excited about the tasty food options we'll be able to feature every single week, frequently changing based on what's in season to always stay fresh and exciting.  If those weren't reasons enough to come out to the hip hop party that's "a testament to quality" (c) Westword, we don't know what is.  21+ / 9pm / No cover until 11pm / Only $5 after.