Tag Archive for DJ Discord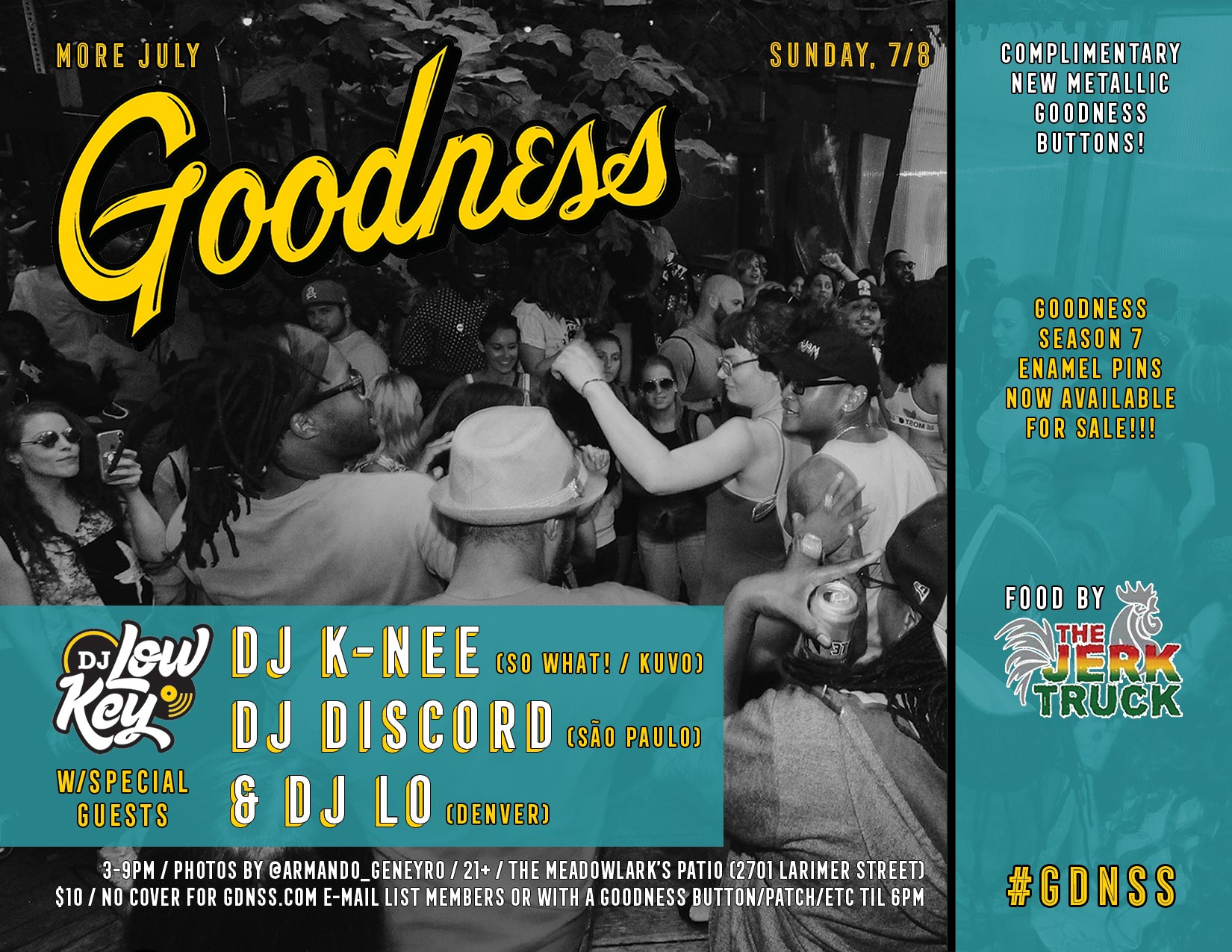 Join the e-mail list at GDNSS.com or wear a Goodness button/pin/etc to skip the $10 cover until 6pm…
Join the e-mail list at GDNSS.com before noon Sunday or wear a Goodness button/patch/etc to avoid the $10 cover…
P.S. Only 6 Sundays of #GDNSS left on calendar, don't miss a single one!!!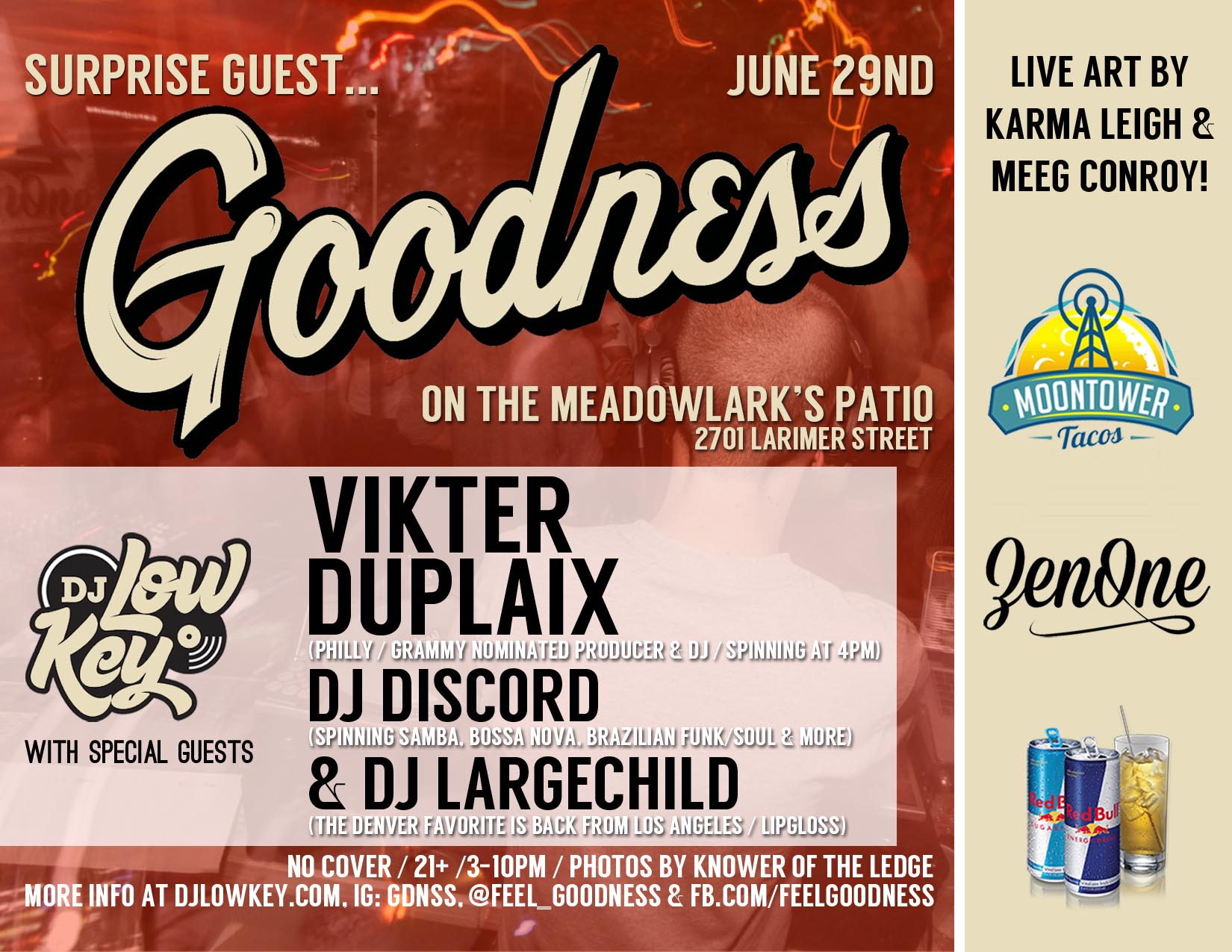 UPDATE: Double surprise! We've got legendary, Grammy-nominated DJ/producer Vikter Duplaix (Master Of The Mix/Kiss-N-Grind) & Colorado favorite DJ Largechild in from Los Angeles to rock for y'all!!! They'll be joining me & DJ Discord on the turntables for what should be an incredible day of music!
SUNDAY, 6/29 from 3-10pm -> Summer's in full swing, Goodness w/DJ Low Key & friends has been on a roll lately and things are just getting better. This time around, I'm GEEKED to be featuring a surprise guest who's a bit of a DJ legend throughout the world, a person who's renowned for their DJ skills, first and foremost, and someone you don't want to miss. We'll be announcing who it is the morning of the party and the mystery guest will be rocking at 4pm sharp, so make sure to come out early so you don't miss it. On top of the surprise guest, I'm super excited to be welcoming DJ Discord back to Goodness. Discord is the infamous Crunk Brother who's blessed the party with an amazing mix of samba, bossa nova, Brazilian funk & soul plus more from his numerous pilgrimages to South America to dig for records in years passed and he's back with even more fresh music we've never heard.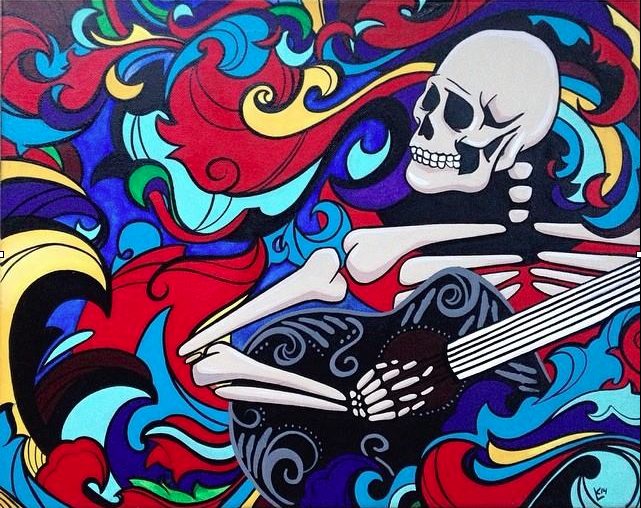 As if that wasn't enough, we've got renowned Denver artists Karma Leigh & Meeg Conroy coming down to bless your eyes and the party with some live art!!!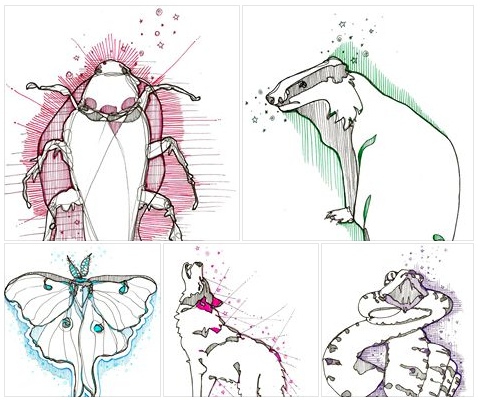 As usual we've also got complimentary stadium style Goodness cups for the first 25 people to get drinks, as well as complimentary buttons for everybody! And of course, Moontower Tacos will be out front making their incredible, uniquely tasty tacos to fuel the party, making the cipher complete.
Goodness/Solution photographer Knower Of The Ledge will be taking pics of the party (follow us on Instagram: @GDNSS), El Chingon is brewing refreshing agua frescas for us, ZenOne will be back & more on the Meadowlark's constantly improving patio (2701 Larimer St), come rock with us!!! No cover / 21+ / 3-10pm.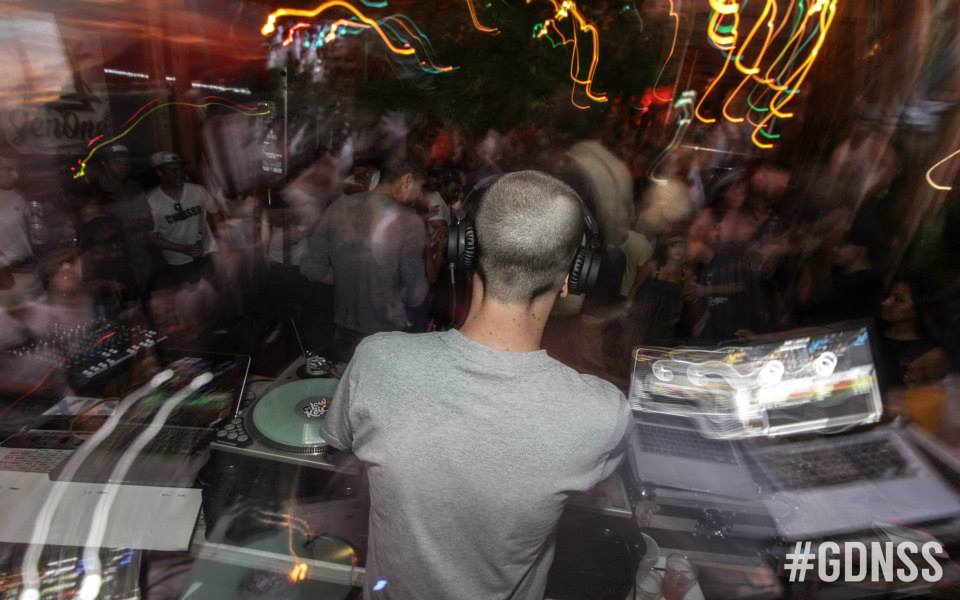 FRIDAY, 9/13 -> It's been a big year for The Solution's own Lazy Eyez; traveling the country DJing with the Reminders, winning "best hip hop DJ in Denver" in the Westword Music Showcase & spinning all sorts of other dope events around CO.  We're super proud of his success and on that note, we're going big to celebrate his birthday with special guests DJ Discord and DJ Deft joining DJ Low Key and Lazy on the turntables at the Meadowlark!!!
That's not all though, we're still beyond geeked to be featuring food from head chef Josh Bitz & the brand new Meadowlark Kitchen (official opening coming later this year) every Friday night.  After a couple of meals by the crew, we've been blown away by the top quality dishes, made with farmer's market produce and top quality ingredients.  In this week's Westword, Josh was mentioned as "the most underrated chef in Denver", and after sampling a few of his test menus, we have to agree.  21+ / 9pm / No cover until 11pm / Only $5 after.
FRIDAY, 7/19 -> By popular demand, we're linking up with our friends DJ Es-Nine & DJ Discord of the renowned Crunk Brothers crew for another 90s House Party X The Solution w/DJ Low Key & Lazy Eyez collaboration.  That means 4 DJs, rocking all the best in 90s jams, all night.  If you've been to any of our other 90s collabs, you already know it's gonna be crazy.  See you there!  No cover until 11pm, $5 after / 21+ / 9pm.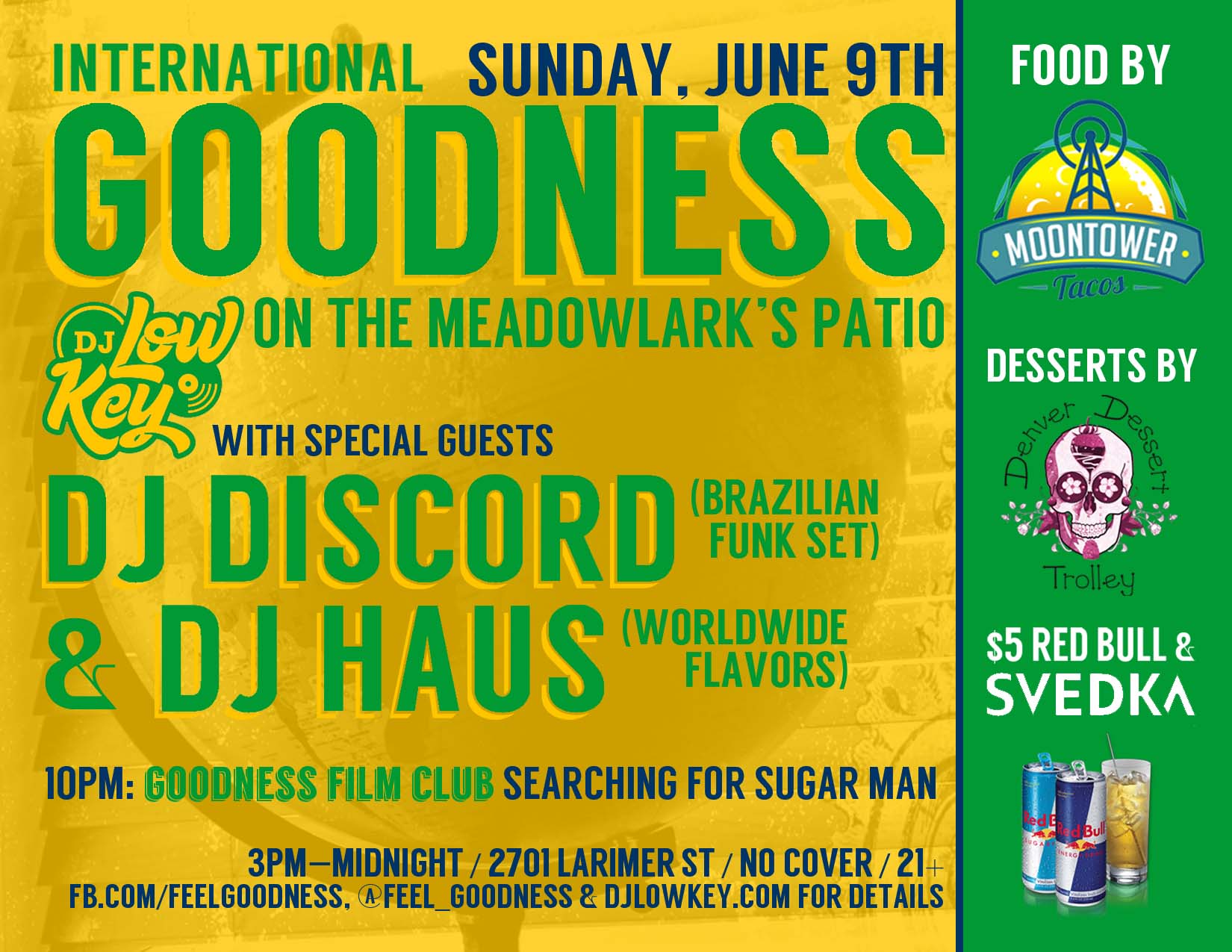 SUNDAY, 6/9 -> Goodness w/DJ Low Key & friends is back with another Sunday full of magic as we officially mark a year since the party launched.  I couldn't have asked for more great music and amazing people to come through since things kicked off and I'm already looking forward to years and years of the same fun as we continue on.

Back in the present, I'm really excited for Sunday's International Goodness, as me, Crunk Brother extraordinaire DJ Discord & Boulder party fixture DJ Haus spin jams with from, and with, influences from all over the world, all afternoon long (US included…LOL…No cop out though).  Veteran of numerous pilgrimages to Brazil, Discord will be spin a funky Brazilian mix that dips into tropicalia, bossa nova & samba.  DJ Haus will be covering a variety of worldwide sounds, taking us on what he calls his "musical safari" that is sure to open up your ears to some great new sounds.  I'll be doing what I can to compliment their deep catalogs of music and hopefully everybody leaves with some new favorite jams.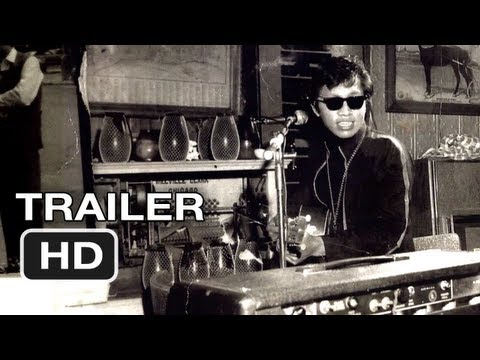 Moontower Tacos & Denver Dessert Trolley will be keeping us happy and fed all day, the vibe should be pretty fantastic and at 10PM, we'll be closing things out with a Goodness Film Club screening of Searching For Sugar Man, the all but unbelievable yet true take of Rodriguez, an all but unknown 70s musician from Detroit turned unlikeliest South African music icon, on the Meadowlark's magical patio. 2701 Larimer St / No Cover / 21+.
Menu for SUNDAY, 7/8 -> I said it before and I'll say it again, Goodness teaming up with El Chingon is an epic food win for everybody involved.  At our first party together last month, Chef David Lopez (aka DJ Psycho) and crew sold a few hundred tacos on the Meadowlark's patio (2701 Larimer St), adding a ton of new fans to the Cult of Chingon and taking the party to the next level.  This week's menu subs in the wildly popular Camarones Chingones (jumbo shrimp) tacos for Carne Molida (ground beef) tacos as a permanent menu item, adds a vegetarian option with the Tacos Fresco and features Tacos De Pato (roasted duck!!!) as the special.  After inhaling a pair of delicious Carnitas Tacos and a pair of excellent Camarones Chingones Tacos last time around, I can't wait wait to try the rest of the menu and start picking favorites.
SUNDAY, 7/8 from 2-8PM -> After two great parties in our first month, tons of people have been hitting me up about the latest installment of Goodness and me and special guests Es Nine (producer for Prime Element & more) and DJ Discord of the Crunk Brothers are excited to break out the crates of wax to get Sundays off to a proper start with an all vinyl edition of the party.  Not only are we playing all wax, but DJ Discord's gonna be playing a set of all Brazilian vinyl from his trips to South America on some truly unprecedented Denver ish that should be perfect for a Summer afternoon.  As usual, El Chingon will be slanging the best tacos in town (I heard rumors of a duck taco special), Agua Fresca Especials will be flowing and you already read about how you're set on music at what Denver culture blog The 4th Door calls "the best patio party in Denver" on the Meadowlark's beautiful patio (2701 Larimer St). Rain or Shine /// 21+ /// 2-8pm /// No Cover.
Red Bull & Svedka "Bomber Pops"
Agua Frescas Especial (con Svedka)
Ice Cold Beer Buckets: 4 Beers for $10 domestics /// $12 imports
$5 Red Bull & Svedka's
+more