Tag Archive for DJ House Shoes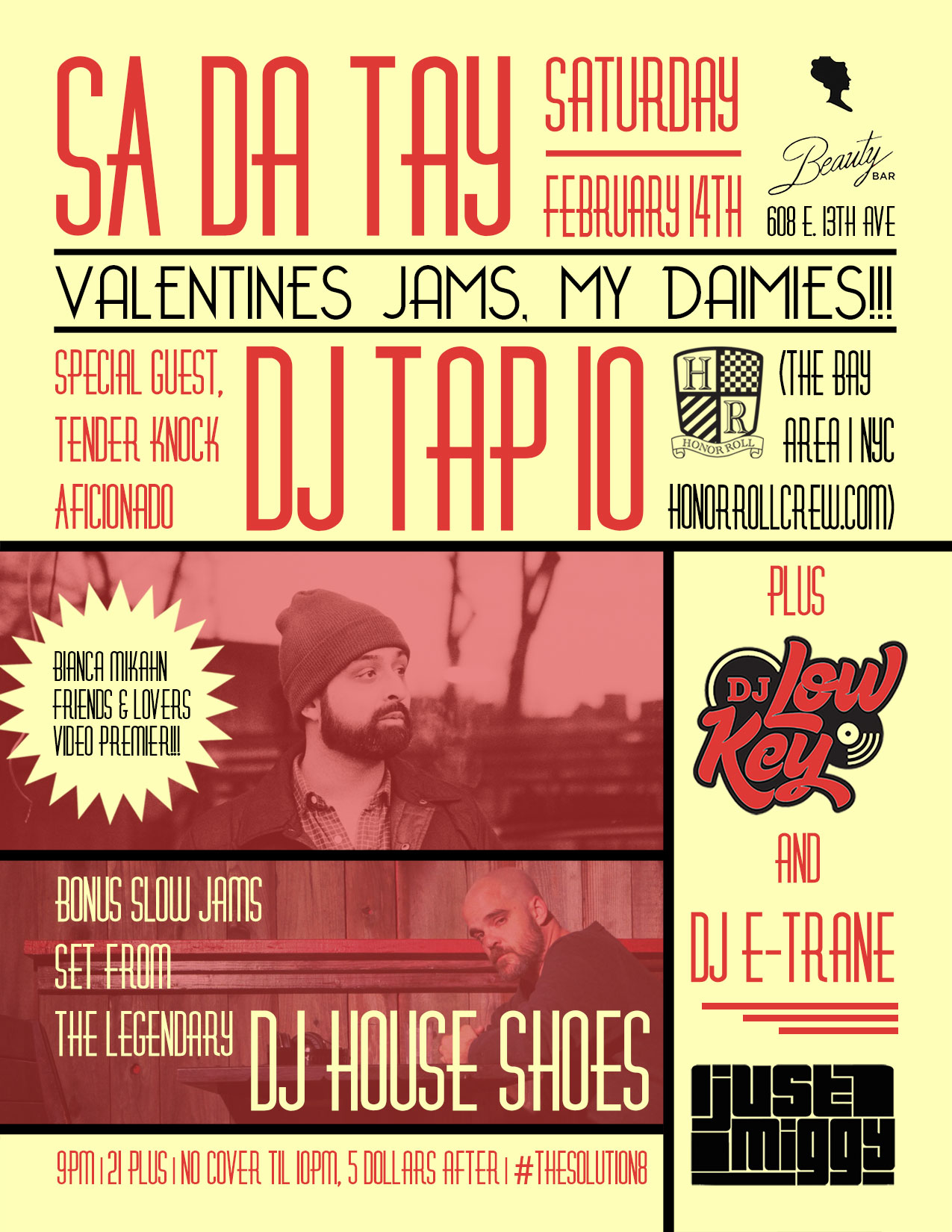 UPDATE: The legendary DJ House Shoes (Los Angeles / Street Corner Music) will be joining the turntable fun with a slow jam set to close out the night and we're also going to premier the new Bianca Mikahn video, "Lovers & Friends" to add to the Valentine's Day themed fun. Bata shane, my dillie? You're right my daimies, it doesn't get much better than that.
SATURDAY, 2/14 -> Wa dah tah!!! Sa Da Tay is back & this month we're welcoming out Bay Area/New York favorite DJ Tap 10 (of the world renowned Honor Roll Crew), king of the tender knock, and the perfect guest to play some Valentine's Day type jams. Tap 10 will be joining party founder DJ Low Key & MOM Denver's DJ E-Trane on the turntables at Beauty Bar Denver for a night full great music & good times on runny kine! No cover until 10pm, only $5 after / 21+.
REMINDER: There's no more parking in the church parking lot by Beauty Bar (they will tow). I started taking an Uber to work to get rid of the hassle of trying to park in Cap Hill & it's been great. If you're not a member yet, you can get enter the code "justing480″ to get yourself a first free ride to try it out (hopefully on the way to this party!).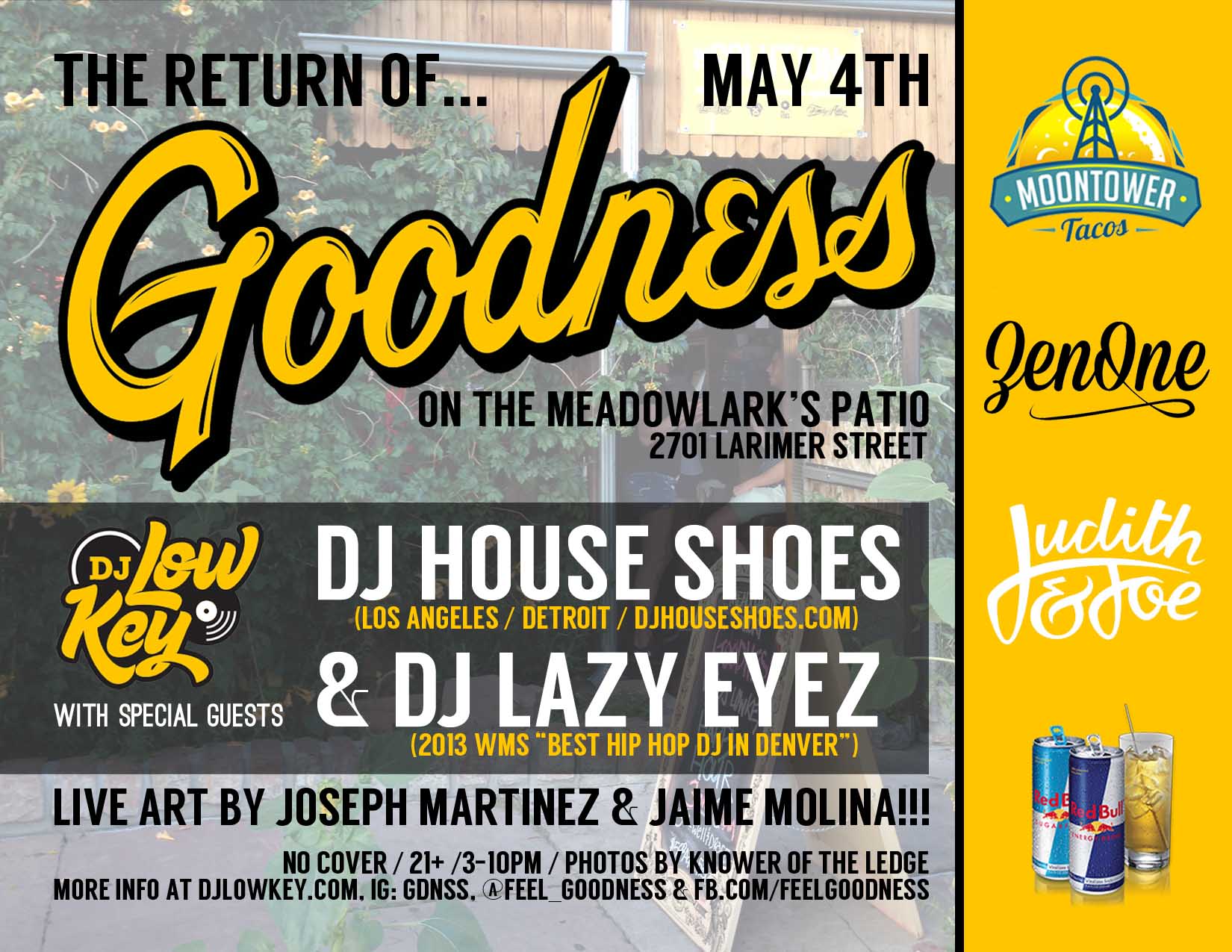 SUNDAY, 5/4 at 3pm -> Ahhhh yes!!! It's starting to feel like Summer outside and that means it's finally Goodness w/DJ Low Key & friends time aka my favorite time of the year!!!!!! February's All Dilla, Winter Goodness & March's Austin Goodness during SXSW were both awesome days and through the magic of time flying, it's time to kick things off in grand fashion for the Summer 2014 season on the Meadowlark's incredible patio (2701 Larimer St).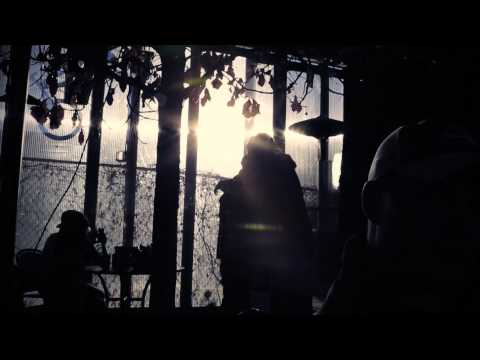 Winter Goodness recap by Black Sock Productions
Goodness w/DJ Low Key & friends starts with exceptional music and to kick things off this Summer, I'm super excited to be bringing out the one and only DJ House Shoes, Detroit OG, current Los Angeles favorite and world renowned DJ's DJ, for his Denver debut!!! Shoes was instrumental in breaking most every Detroit act from Dilla in the 90s to Black Milk a decade later, released the first single on infamous LA party staple the Do-Over's record label and continues to rack up props for his dedication to pushing quality music at all times. In other words, he'll be a perfect fit to join me and reigning WMS "best hip hop DJ in Denver" champ DJ Lazy Eyez on the turntables, as we run through everything dope under the sun throughout the party's seven hours.
You already now we'll have our renowned agua frescas on deck, official Goodness/Solution photographer Knower Of The Ledge will be in the taking pictures of the party (follow us on Instagram: @GDNSS, if you don't already) and Moontower Tacos will be handling the food, bringing their incredible tacos back to the block! Also, we're excited to be welcoming our friends Judith & Joe Fashion & Records mobile boutique back out to join the fun, we have ZenOne will be bringing some impressive top shelf samples of their upcoming line out as well (get excited, but don't get too excited; they don't drop til January 1, 2015) and last, but not definitely not least, we excited to welcome two of our favorite Denver artists, Joseph Martinez (fresh off of designing the artwork to Blu's upcoming album) & Jaime Molina, down to do some some live painting, making things easier on all of our eyes and adding to the festivities!!!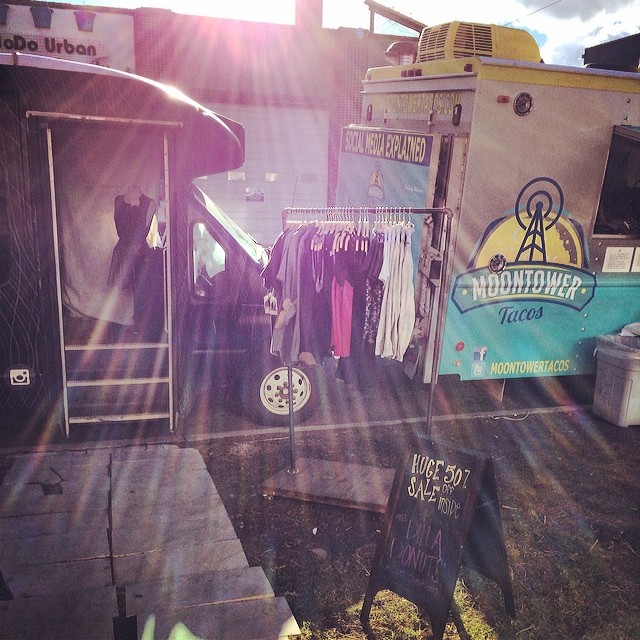 It's gonna be a fantastic start to what promises to be another incredible Summer, so get there early, especially if you're after a table on the Meadowlark's incredible patio (2701 Larimer St). More info coming soon here & at @feel_goodness. $5 Red Bull & Svedkas / No Cover / 21+ / 3-10pm.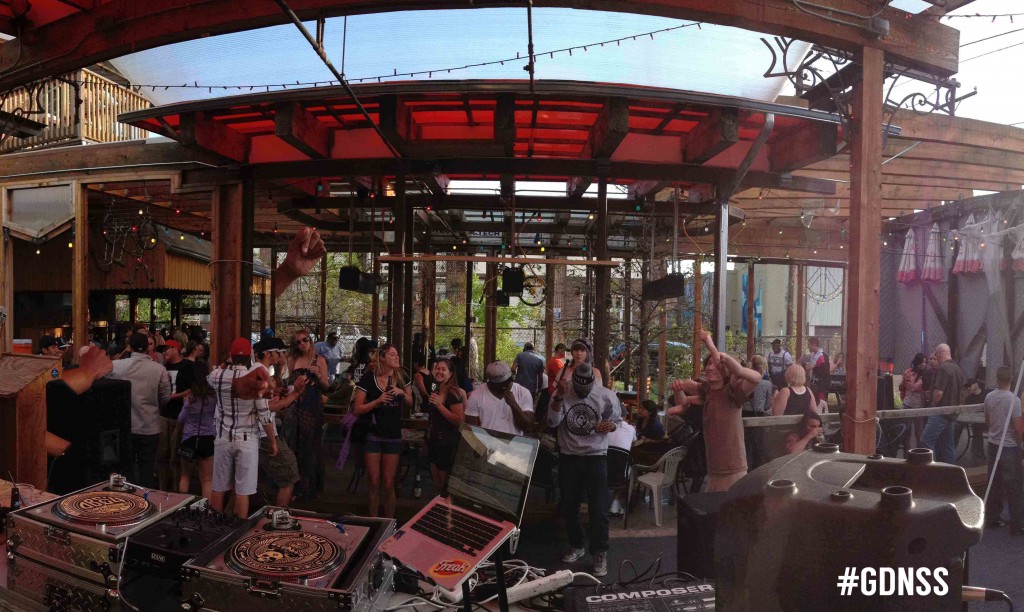 A few words on Goodness:
New York mixtape legend and Roc Nation DJ Mick (formerly Boogie) said "I love parties where I can just play.  And that party allowed me to do just that.  It was cleansing to my soul.  Thank Goodness.".
San Francisco's DJ Gordo, founder of nationally syndicated party Motown On Mondays, on the party: "Goodness is that rare kind of outdoor party where pouring rain and thunder only fuels the fire on the dance floor and brings people closer together.  Don't go to Denver and miss out on Goodness!".
Red Bull Thre3 Style Los Angeles champion & former US finals runner up D-JR has "Nothing but the best things to say about DJ Low Key's party Goodness.".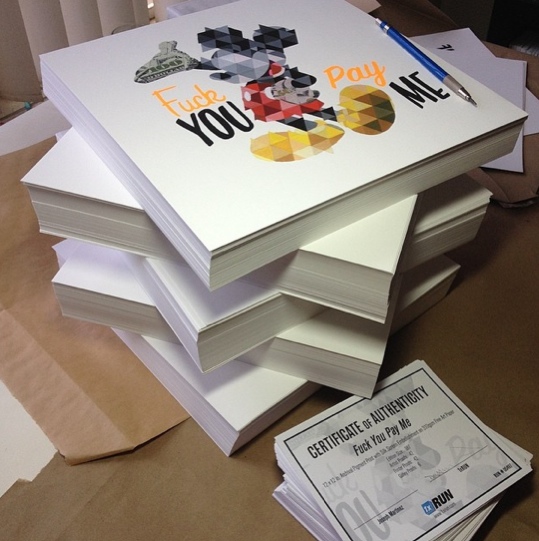 P.S. Just got word that Joseph Martinez is gonna give away a couple of these super dope "Fuck You, Pay Me" pieces that he recently released.
P.P.S. There are a few other surprises in store for 5/4, but I figured this was more than enough to get the announcement out to the world! Stay tuned!!!
Category:
events
,
Goodness
,
updates
/ Tags:
DJ House Shoes
,
DJ Lazy Eyez
,
DJ Low Key
,
Goodness
,
Goodness w/DJ Low Key & friends
,
Jaime Molina
,
Joseph Martinez
,
Judith & Joe
,
Moontower Tacos
,
The Meadowlark
,
ZenOne