Tag Archive for The Honor Roll
Category:
events
,
The Solution
,
The Solution Showcase
/ Tags:
1-O.A.K.
,
DJ Dozen
,
DJ Low Key
,
DJ Paradox
,
Soul City Studios
,
The Honor Roll
,
The Solution
,
The Solution Showcase
,
The Walnut Room
,
Venus Cruz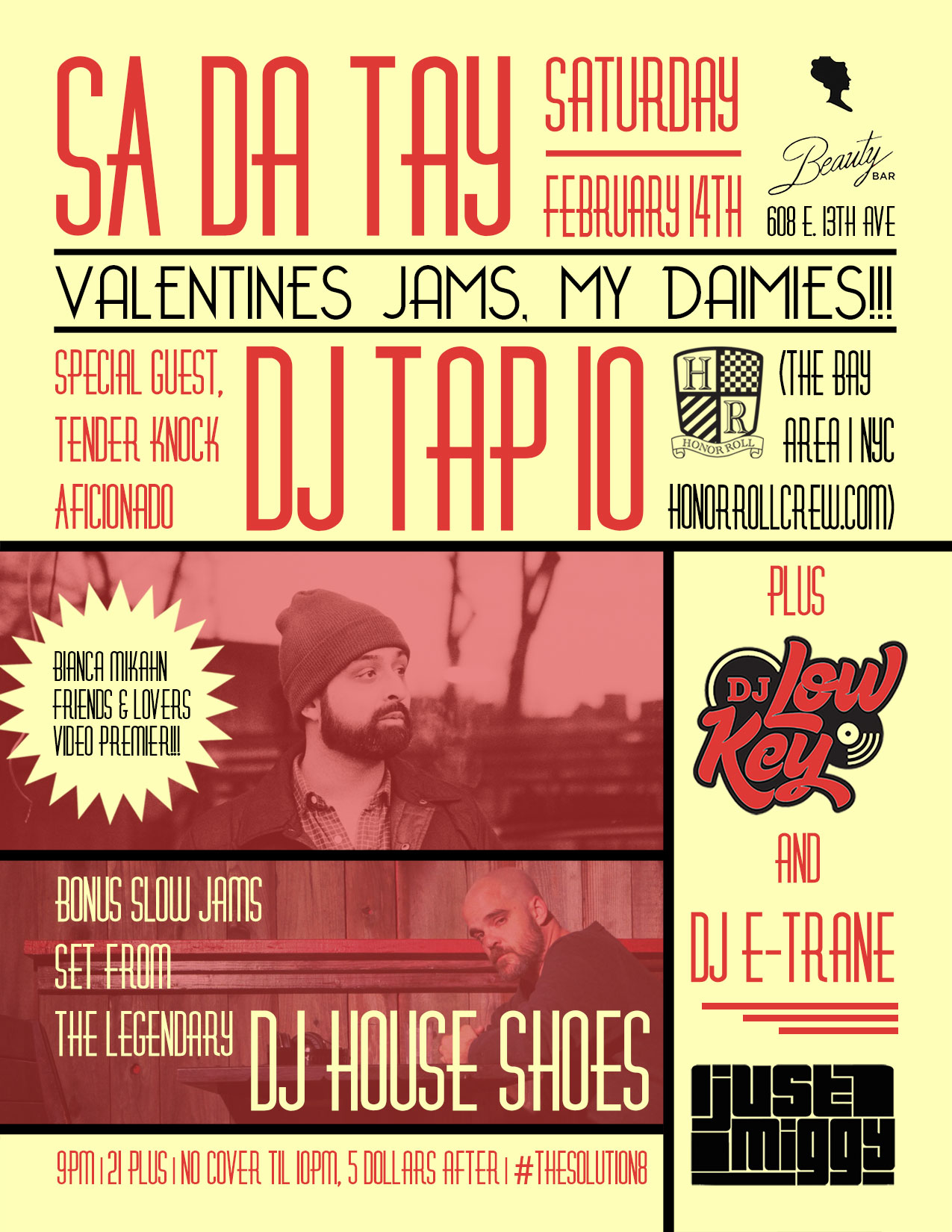 UPDATE: The legendary DJ House Shoes (Los Angeles / Street Corner Music) will be joining the turntable fun with a slow jam set to close out the night and we're also going to premier the new Bianca Mikahn video, "Lovers & Friends" to add to the Valentine's Day themed fun. Bata shane, my dillie? You're right my daimies, it doesn't get much better than that.
SATURDAY, 2/14 -> Wa dah tah!!! Sa Da Tay is back & this month we're welcoming out Bay Area/New York favorite DJ Tap 10 (of the world renowned Honor Roll Crew), king of the tender knock, and the perfect guest to play some Valentine's Day type jams. Tap 10 will be joining party founder DJ Low Key & MOM Denver's DJ E-Trane on the turntables at Beauty Bar Denver for a night full great music & good times on runny kine! No cover until 10pm, only $5 after / 21+.
REMINDER: There's no more parking in the church parking lot by Beauty Bar (they will tow). I started taking an Uber to work to get rid of the hassle of trying to park in Cap Hill & it's been great. If you're not a member yet, you can get enter the code "justing480″ to get yourself a first free ride to try it out (hopefully on the way to this party!).