Tag Archive for DJ Check One
POSTPONED to THURSDAY, 2/28 at 7pm due to the snow storm -> It's Dilla month and you already we'd be bringing something full Jay Dee beats to Denver for a 7th consecutive year (check out our first ever J Dilla party here).  This year we're teaming up with renowned Dilla expert DJ Check One/Dameion Hines, Sound College & Unit E Gallery to celebrate the life, music and legacy of the late great James Yancey.  Unit E is an art gallery space in the Sante Fe Arts District (1201 Sante Fe Dr) and because it's an art gallery and not a bar/nightclub, we need to make sure everyone coming out RSVPs to either RSVP <at> DenverSolution <dot> com or on the party's facebook event page by 7pm the night of the event.  Per tradition, we'll have donuts and Sound College tees in the house and as always, an all-star lineup of talent, check it:
Video tribute by DJ Check One
DJ sets by DJ Low Key, Deejay SD & DJ Chonz
Beat tribute by Big J. Beats
7″ Vinyl (45) Donuts sample set by Brik-A-Brak
Live bass and drums by Casey Sidwell & Dameion Hines
Once again, MAKE SURE YOU RSVP IF YOU'RE PLANNING TO ATTEND. You can RSVP for your friends as well but we need everyone's name attending, sending your name +1 is not an option (if your name's not on the list, you won't get in, that's the venue's policy).  Everyone is invited though, you can send as many names as you want as long as you submit them on time, and we're looking forward to seeing Denver show out for a night of incredible music as we celebrate on of the musical geniuses of our time.  21+/7PM/$5 at the door with RSVP.
Category:
events
,
The Solution
/ Tags:
#TheSolution6
,
Big J Beats
,
Brik-A-Brak
,
Casey Sidwell
,
Dameion Hines
,
Deejay SD
,
DJ Check One
,
DJ Chonz
,
DJ Low Key
,
Sound College
,
Unit E
SUNDAY, 8/26 from 2-9PM ->  Last week's Goodness was phenomenal and we're coming back this week with another crazy lineup, featuring special guests DJ Check One & Almighty I.Z., guest hostess Nicole Miera and another surprise guest, just because we can.  On top of that Opt Won is setting up a one day only Doc Fresh Vintage Sports Apparel Pop-Up Shop with all the dope Starter jackets & such that 80s-babies such as myself love (breakaways, windbreakers, sweatshirts, snap backs, satin jackets, etc).  El Chingon will be on the tacos, the vibe will be fantastic and you probably wanna get their early in the day if you're trying claim some prime real estate before the Meadowlark's incredibly dope patio fills up.  21+/No Cover/2701 Larimer St.
Red Bull & Svedka "Bomber Pops"
Agua Frescas Especial (con Svedka)
Ice Cold Beer Buckets: 4 Beers for $10 domestics /// $12 imports
$5 Red Bull & Svedka's
+more
P.S. After Goodness ends, the party continues on at Fifty/50, the new service industry night at Tryst (1512 Larimer St) w/me & Jessica Simmons, featuring some of the best drink specials I've ever seen and of course, dope music.  Get all the details here.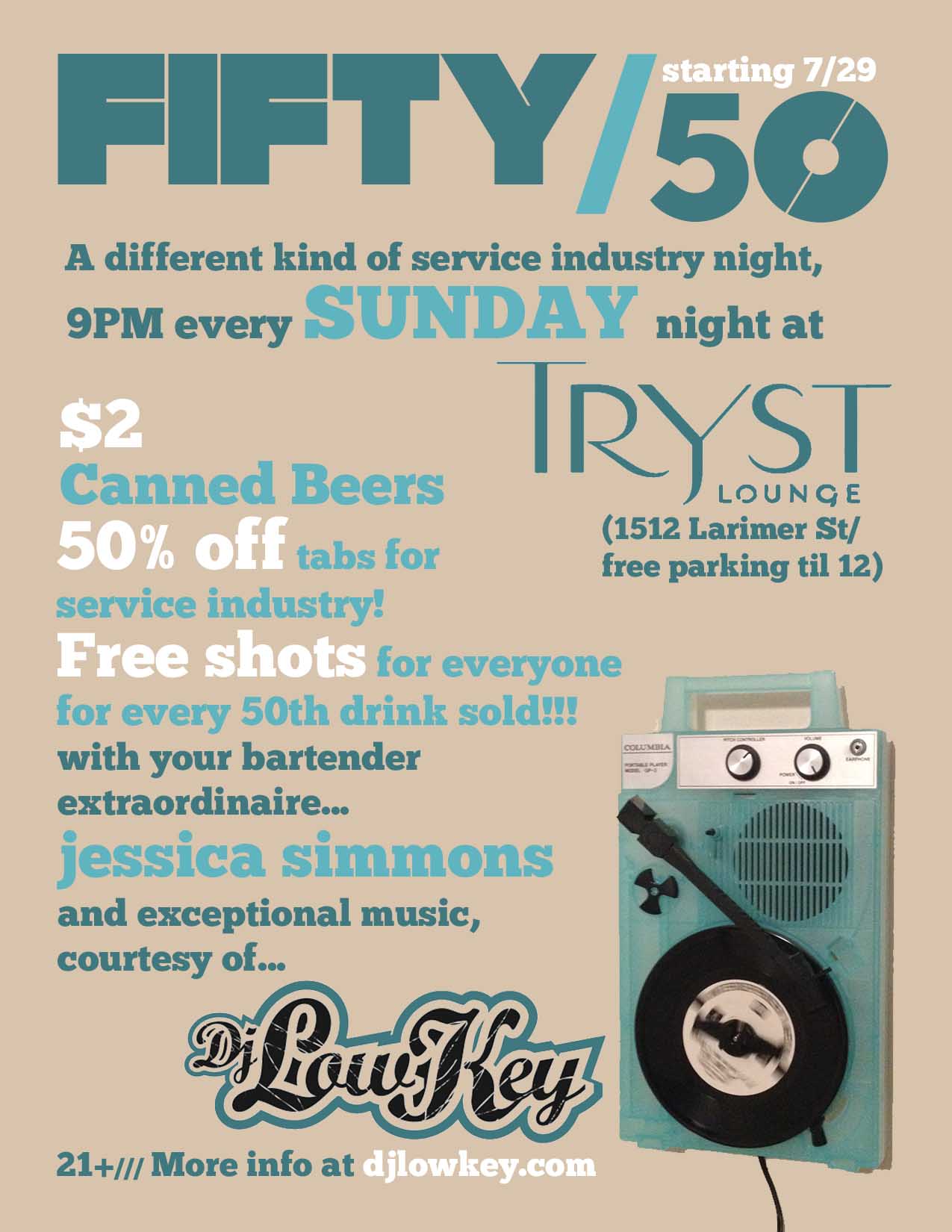 P.P.S. Take an Instagram pic of either party and tag it #DenverDiggers for a chance to win one of 12 Frank151 Denver Diggers fitteds, details here.