Tag Archive for DJ Largechild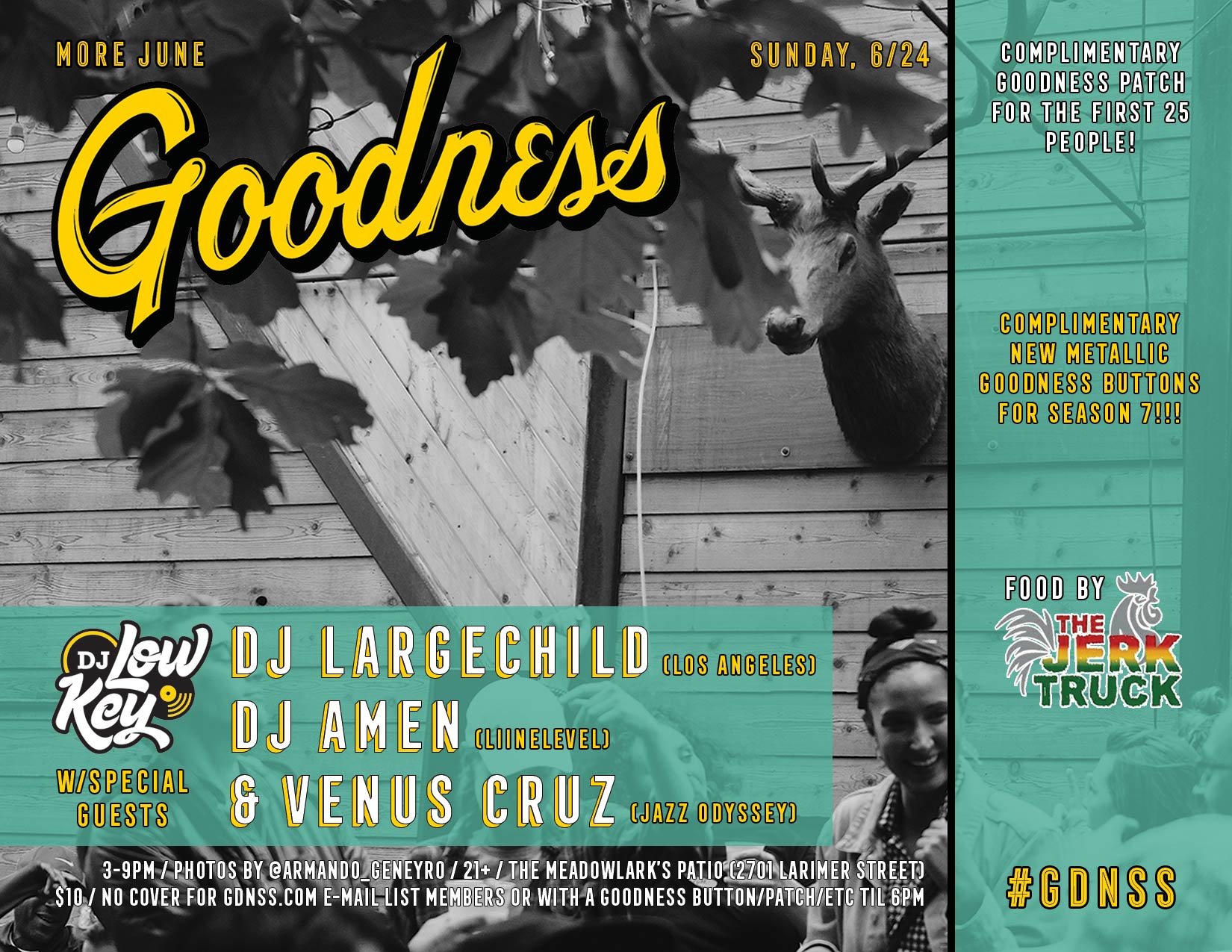 Join the e-mail list at GDNSS.com or wear a Goodness button/pin/etc to skip the $10 cover until 6pm…
Join the e-mail list at GDNSS.com before noon Sunday or wear a Goodness button/patch/etc to avoid the $10 cover…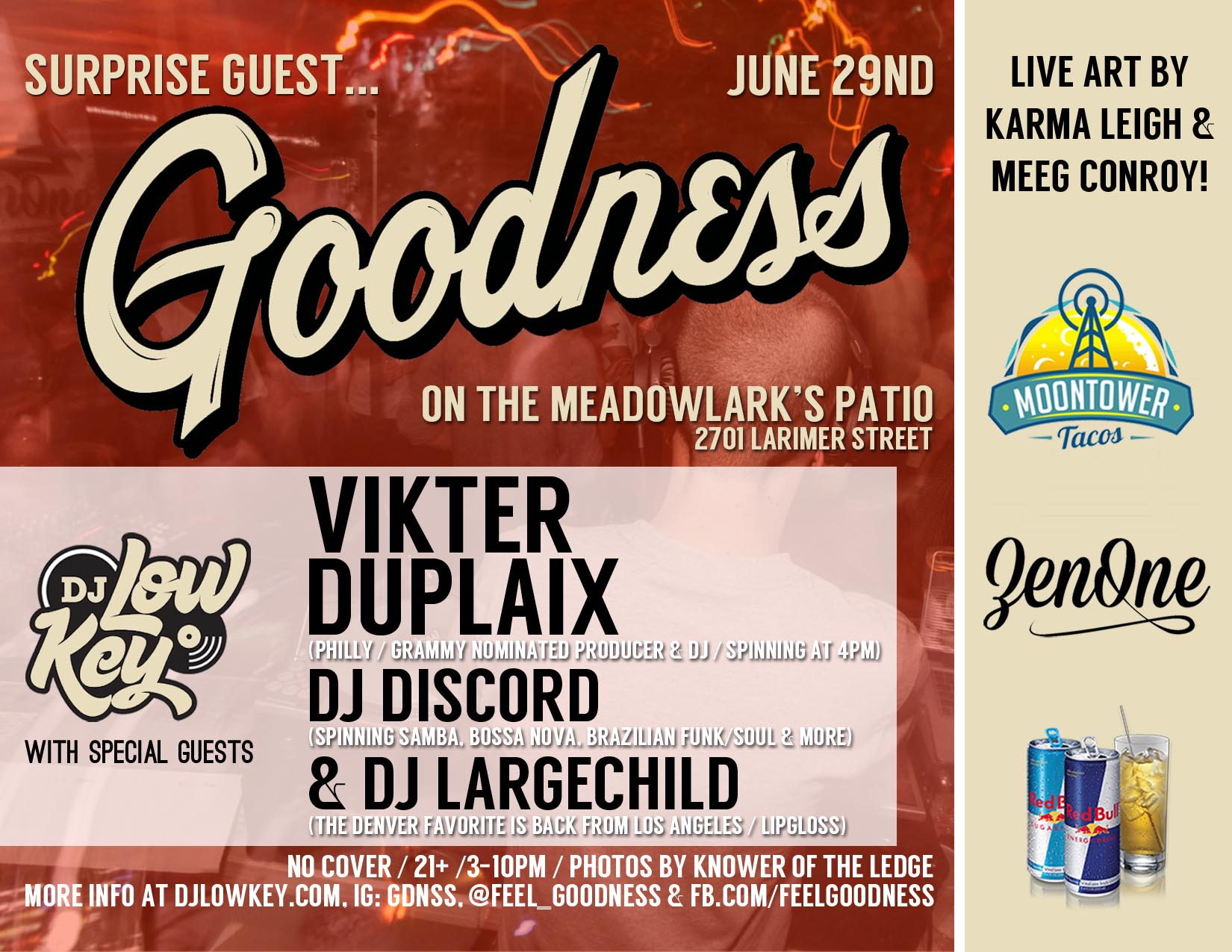 UPDATE: Double surprise! We've got legendary, Grammy-nominated DJ/producer Vikter Duplaix (Master Of The Mix/Kiss-N-Grind) & Colorado favorite DJ Largechild in from Los Angeles to rock for y'all!!! They'll be joining me & DJ Discord on the turntables for what should be an incredible day of music!
SUNDAY, 6/29 from 3-10pm -> Summer's in full swing, Goodness w/DJ Low Key & friends has been on a roll lately and things are just getting better. This time around, I'm GEEKED to be featuring a surprise guest who's a bit of a DJ legend throughout the world, a person who's renowned for their DJ skills, first and foremost, and someone you don't want to miss. We'll be announcing who it is the morning of the party and the mystery guest will be rocking at 4pm sharp, so make sure to come out early so you don't miss it. On top of the surprise guest, I'm super excited to be welcoming DJ Discord back to Goodness. Discord is the infamous Crunk Brother who's blessed the party with an amazing mix of samba, bossa nova, Brazilian funk & soul plus more from his numerous pilgrimages to South America to dig for records in years passed and he's back with even more fresh music we've never heard.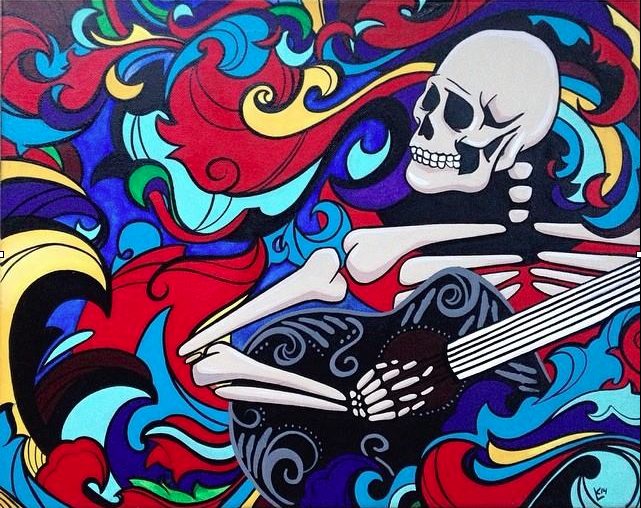 As if that wasn't enough, we've got renowned Denver artists Karma Leigh & Meeg Conroy coming down to bless your eyes and the party with some live art!!!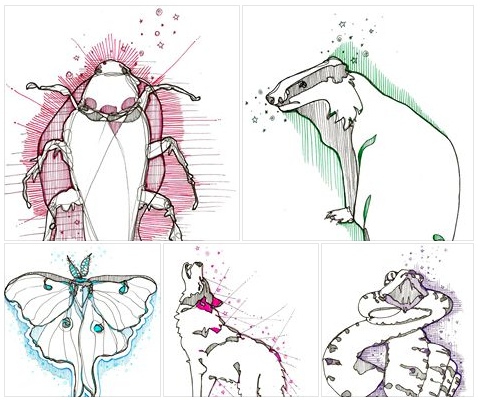 As usual we've also got complimentary stadium style Goodness cups for the first 25 people to get drinks, as well as complimentary buttons for everybody! And of course, Moontower Tacos will be out front making their incredible, uniquely tasty tacos to fuel the party, making the cipher complete.
Goodness/Solution photographer Knower Of The Ledge will be taking pics of the party (follow us on Instagram: @GDNSS), El Chingon is brewing refreshing agua frescas for us, ZenOne will be back & more on the Meadowlark's constantly improving patio (2701 Larimer St), come rock with us!!! No cover / 21+ / 3-10pm.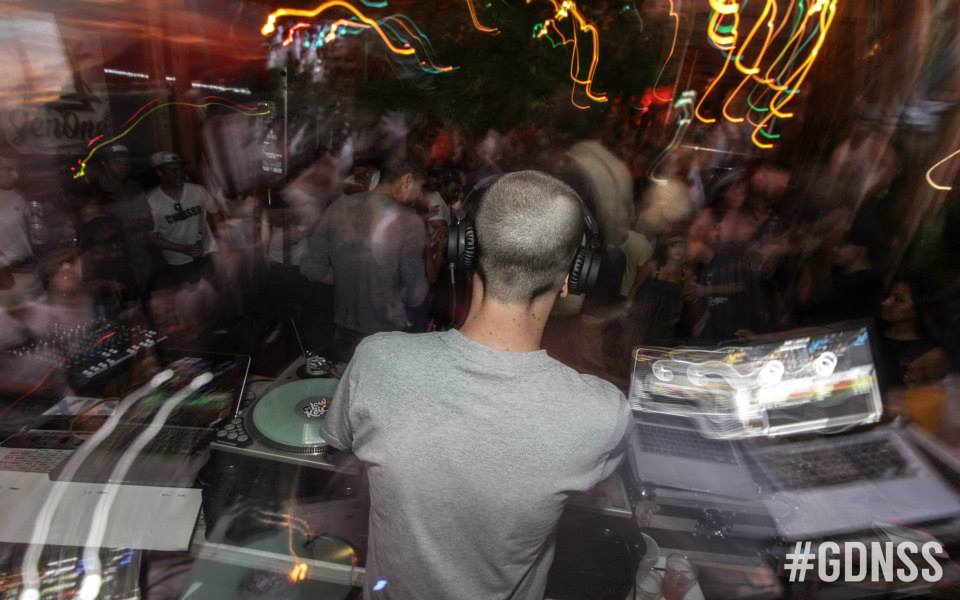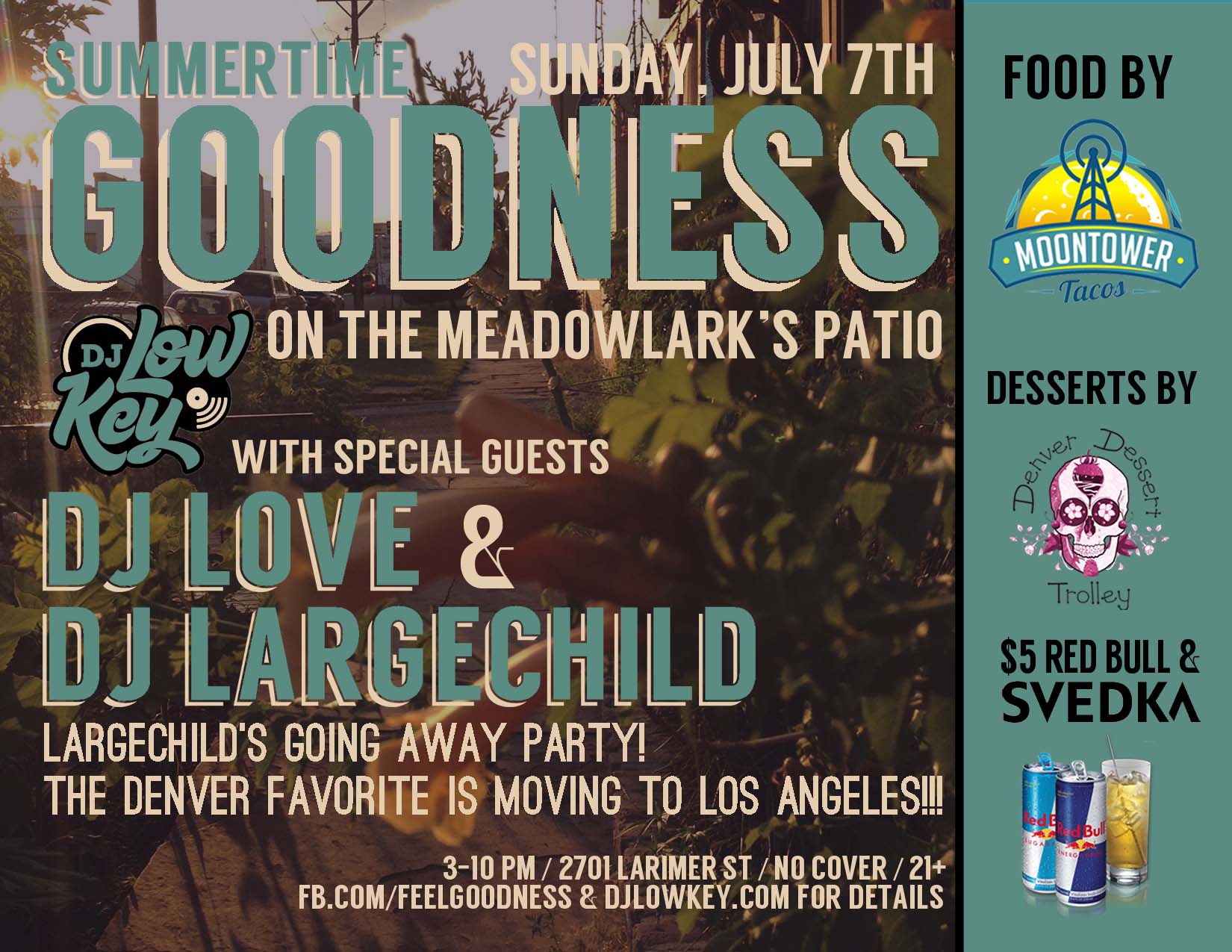 SUNDAY, 7/7 at 3pm -> You already know the perfect way to wrap up your 4th of July weekend is some Summertime Goodness w/DJ Low Key & friends on the Meadowlark's patio.  This time around, we're featuring special guests Denver vet DJ Love, & DJ Largechild, a Denver favorite who's moving to LA in a few days.  That said, don't miss your chance come celebrate one of the best DJs in town before he heads west for good and catch a Denver OG with extra deep crates making a rare guest set in the same day.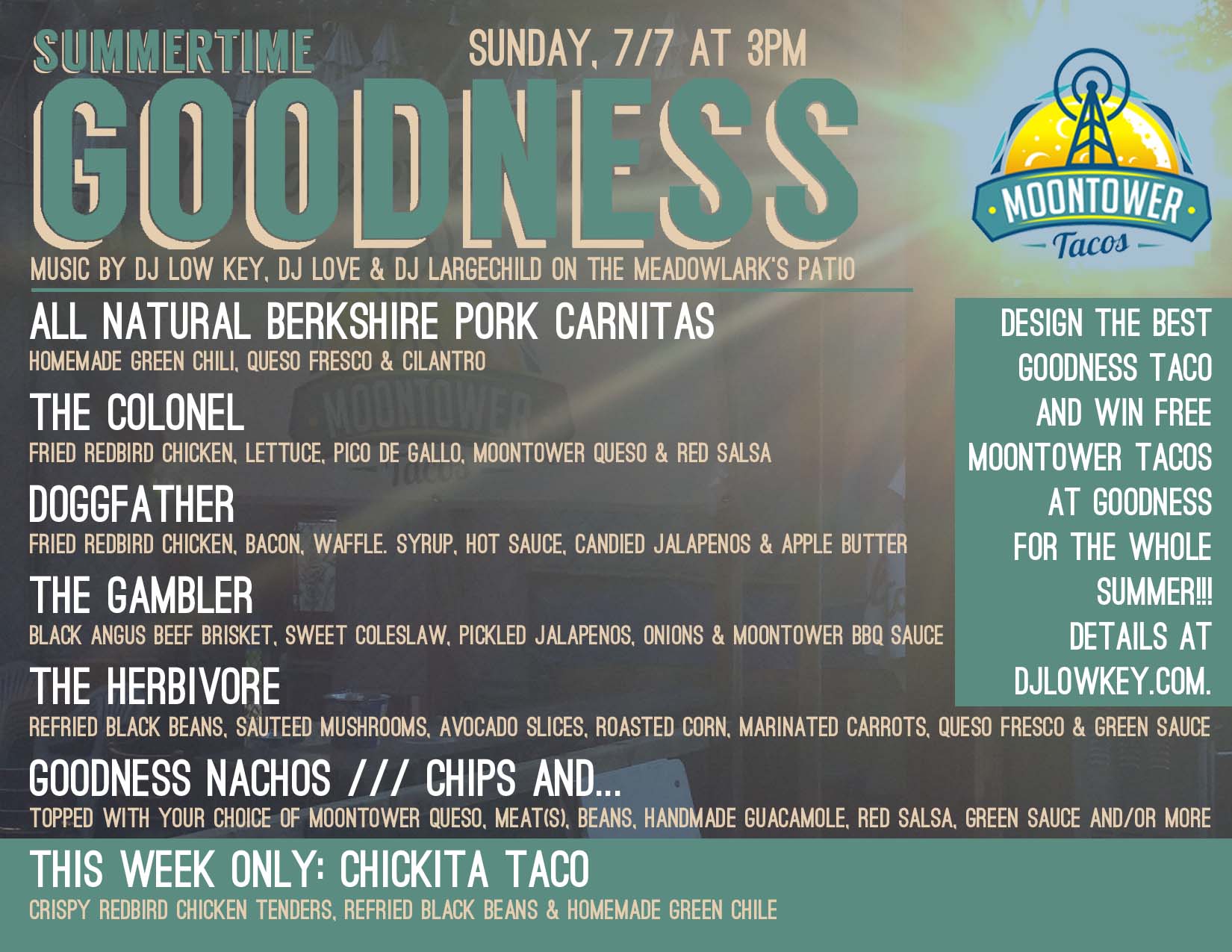 As usual, Moontower Tacos will be serving their incredible tacos and Denver Dessert Trolley will be blessing us with delicious treats on the patio.  Moontower's brand new Chickita Taco, a combination of fried redbird chicken, refried black beans & homemade green chile, is this week's special.  And speaking of special tacos, make sure to enter the Goodness Taco Contest below for a chance to win free tacos every Sunday all Summer.  Here's how you can win:

Step 1: Check out the Moontower Tacos menu for a little inspiration and to know what they're all about.
Step 2: Design your best Goodness Taco and send it over to GoodnessTaco@djlowkey.com to enter. Me and Moontower will pick the best five entries and on Tuesday, 7/9, we'll open things up to people to vote for their favorite Goodness Taco option.
Step 3: Come out to Goodness w/DJ Low Key & friends on the Meadowlark's patio on Sunday, July 14th, where we'll unveil the winning taco and bless the winner with free tacos for the rest of the 2013 Goodness season (through Sunday, 9/22).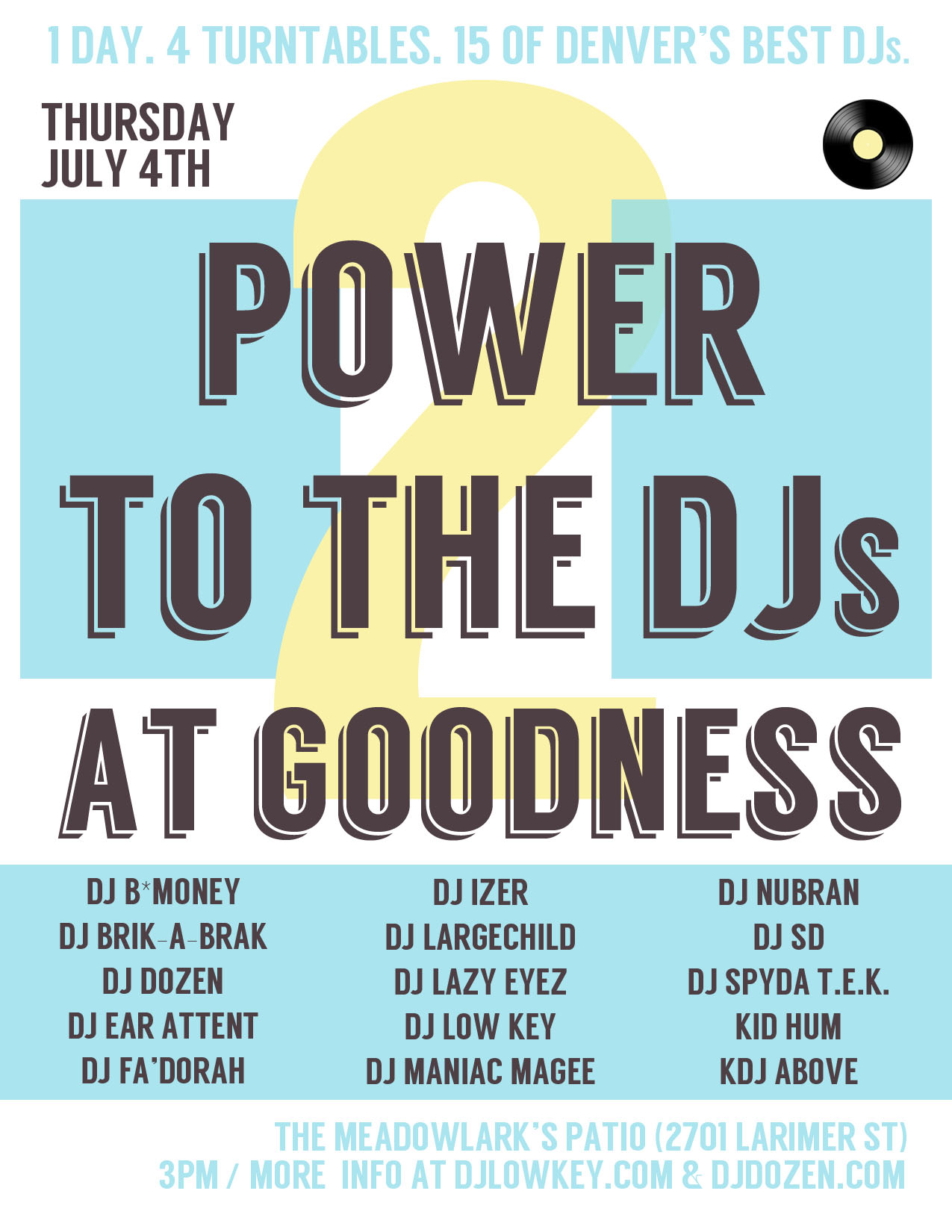 SUNDAY, 7/4 at 3pm -> 1 Day. 4 turntables. 15 of Denver's Best DJs. Power to the DJs #2 at Goodness.  The lineup:
The lineup speaks for itself, but there's also no cover and Denver Dessert Trolley will be on site serving delicious treats. We'll also have some Rockies ticket giveaways & more fun stuff if you join the Power To The DJs e-mail list.  The e-mail list will help all the DJs and everyone who comes stay in better touch, hopefully helping make the scene a little bit better.  The party's at the award-winning Meadowlark (2701 Larimer St) and kicks off at 3pm sharp.  Shouts to DJ Dozen for helping make the whole event happen and all the great DJs involved.  More info coming soon here and at @feel_goodness.
Category:
events
,
Goodness
/ Tags:
DJ B-Money
,
DJ brik-A-brak
,
DJ Dozen
,
DJ Ear Attent
,
DJ Fa'Dorah
,
DJ Izer
,
DJ Largechild
,
DJ Lazy Eyez
,
DJ Low Key
,
DJ Maniac Magee
,
DJ Nubran
,
DJ SD
,
DJ Spyda T.E.K.
,
KDJ Above
,
Kid Hum
,
The Meadowlark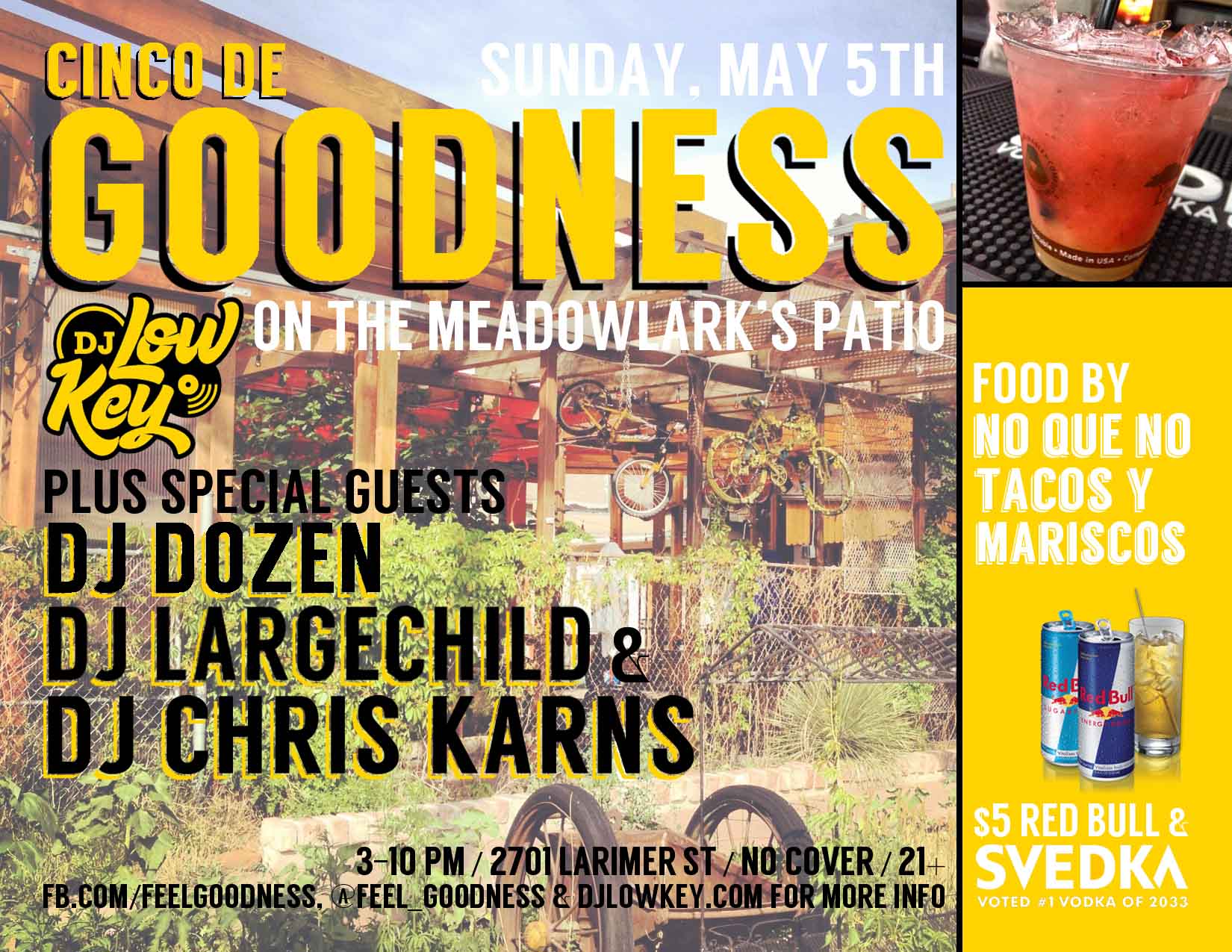 SUNDAY, 5/5 at 3PM -> It's here!  Goodness w/DJ Low Key & friends, my Summertime party on the Meadowlark's beautiful patio is back for the 2013 patio season!!!  Last year, Goodness got off to an unbelievable start, with a ton of great people, top notch music, refreshing, delicious tacos & assorted randomness coming together like magic every weekend.  Now we're back for 2013 and kicking things off with an all-star DJ lineup including world renowned DJ Chris Karns, underrated Lipgloss resident DJ Largechild, Welcome To The D.O.P.E. Game's DJ Dozen & myself.
On the food tip, El Chingon and Chef David Lopez (aka DJ Psycho), who did tacos for us last year, are opening their new location at 44th & Tennyson (go check it out!) and unfortunately they're not going to be able to do tacos for us this season.  With that said, we're bringing in No Que No Tacos & Mariscos to do food for the 2013 Summer season.  No Que No has an actual food truck and will be able to serve a bigger menu than we offered last year (including fried foods!), so expect a wider variety of delicious options for your patio dining pleasure.  On the drink side of things, we'll still be featuring our signature agua frescas con Svedka with a few new surprises for 2013.  It's gonna be an incredible Summer at Goodness, hopefully you can join us!  2701 Larimer St / No Cover / 21+.
.:Check out the brand new Goodness w/DJ Low Key & friends facebook page:.