Tag Archive for Kid Hum
FRIDAY, 10/25 -> This year Halloween falls on a weekday, so we're kicking off the celebrations almost a week early at The Solution w/DJ Low Key & Lazy Eyez with all sorts of fun stuff.  If you've got a good costume, make sure you rock it, we're giving away a pair of tickets to the Kanye West/Kendrick Lamar show to the best one.  Everybody's a winner though, we'll have free candy and a couple of piñatas to smash (that's last year's Frankenstein piñata on the flyer), not to mention award-winning music and your favorite Halloween oriented jams!
As if that wasn't enough, we've super excited to announce that Knower Of The Ledge (IG: @KnowerOfTheLedge) will be joining The Solution (take a quick minute to check our new instagram page at @DenverSolution) as the party's official photographer.  He'll be with us every Friday from now on, taking pictures of the party and documenting all our great times at the Meadowlark (2701 Larimer St)!!!  9pm / No cover til 11pm / Only $5 after / 21+.
UPDATE:
Things got a whole lot crazier over the weekend.  We're excited to be doubling the fun for Friday from our initial plans, here's the 3 reasons why:
1: We're teaming up with the one and only Opt Won & Chubby Robot to make The Solution the official afterparty for the highly  anticipated Diehorrorama art show, a horror film themed diorama art show at Eslinger Gallery (118 South Broadway) from 6-9pm that you won't want to miss.  It's features 20 or so of Denver's best artists, treats by The Shoppe, our homies DJ Tense & DJ Unison on the turntables and more fun.  It's a perfect way to get your night going before The Solution!
2: Longtime friend of the party and producer/DJ extraordinaire Kid Hum (Welcome To The D.O.P.E. Game) is about to head out of town for a long trip to Tokyo & other parts of Asia, so come out and wish the homie off on a good trip.
3: We're looking forward to welcoming The Cluck Truck back for another culinary guest spot.  They're easily one of the tastiest food trucks in town and we can't wait have them back for another round of delicious fried chicken, homemade pickles & lots more.
SUNDAY, 7/21 at 3PM -> Super excited to link up with the young homies from Welcome To The D.O.P.E. Game (Don't Oppress Positive Energy) for the second annual Cocktails With The D.O.P.E. Game collab at Goodness w/DJ Low Key & friends.  Joining me on the turntables (and pads) for the day will be ridiculously dope lineup of DJ Dozen, Kid Hum, DJ Spyda T.E.K. & Big J Beats, and trust, it's gonna sound amazing.  Turner Jackson and Jeremy Pape will be your hosts for the afternoon, the crew is premiering their latest video at sunset and we'll have the D.O.P.E. Game's favorite drink on deck, 40s (don't worry though, the party's trademark agua frescas will be there too).  As usual, Moontower Tacos will be serving their incredible tacos (rumor has it they'll be debuting the Goodness Taco) and Denver Dessert Trolley will have some tasty treats on the Meadowlark's patio to make the day complete.  21+ / No Cover / 3-10pm.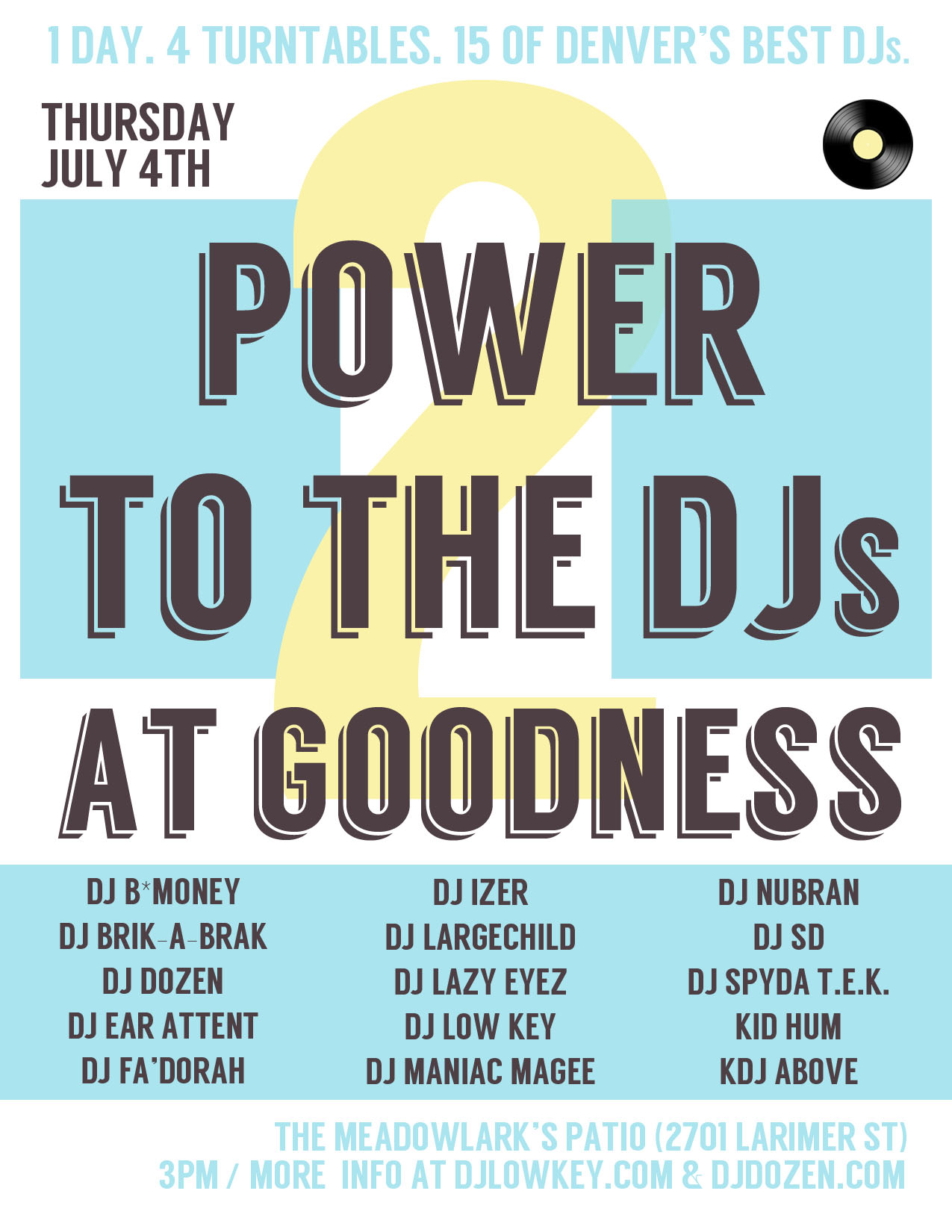 SUNDAY, 7/4 at 3pm -> 1 Day. 4 turntables. 15 of Denver's Best DJs. Power to the DJs #2 at Goodness.  The lineup:
The lineup speaks for itself, but there's also no cover and Denver Dessert Trolley will be on site serving delicious treats. We'll also have some Rockies ticket giveaways & more fun stuff if you join the Power To The DJs e-mail list.  The e-mail list will help all the DJs and everyone who comes stay in better touch, hopefully helping make the scene a little bit better.  The party's at the award-winning Meadowlark (2701 Larimer St) and kicks off at 3pm sharp.  Shouts to DJ Dozen for helping make the whole event happen and all the great DJs involved.  More info coming soon here and at @feel_goodness.
Category:
events
,
Goodness
/ Tags:
DJ B-Money
,
DJ brik-A-brak
,
DJ Dozen
,
DJ Ear Attent
,
DJ Fa'Dorah
,
DJ Izer
,
DJ Largechild
,
DJ Lazy Eyez
,
DJ Low Key
,
DJ Maniac Magee
,
DJ Nubran
,
DJ SD
,
DJ Spyda T.E.K.
,
KDJ Above
,
Kid Hum
,
The Meadowlark
MONDAY, 5/27 -> Last Sunday was crazy good and it's safe to say that Goodness w/DJ Low Key & friends is officially underway for Summer.  People have already started asking me how long the party is going to go for so they can make the most of it (the official 2013 season closer is 9/22, go ahead and put it on your calendar now) and I'm just like y'all, trying to make the most of Sumemr while it's here.  On that note, I'm super excited to announce that we're gonna have an extra bonus edition of Goodness on Memorial Day, the perfect compliment to Sunday's Native Tongues Goodness.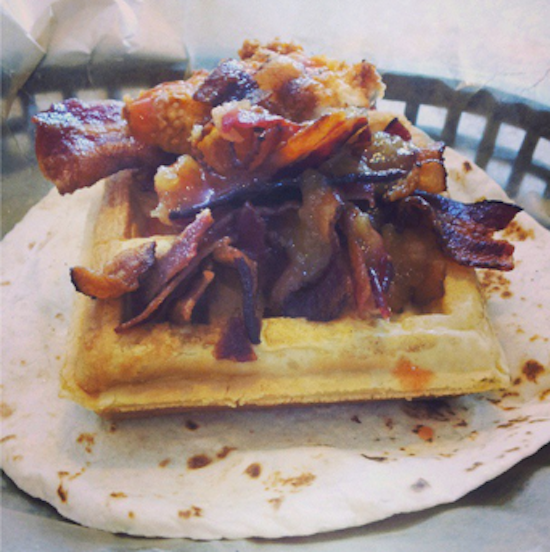 So yeah, Bonus Goodness on Memorial Day w/me and specials guests Deftron and Kid Hum on the turntables as we go extra hard to celebrate our good friend Aisha's birthday!  We're also bringing in Moontower Tacos to flip up the menu for the day and Denver Dessert Trolley with some sweet desserts too.  Moontower Tacos recently opened up here in Denver and they've been bringing all sorts of creative, "Austin-style" tacos to CO, including their infamous Doggfather (Chicken & Waffle Taco), which they'll have on hand at Goodness for your stomach and tastebuds' delight.  Denver Dessert Trolley was started by former TAG dessert bar chef Jamie Seacrest, who'll have Mexican chocolate brownies and some other goodies on hand on the Meadowlark's incredible patio.  You already know we'll have Jessica the Solution Bartender and Tara serving three delicious flavors of agua frescas with Svedka and a whole lot more at the bar, should make for a great Memorial Day!  2701 Larimer St/ No Cover / 21+.
SUNDAY, 8/12 from 2-9PM -> Last week was the busiest yet (check the pic below) and the rave reviews keep coming in about how great the vibe at Goodness is, with everyone from randoms who lucked out and found us to Denver culture blogs to die-hard music heads saying it's their favorite party of the Summer.  This week we're back at it a with a Hawaiian twist.  Now I'm gonna be honest, my original plan, back before we partnered with El Chingon, was to have a pig roast and luau on 8/12.  I clung on to that idea as things got more and more complicated while trying to make it happen and ultimately, I had steer away from the idea when we learned that due to health code regulations, we wouldn't be able to roast the pig on-site.  Never one to be held down, I worked with El Chingon's Chef David Lopez to put together some delicious Hawaiian-inspired taco specials, along with pineapple and mango agua frescas, which is probably the next best thing to a pig roast in keeping with the Hawaiiian theme (and it also doesn't scare vegetarians quite like a roasted pig's head…LOL).
Beyond the Hawaiian food and drinks, I'll be joined on your afternoon's soundtrack by two very dope cats who I've never really had a chance to rock with, but always wanted to; DJ Wushu (Bass Crooks) & Kid Hum (Fossil Fuel Music).  Also, in keeping with the Hawaiian theme, we're gonna give $25 in tacos and drinks to the person with the best Hawaiian shirt on, so come dressed proper and end up full with a nice buzz on us.  The misters will be keeping us refreshed, the music will be beautiful & the vibe bordering magic on the Meadowlark's beautiful patio (2701 Larimer St), so come join us.  21+/No Cover.
(Above: Very dope video of Goodness for El Chingon by Press Media Group. The party looks like this, although we don't really play too much music like Bloc Party, even though we do play a wide variety of stuff)
Red Bull & Svedka "Bomber Pops"
Agua Frescas Especial (con Svedka)
Ice Cold Beer Buckets: 4 Beers for $10 domestics /// $12 imports
$5 Red Bull & Svedka's
+ more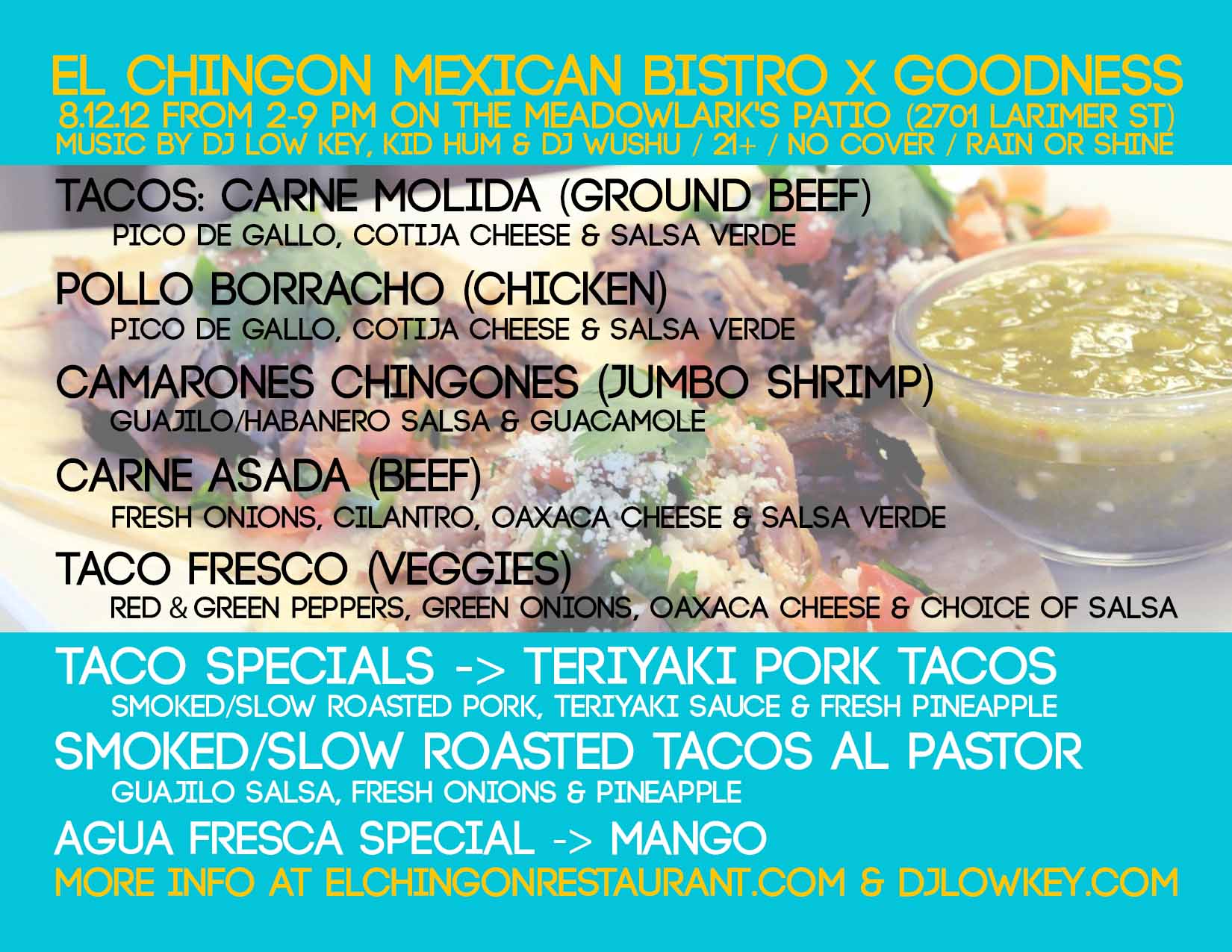 P.S. After Goodness ends, the party continues on at Fifty/50, the new service industry night at Tryst (1512 Larimer St) w/me & Jessica Simmons, featuring some of the best drink specials in town and of course, ridiculously good music.  Get all the details here.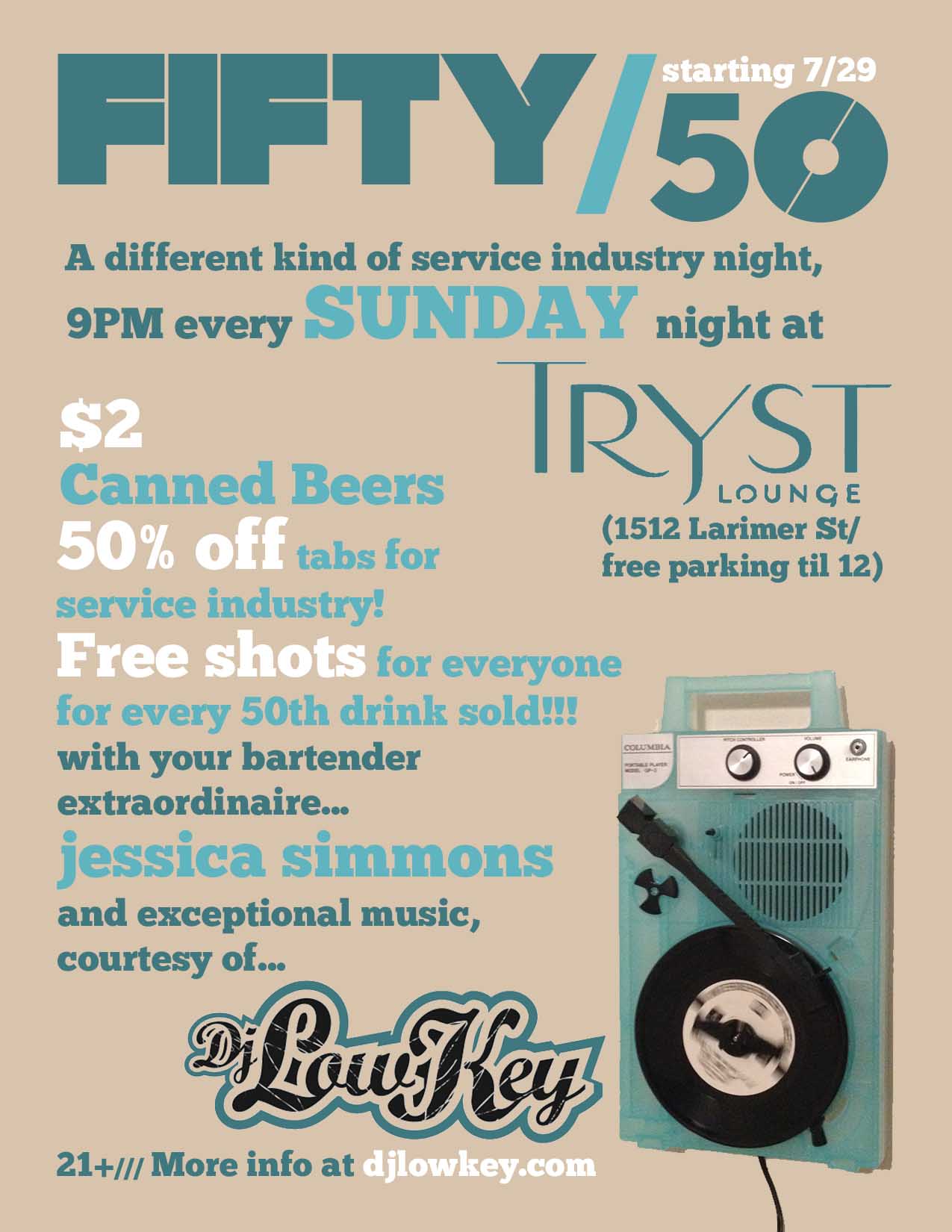 P.P.S. Take an Instagram pic of either party and tag it #DenverDiggers for a chance to win one of 12 Frank151 Denver Diggers fitteds, details here.