Tag Archive for KDJ Above
Category:
events
,
Goodness
,
updates
/ Tags:
#WheresGoodnessGoing
,
Bar Standard
,
DJ Cyn
,
DJ Lazy Eyez
,
DJ Low Key
,
Es-Nine
,
Goodness
,
Goodness w/DJ Low Key & friends
,
KDJ Above
,
Lazy Eyez
,
Mandy Yoches
,
Sky Welkin
,
The Crunk Brothers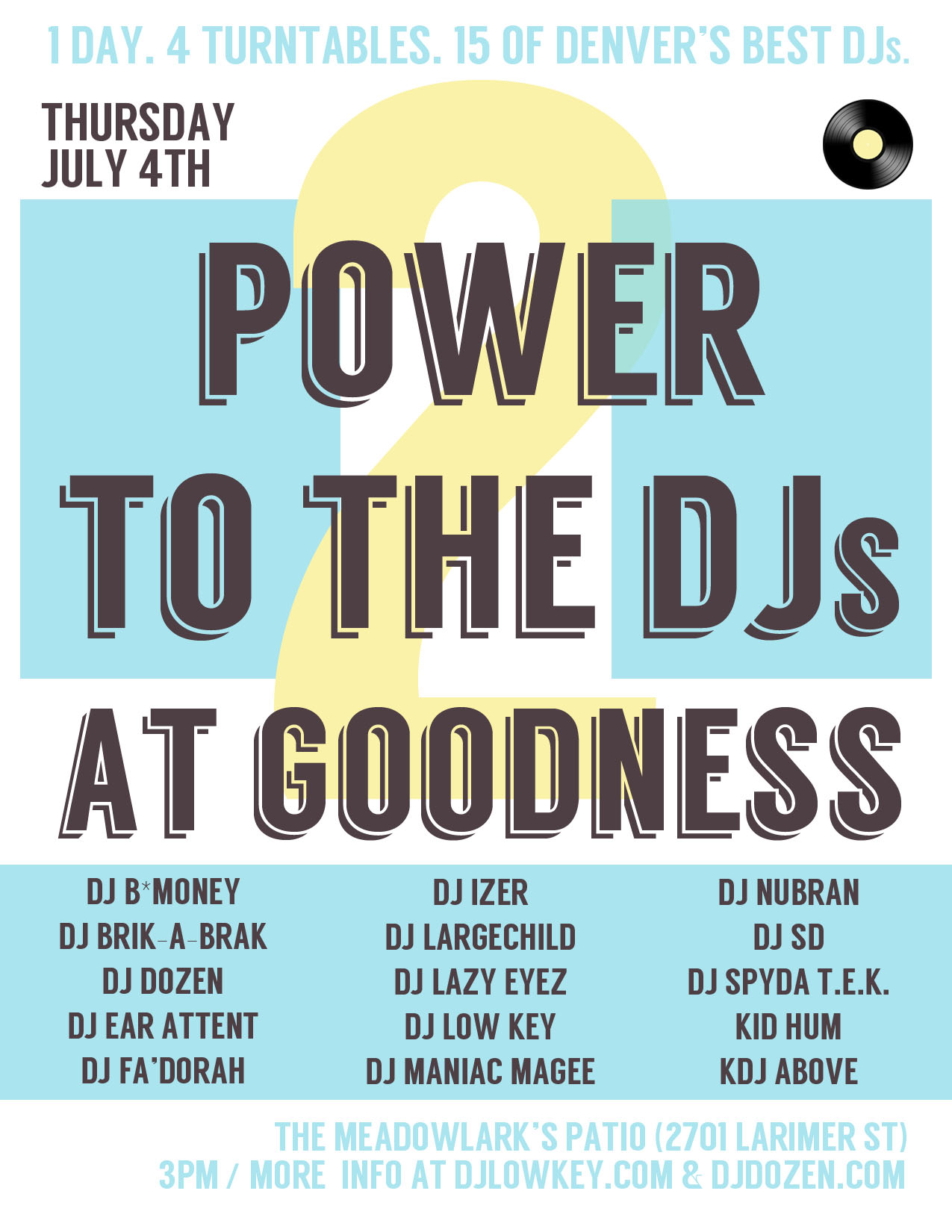 SUNDAY, 7/4 at 3pm -> 1 Day. 4 turntables. 15 of Denver's Best DJs. Power to the DJs #2 at Goodness.  The lineup:
The lineup speaks for itself, but there's also no cover and Denver Dessert Trolley will be on site serving delicious treats. We'll also have some Rockies ticket giveaways & more fun stuff if you join the Power To The DJs e-mail list.  The e-mail list will help all the DJs and everyone who comes stay in better touch, hopefully helping make the scene a little bit better.  The party's at the award-winning Meadowlark (2701 Larimer St) and kicks off at 3pm sharp.  Shouts to DJ Dozen for helping make the whole event happen and all the great DJs involved.  More info coming soon here and at @feel_goodness.
Category:
events
,
Goodness
/ Tags:
DJ B-Money
,
DJ brik-A-brak
,
DJ Dozen
,
DJ Ear Attent
,
DJ Fa'Dorah
,
DJ Izer
,
DJ Largechild
,
DJ Lazy Eyez
,
DJ Low Key
,
DJ Maniac Magee
,
DJ Nubran
,
DJ SD
,
DJ Spyda T.E.K.
,
KDJ Above
,
Kid Hum
,
The Meadowlark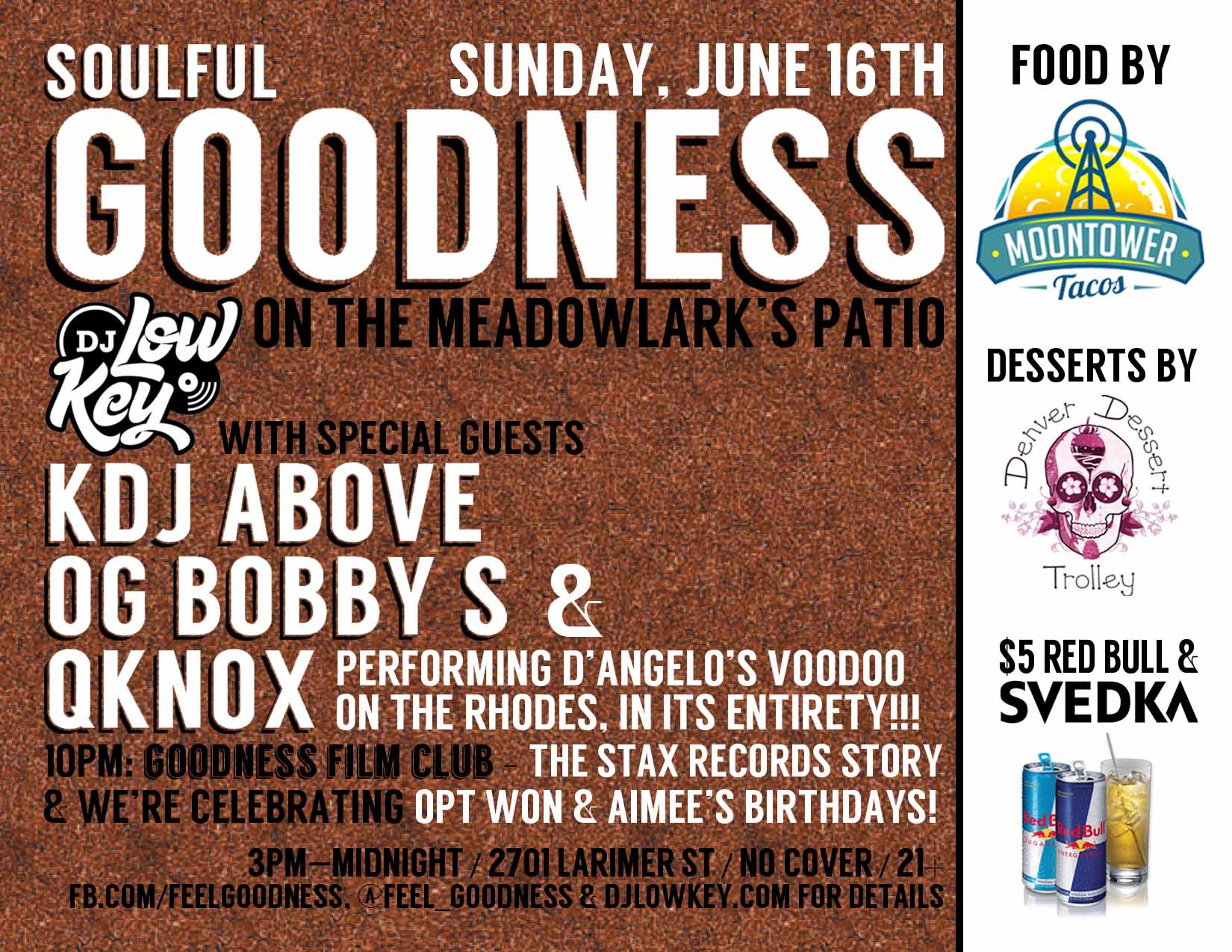 SUNDAY, 6/16 at 3pm -> The weather keeps getting hotter and so do things at Goodness w/DJ Low Key & friends; luckily we're turning on the misters for the Summer season, so it all works out…LOL.  After last week's international theme, this edition of Goodness is bringing things back to the states and focusing on all the best soul/R&B music in grand fashion.  Me, Renaissance man KDJ Above and longtime Denver favorite OG Bobby S have you more than covered on the turntables and keyboard mastermind Qknox will be topping off the day with his unique take on D'Angelo's classic Voodoo album on the Rhodes piano (!!!!!).

As if that wasn't enough, we'll also be celebrating the birthdays of MC/Chubby Robot founder Opt Won and bartender extraordinaire Aimee Ott-Peterson, two party regulars/Denver fixtures that definitely know how to have a good time.  As usual, Moontower Tacos & Denver Dessert Trolley will be serving us incredible tacos & desserts, the vibe should be close to flawless and at 10PM, we'll be closing things out with a Goodness Film Club screening of The Stax Records Story, which details the rise of one of music's best soul music labels ever (home to the likes of Isaac Hayes, Otis Redding & countless more), during the civil rights era, on the Meadowlark's beautiful patio. 2701 Larimer St / No Cover / 21+.