Tag Archive for DJ Ear Attent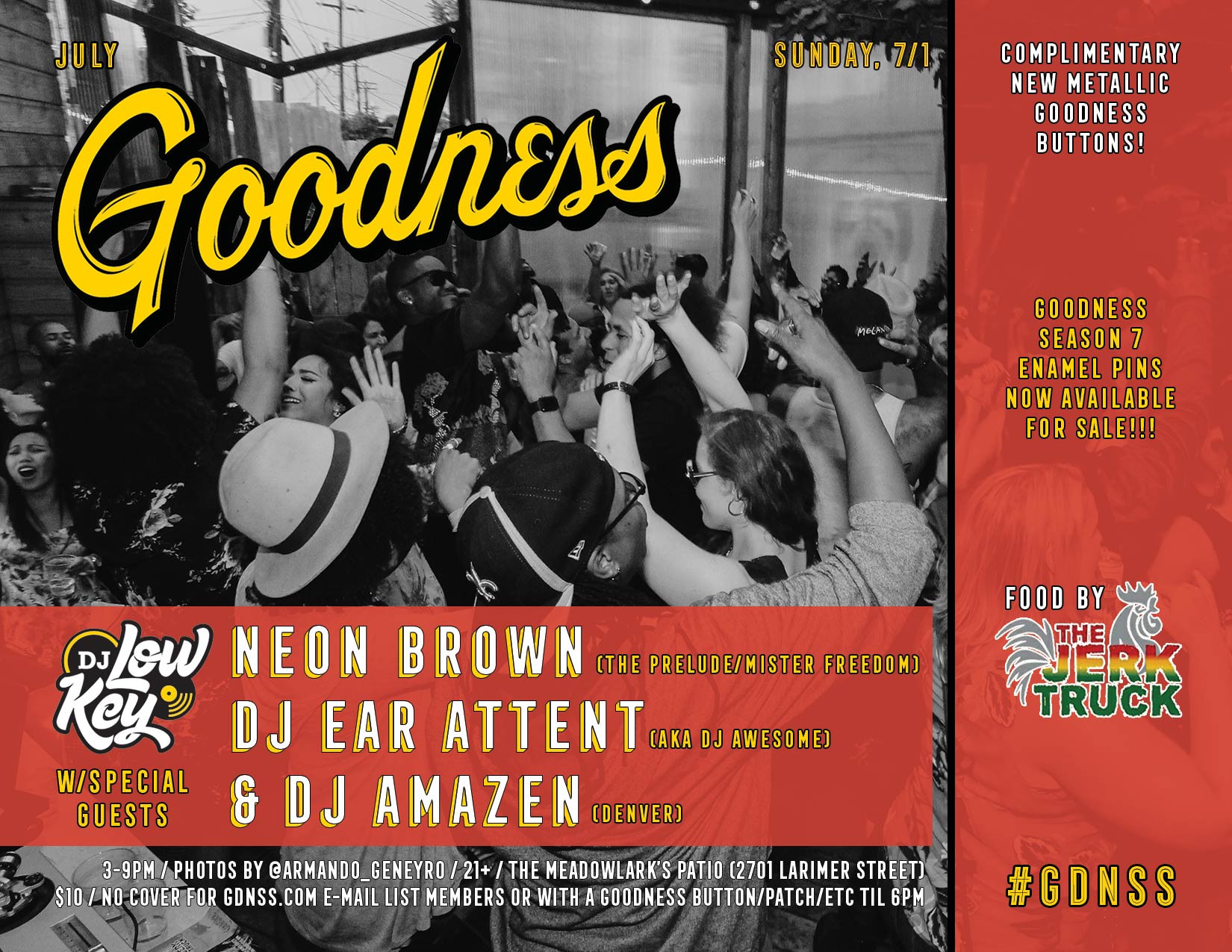 Join the e-mail list at GDNSS.com or wear a Goodness button/pin/etc to skip the $10 cover until 6pm…
Join the e-mail list at GDNSS.com before noon Sunday or wear a Goodness button/patch/etc to avoid the $10 cover…
Category:
events
,
The Solution
,
The Solution Showcase
/ Tags:
Choosey
,
Dirty Science
,
DJ Ear Attent
,
DJ Low Key
,
Exile
,
Lazy Eyez
,
Rumtum
,
Sedrick Avenue
,
The Solution
,
The Solution Showcase
,
The Walnut Room
,
Whygee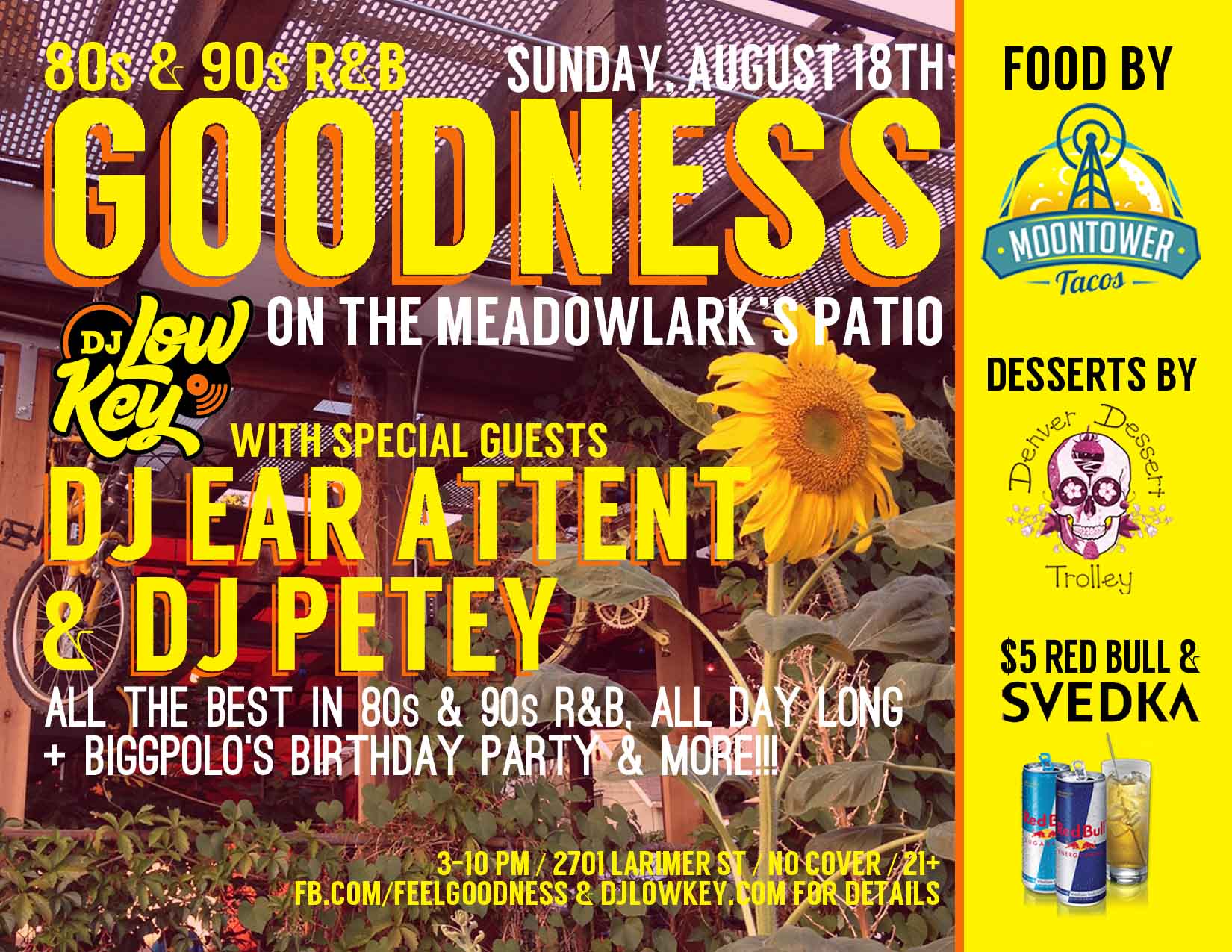 SUNDAY at 3PM -> Looking forward to this week's concept for Goodness w/DJ Low Key & friends extra.  I'm bringing in special guests DJ Petey and DJ Ear Attent to join me for an all 80s and 90s themed R&B Goodness; with the three of us spinning everything dope from early 80s joints by Mtume and the S.O.S. Band to new jack swing kings like New Edition and Keith Sweat to early work by D'Angelo and Erykah Badu and lots more.  We'll also be celebrating Denver favorite BiggPolo's birthday and featuring food from our favorites Moontower Tacos & Denver Dessert Trolley for what promises to be an amazing day on the Meadowlark's incredible patio.  21+ / No Cover / 3-10pm.
BTW, there are only 7 more Goodnesses left (including a bonus Power To The DJs edition Goodness on Labor Day), don't miss a single one!!!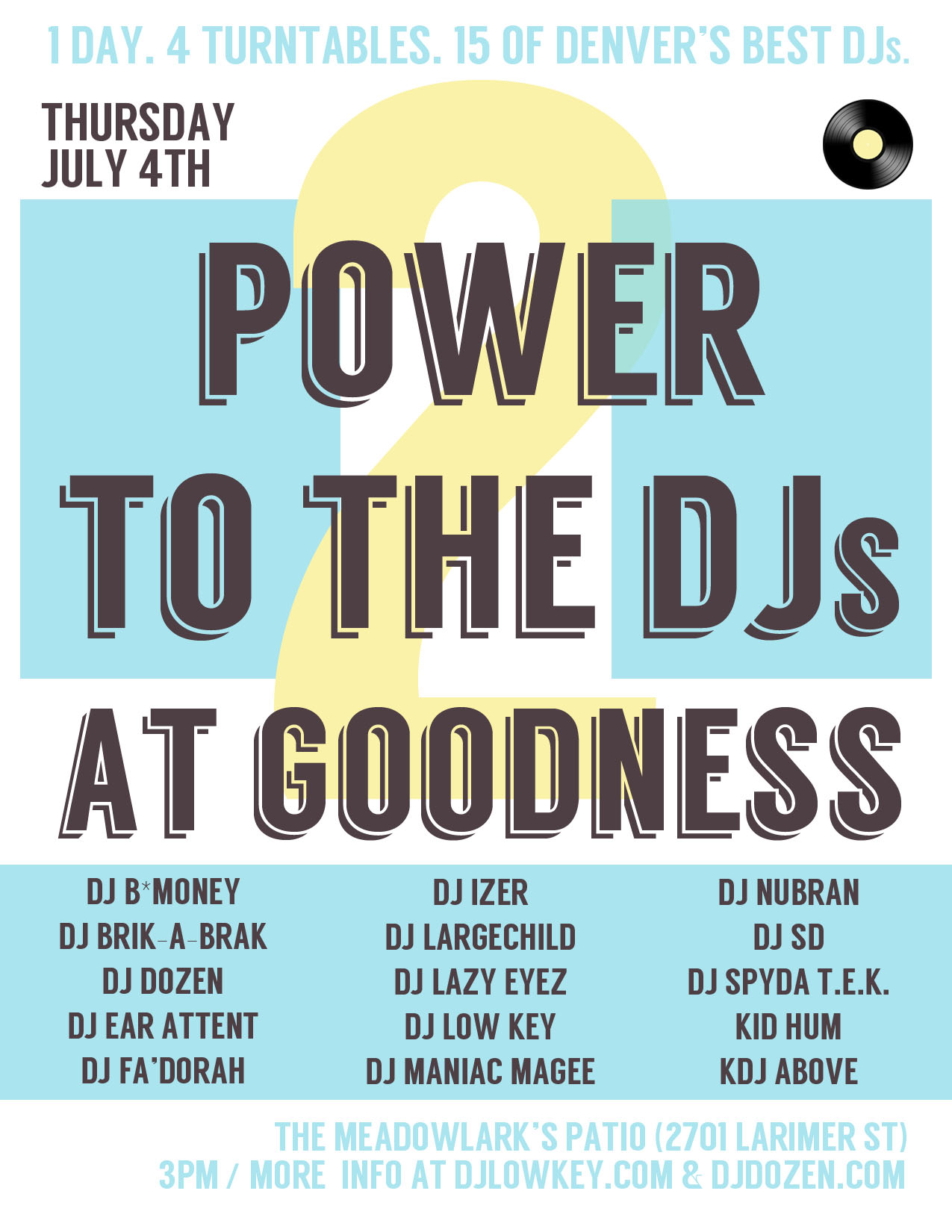 SUNDAY, 7/4 at 3pm -> 1 Day. 4 turntables. 15 of Denver's Best DJs. Power to the DJs #2 at Goodness.  The lineup:
The lineup speaks for itself, but there's also no cover and Denver Dessert Trolley will be on site serving delicious treats. We'll also have some Rockies ticket giveaways & more fun stuff if you join the Power To The DJs e-mail list.  The e-mail list will help all the DJs and everyone who comes stay in better touch, hopefully helping make the scene a little bit better.  The party's at the award-winning Meadowlark (2701 Larimer St) and kicks off at 3pm sharp.  Shouts to DJ Dozen for helping make the whole event happen and all the great DJs involved.  More info coming soon here and at @feel_goodness.
Category:
events
,
Goodness
/ Tags:
DJ B-Money
,
DJ brik-A-brak
,
DJ Dozen
,
DJ Ear Attent
,
DJ Fa'Dorah
,
DJ Izer
,
DJ Largechild
,
DJ Lazy Eyez
,
DJ Low Key
,
DJ Maniac Magee
,
DJ Nubran
,
DJ SD
,
DJ Spyda T.E.K.
,
KDJ Above
,
Kid Hum
,
The Meadowlark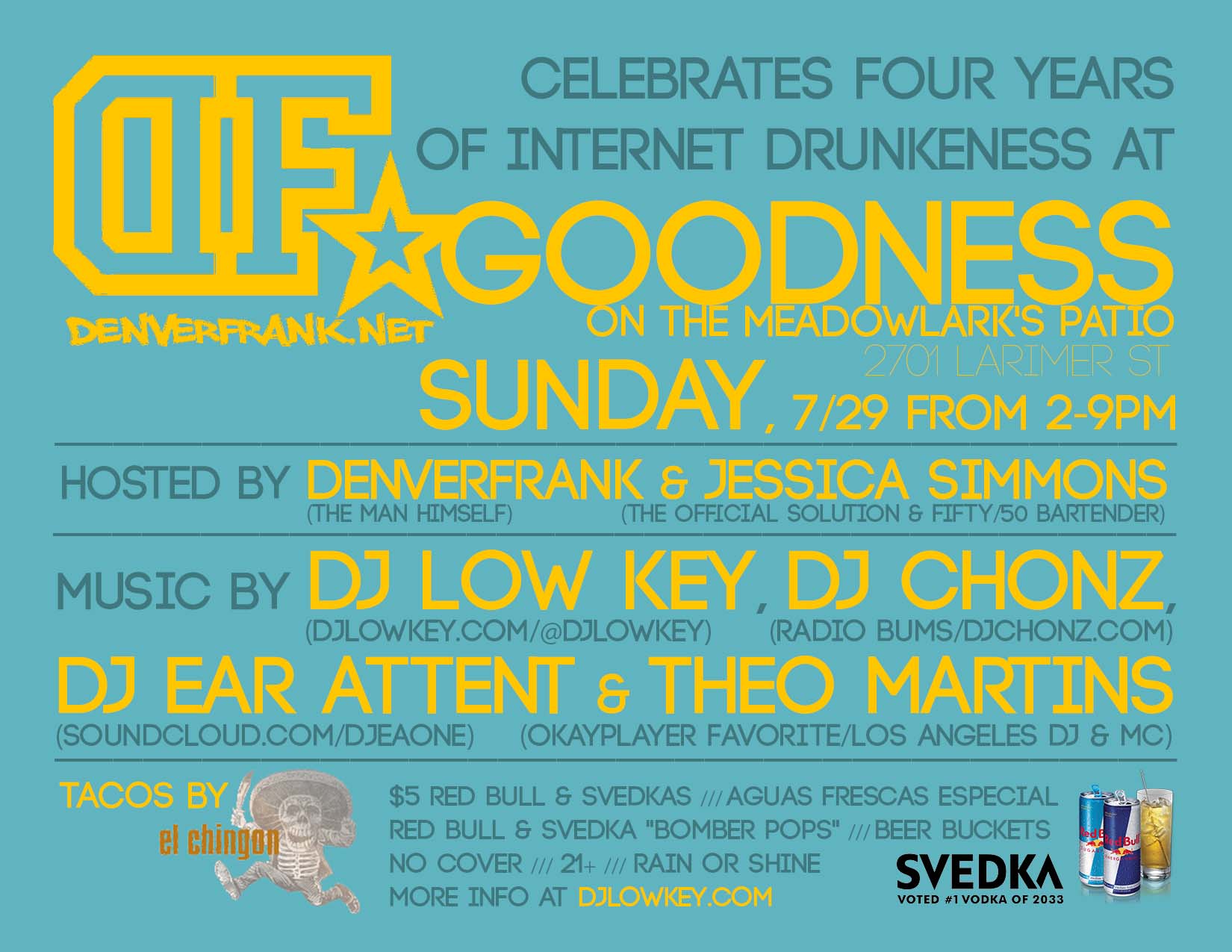 SUNDAY, 7/29 from 2-9PM -> We're celebrating culture blog DenverFrank.net's 4 Year Anniversary with a ridiculous lineup at Goodness.  It'll be me, special guests Denver legend DJ Chonz & criminally underrated DJ Ear Attent, guest hosts DenverFrank (the man himself) & Jessica Simmons (aka the Solution bartender and my partner at Fifty/50, your new favorite Sunday night party).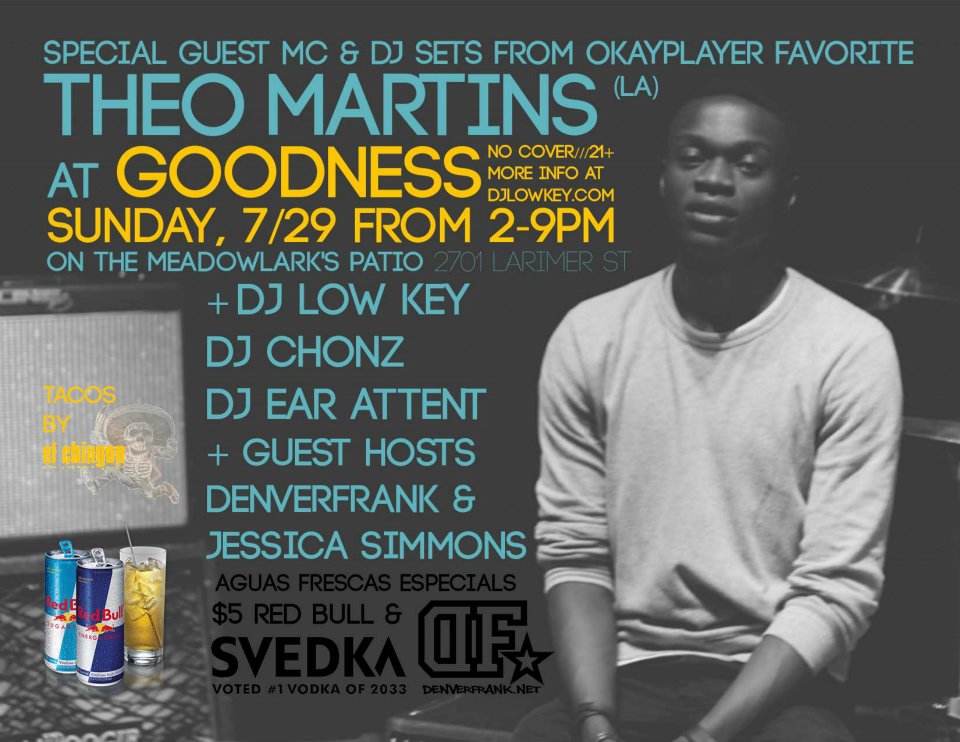 Also, due to a random set of circumstances involving The Solution Showcase #8 being postponed til next month, we'll have Okayplayer favorite, LA's MC & DJ Theo Martins performing on the mic and turntables too (!!!!!), still with no cover.  El Chingon will be holding us down with an incredible taco menu, mango is the agua fresca special for the day & we might have another surprise or two in stoee on the Meadowlark's beautiful patio (2701 Larimer St). 21+/No Cover.
P.S. After Goodness ends, the party continues on with the launch of Fifty/50, the new service industry night at Tryst (1512 Larimer St) w/me & Jessica Simmons that features some incredible drink specials and of course, dope music.  Get all the details here.
P.P.S. Take an Instagram pic of either party and tag it #DenverDiggers for a chance to win one of 12 Frank151 Denver Diggers fitteds, details here.
Category:
events
,
Goodness
/ Tags:
DenverFrank
,
DJ Chonz
,
DJ Ear Attent
,
DJ Low Key
,
El Chingon
,
Fifty/50
,
Goodness
,
Jessica Simmons
,
The Meadowlark
,
Tryst