Tag Archive for Deftron
Category:
events
,
Goodness
/ Tags:
Deftron
,
DJ Bloodsport
,
DJ Deft
,
DJ Low Key
,
DJ Paradox
,
El Brian
,
Goodness
,
Goodness w/DJ Low Key & friends
,
Soul City Studios
,
The Meadowlark
,
The Sprinkle Wizards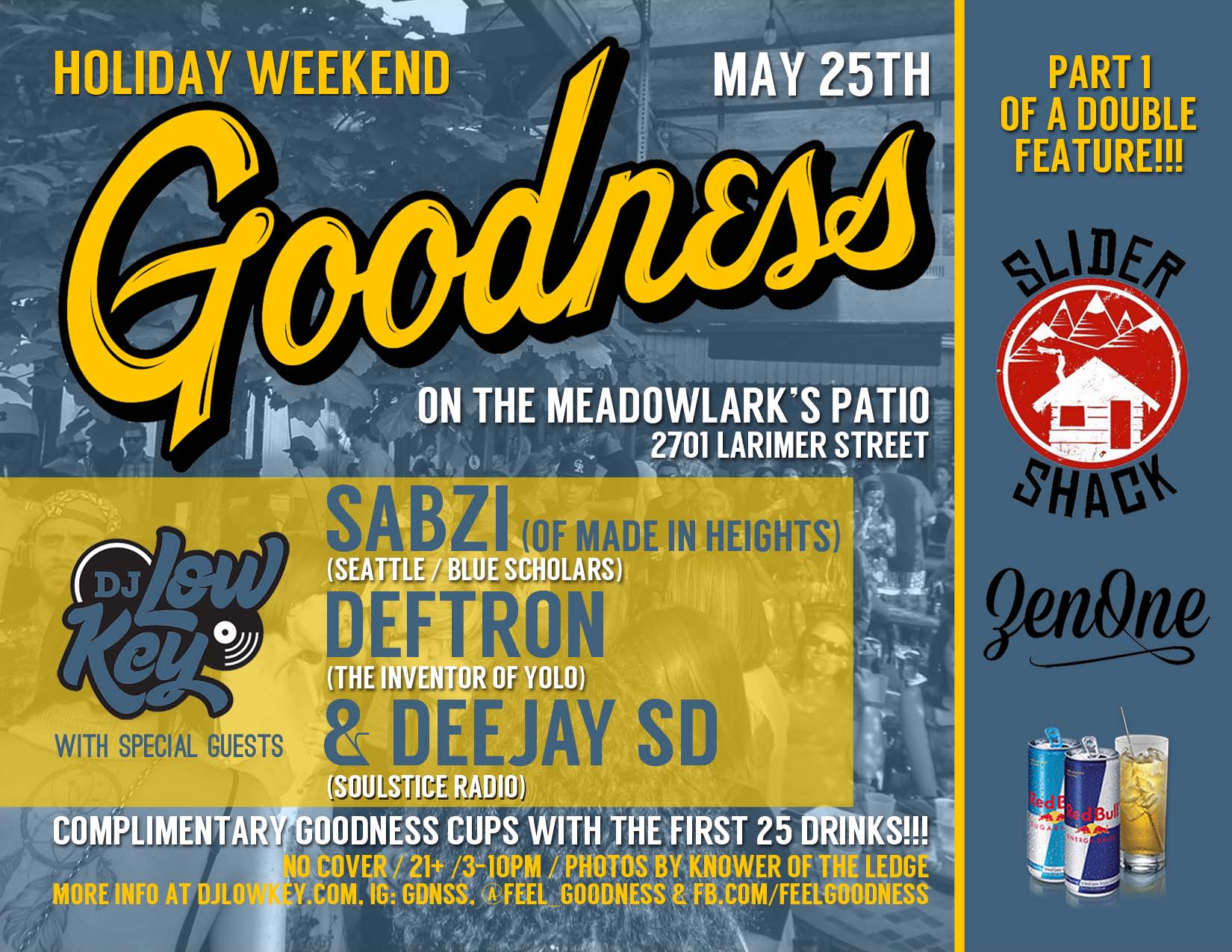 Sunday, 5/25 -> It's Memorial Day weekend and that means time for an extra big, double dosage of Goodness w/DJ Low Key & friends, with parties on Sunday & Monday!!! Not only is there an extra bonus All Reggae Goodness on Memorial Day Monday, but the lineup for Sunday is extra big with my old tour buddy, Seattle/LA's own Sabzi (1/2 of Made In Heights & 1/2 of Blue Scholars), joining me and Denver favorites Deejay SD & Deftron on the turntables for what promises to be an extra great day!
On top of 4 DJs, we'll be welcoming special guest food truck and longtime Solution favorite, The Slider Shack out to give the party a cookout vibe for the day (don't worry though, Moontower Tacos will be back for Monday's bonus Goodness & next Sunday)!!
As if that wasn't enough, we've also got complimentary brand new, extra fresh plastic stadium style cups for the first 25 people to get drinks on Sunday and we re-upped on complimentary Goodness buttons for everybody after running through a few hundred last Sunday afternoon!!! Official Goodness/Solution photographer Knower Of The Ledge will be taking party pics (follow us on Instagram: @GDNSS) & more on the Meadowlark's incredible patio (2701 Larimer St), come rock with us!!!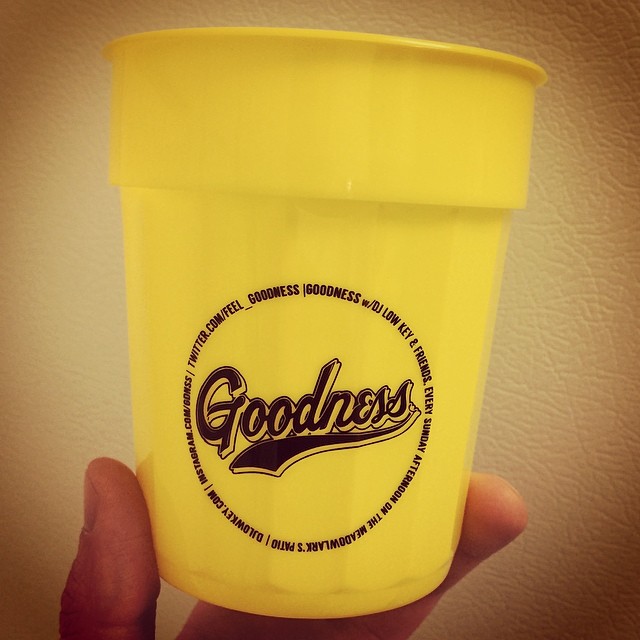 Category:
events
,
Goodness
/ Tags:
Blue Scholars
,
Deejay SD
,
Deftron
,
DJ Low Key
,
Goodness
,
Goodness w/DJ Low Key & friends
,
Made In Heights
,
Sabzi
,
The Meadowlark
,
The Slider Shack
MONDAY, 5/27 -> Last Sunday was crazy good and it's safe to say that Goodness w/DJ Low Key & friends is officially underway for Summer.  People have already started asking me how long the party is going to go for so they can make the most of it (the official 2013 season closer is 9/22, go ahead and put it on your calendar now) and I'm just like y'all, trying to make the most of Sumemr while it's here.  On that note, I'm super excited to announce that we're gonna have an extra bonus edition of Goodness on Memorial Day, the perfect compliment to Sunday's Native Tongues Goodness.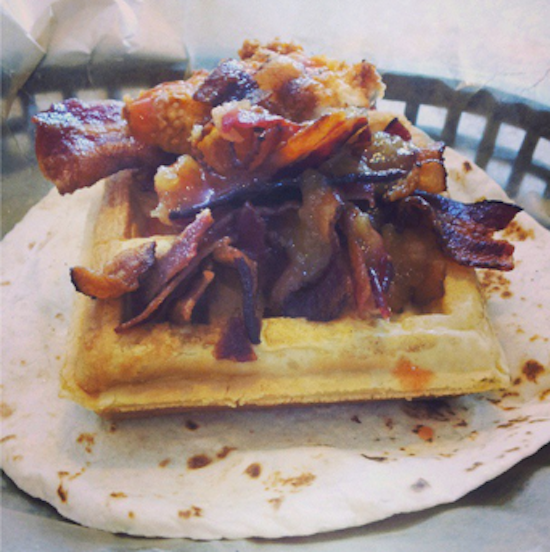 So yeah, Bonus Goodness on Memorial Day w/me and specials guests Deftron and Kid Hum on the turntables as we go extra hard to celebrate our good friend Aisha's birthday!  We're also bringing in Moontower Tacos to flip up the menu for the day and Denver Dessert Trolley with some sweet desserts too.  Moontower Tacos recently opened up here in Denver and they've been bringing all sorts of creative, "Austin-style" tacos to CO, including their infamous Doggfather (Chicken & Waffle Taco), which they'll have on hand at Goodness for your stomach and tastebuds' delight.  Denver Dessert Trolley was started by former TAG dessert bar chef Jamie Seacrest, who'll have Mexican chocolate brownies and some other goodies on hand on the Meadowlark's incredible patio.  You already know we'll have Jessica the Solution Bartender and Tara serving three delicious flavors of agua frescas with Svedka and a whole lot more at the bar, should make for a great Memorial Day!  2701 Larimer St/ No Cover / 21+.