Tag Archive for Inka One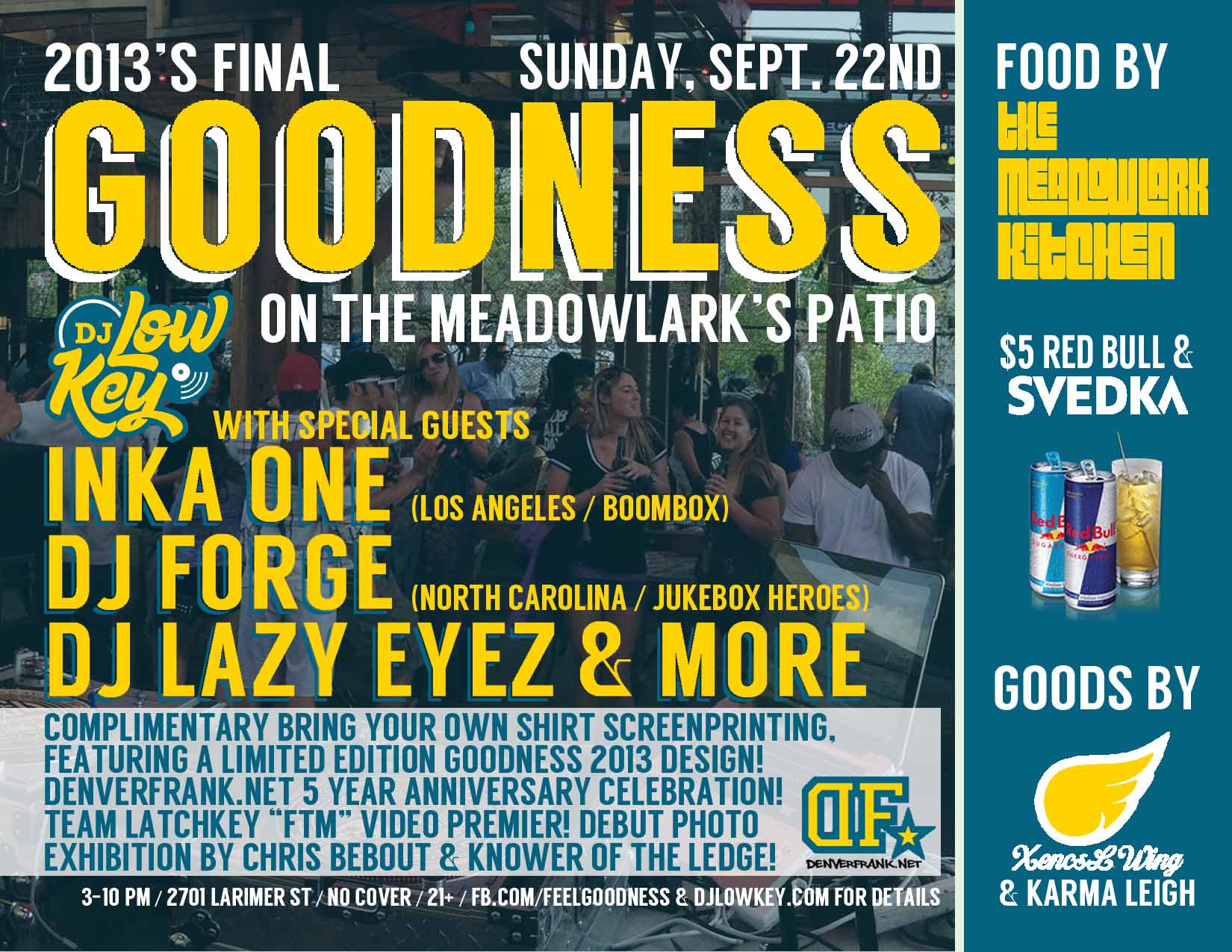 SUNDAY, 9/22 at 3pm -> Ah, parting is such sweet sorrow.  We all knew it was coming and it's here, the last Goodness of Summer 2013.  With that said, Summer 2013 has been INCREDIBLE and trust, the party is going to close it out in grand fashion.  As always, the DJ lineup is extra dope, with me, DJ Forge (2-time Red Bull Thre3 Style NC Champ / Jukebox Heroes), Basementalism legend Inka One (Los Angeles / Boombox), 2013 Westword "best hip hop DJ in Denver" winner Lazy Eyez & a surprise guest blessing the turntables.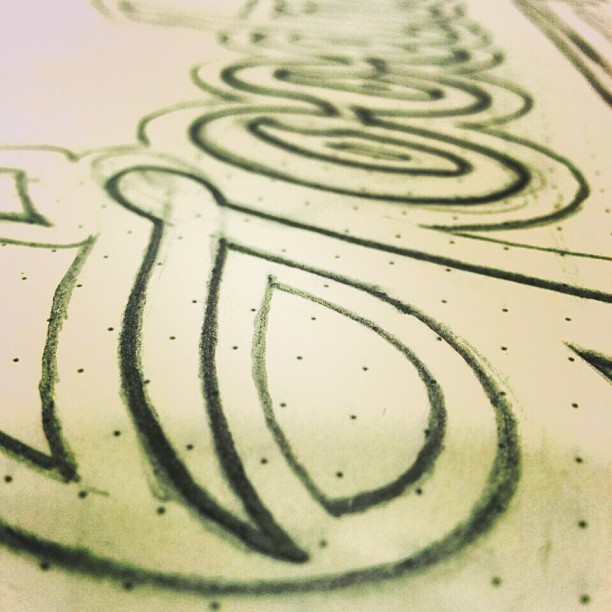 So yeah, you're more than covered on music, but that's just the tip of the iceberg.  To commemorate another fantastic Summer, we're having Gabe/Filthe come in to do complimentary bring your own shirt screenprinting.  What does that mean, you ask?  It meas you can bring in a blank shirt to the party and we'll turn it into a fresh, Goodness 2013 tee on the spot, for free!!!  Yeah, that's gonna be kinda dope.  There's a lot more going on though, I'm gonna let the pictures help with the rest.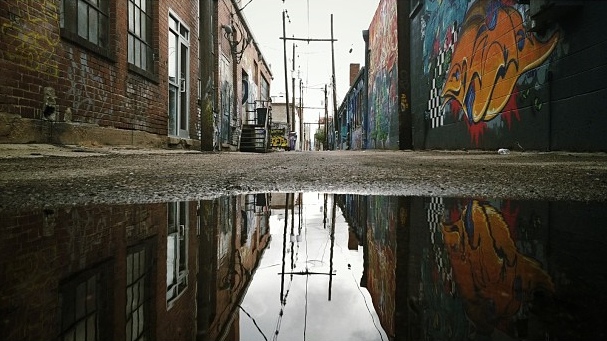 Debut photography exhibition by Knower Of The Ledge (photo above) & Chris Bebout (photo below)!
Our homegirl & Goodness regular Mandi's birthday!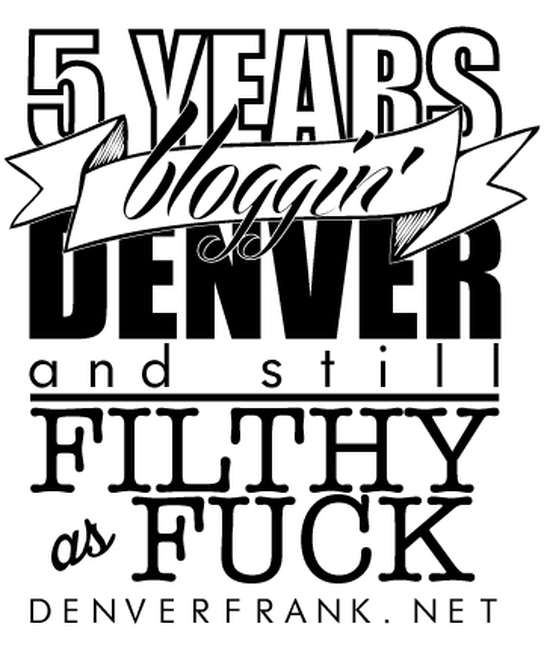 CO tastemaker site DenverFrank.net's 5 Year Anniversary Celebration!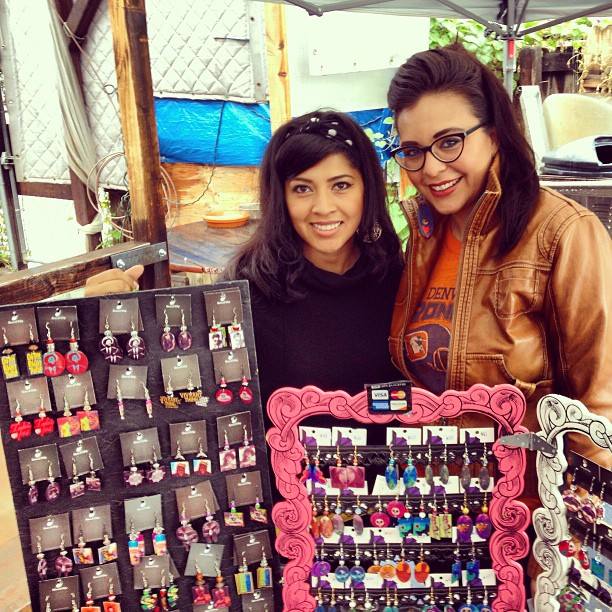 Goods by artisans extraordinaire Karma Leigh & Xencs L. Wing!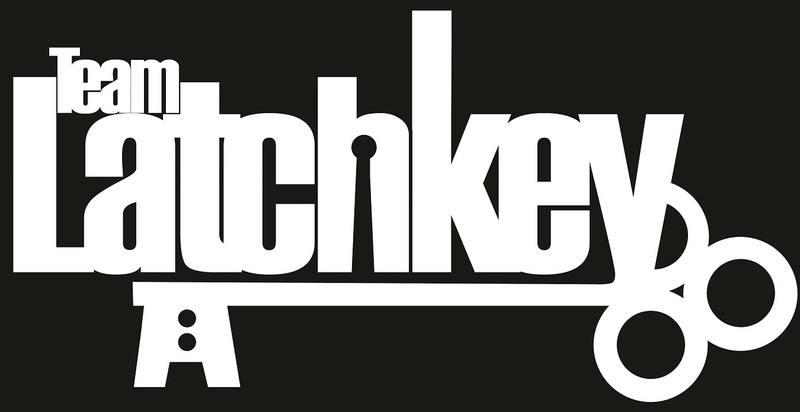 Team Latchkey's long-awaited "FTM" video premier!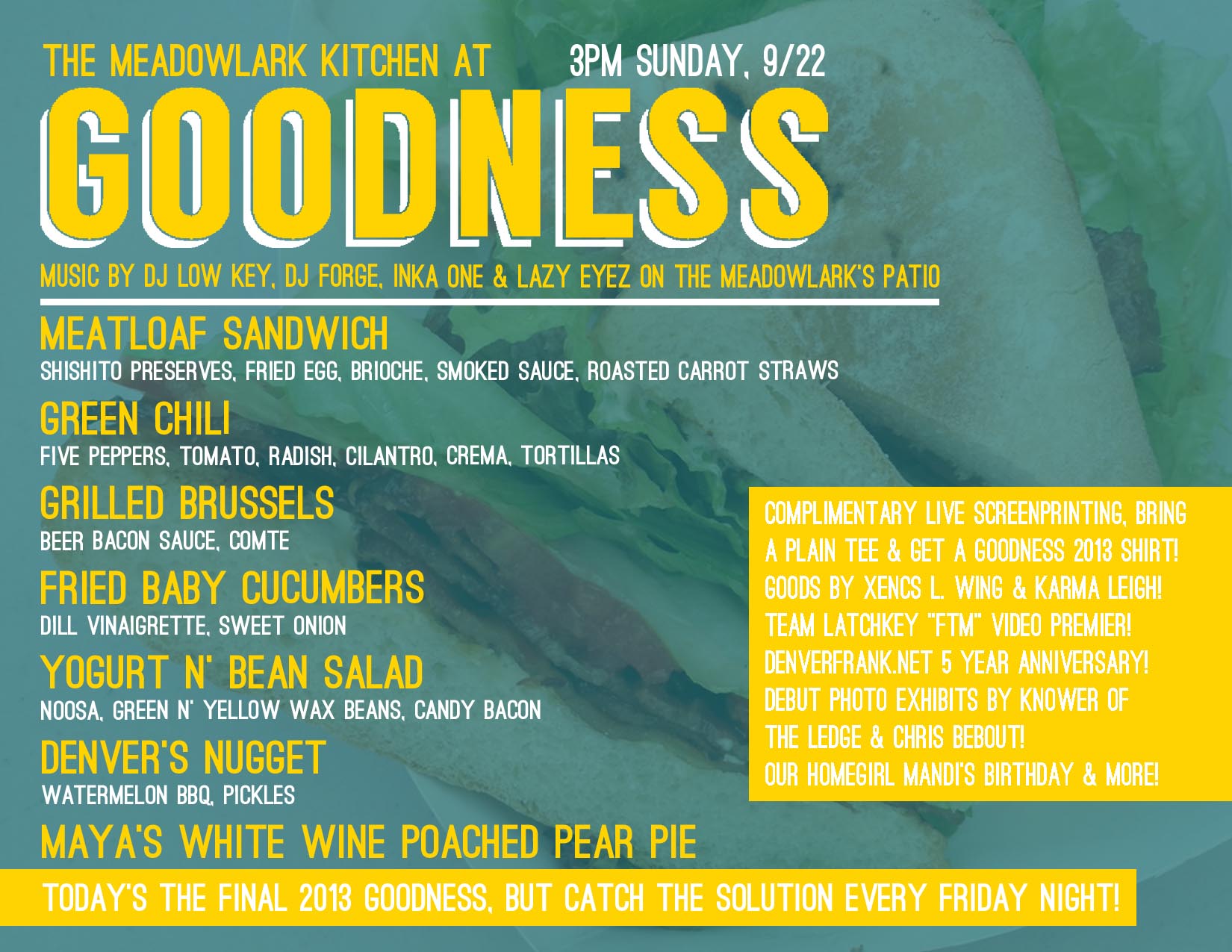 Food by acclaimed Chef Josh Bitz & The Meadowlark Kitchen!
Football on an outdoor TV (no Broncos though, they play the Raiders on Monday)!
Gonna be a crazy finale to an unforgettable year, I'd recommend you get there early, especially if you're after a table on the Meadowlark's incredible patio (2701 Larimer St).  No Cover / 21+ / 3-10pm.
Some parting words on Goodness (more to come):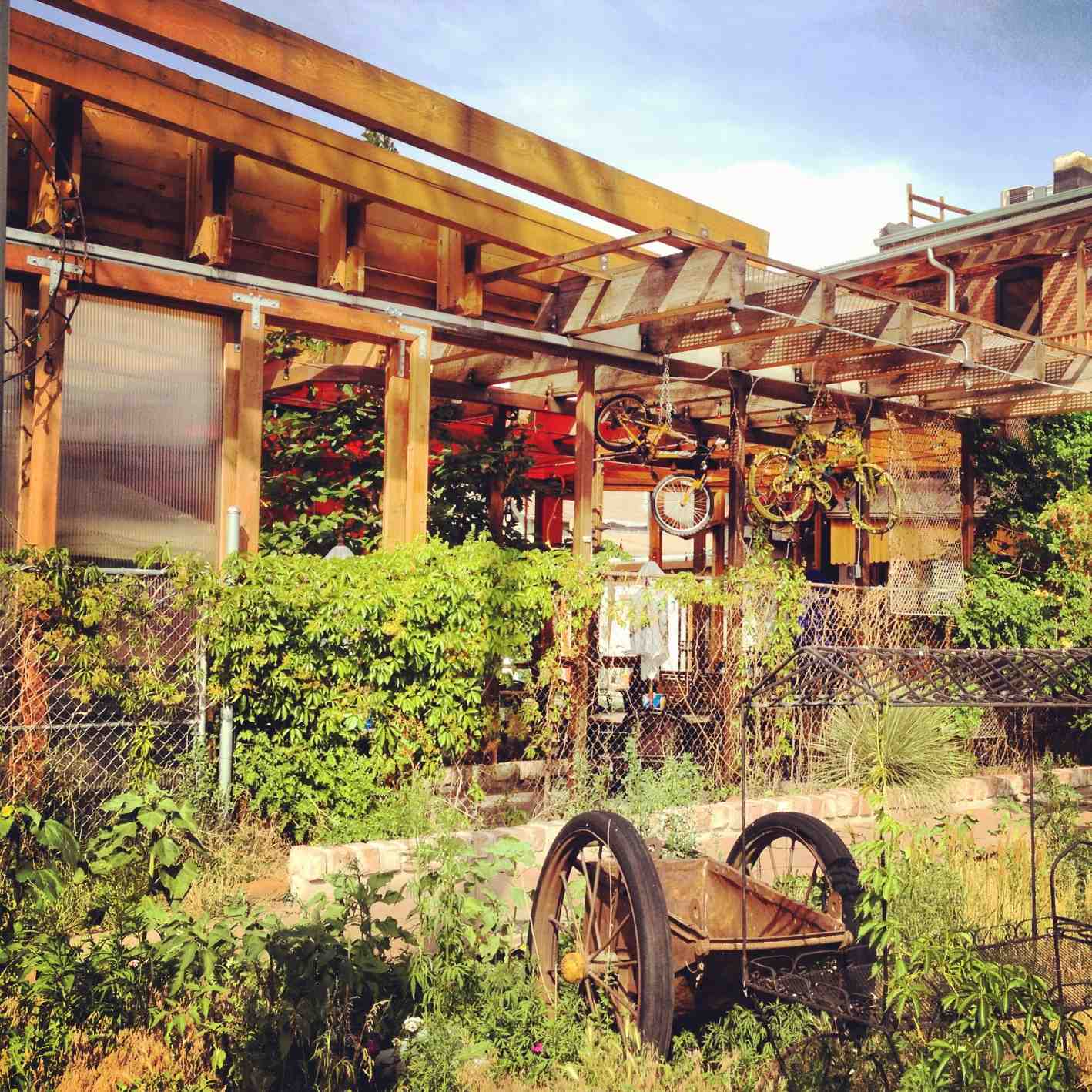 New York mixtape legend and Roc Nation DJ Mick (formerly Boogie) said "I love parties where I can just play.  And that party allowed me to do just that.  It was cleansing to my soul.  Thank Goodness.".
San Francisco's DJ Gordo, founder of nationally syndicated party Motown On Mondays, on the party: "Goodness is that rare kind of outdoor party where pouring rain and thunder only fuels the fire on the dance floor and brings people closer together.  Don't go to Denver and miss out on Goodness!"
Red Bull Thre3 Style Los Angeles champion & former US finals runner up D-JR has "Nothing but the best things to say about DJ Low Key's party Goodness"
World renowned artist & your favorite DJ's favorite DJ, Chris Karns describes it as "The only patio party I have ever given a shit enough about to go to.".
Von Pea (of the acclaimed rap group Tanya Morgan) says "Goodness is always a super chill, really dope experience.  If I come all the from the East Coast for this party, that tells you something.".
Category:
events
,
Goodness
/ Tags:
Boombox
,
Denver Frank
,
DJ Forge
,
DJ Lazy Eyez
,
DJ Low Key
,
Filthe
,
Goodness
,
Inka One
,
Jukebox Heroes
,
Karma Leigh
,
Team Latchkey
,
The Meadowlark
,
The Meadowlark Kitchen
,
Xencs L. Wing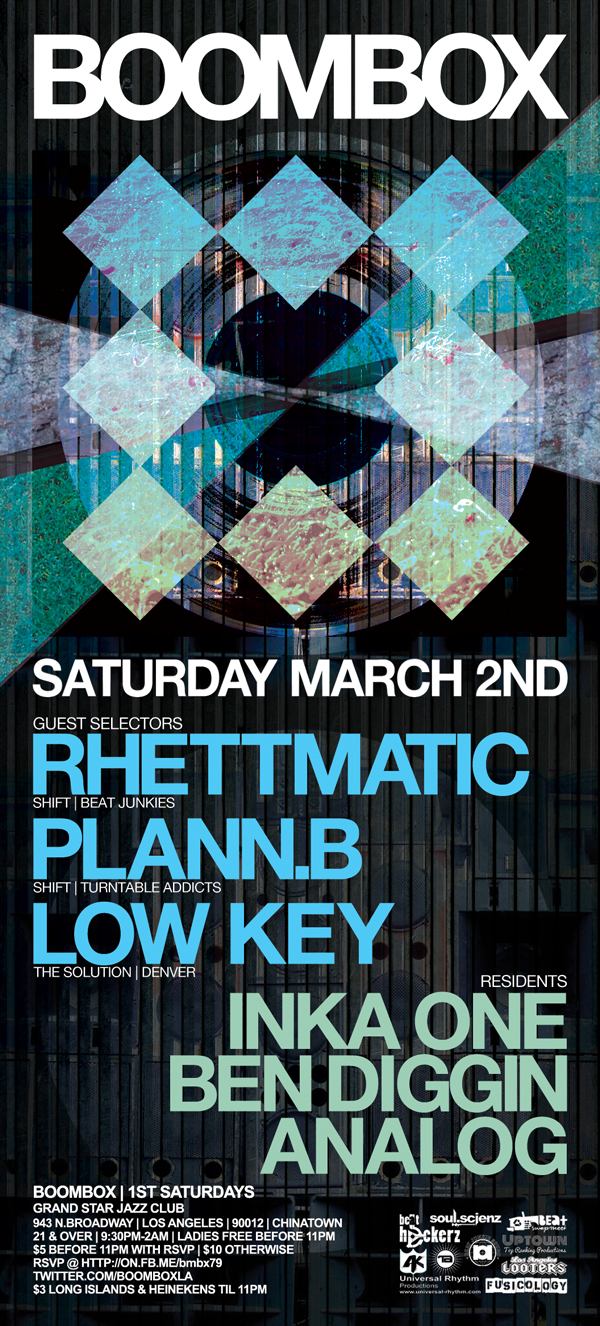 FRIDAY, 3/2 in LA -> Super excited to be heading back to LA and rocking at one of the city's best parties, Inka One's Boombox.  For years, Inka's been featuring top MC, DJs, producers and more at The Grand Star Jazz Club and it's an honor to head out west to rock there, especially alongside Rhettmatic of the World Famous Beat Junkies and Plann.B, whose party Shift is a staple in the LA scene.  Here's more info on Boombox, hopefully all my LA people can make it out!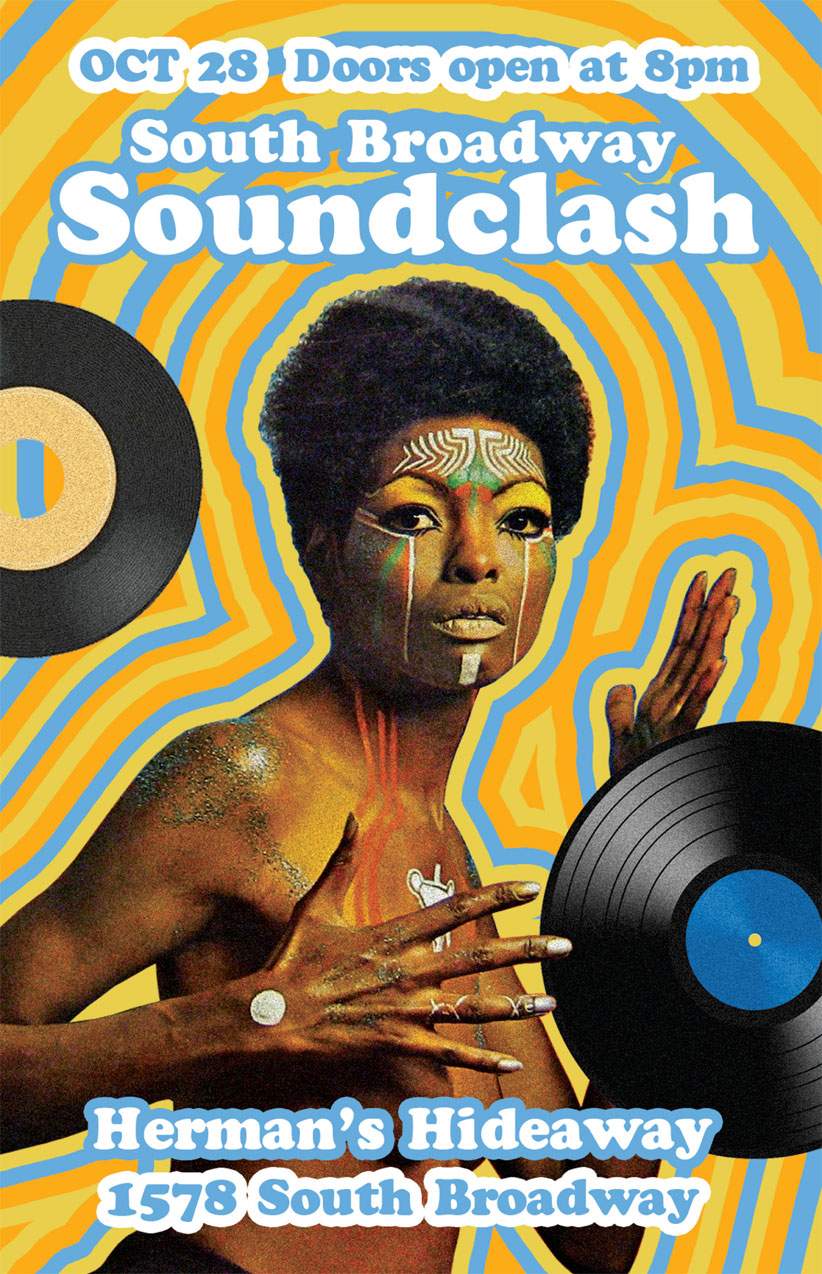 SUNDAY, 10/28 from 8pm to Midnight -> Don't miss the first South Broadway Soundclash, a celebration of beats, producers and music at Herman's Hideaway (1578 South Broadway).  We've got some INCREDIBLE beatmakers showcasing their newest works, favorite tracks and sample flips in a different type format.  For the #SoBroSoundclash, we're featuring four of the best producers to ever come out of Colorado; LA-based, CO-bred titan on the beats Stro Elliot (of The Procussions), your favorite producer's favorite producer Boonie Mayfield, master of the slap and half of Izaak Haze, Mo Heat (of The Foodchain) & perennial Denver favorite/Solution Beat Battle runner up Big J Beats (of 1984).
On top of that, me, Boombox founder/Basementalism legend Inka One & Welcome To The D.O.P.E. Game's DJ Dozen will be on the turntables, spinning everything from rare grooves and classic breaks to afrobeat and beathead joints.  LA's Benjamite MC is our host for the evening, rounding out a top notch lineup, if I do say so myself. Stay tuned to #SoBroSoundclash on twitter for the latest on the event, ticket giveaways, new video/music from the featured producers & more. $8 Pre-sales at all 3 Family Affair locations /// $10 at the door /// 18+.
Category:
events
/ Tags:
#SoBroSoundclash
,
1984
,
Benjamite MC
,
Big J Beats
,
Boombox
,
Boonie Mayfield
,
DJ Dozen
,
DJ Low Key
,
Herman's Hideaway
,
Inka One
,
Mo Heat
,
South Broadway Soundclash
,
Stro Elliot
,
The Foodchain
,
The Procussions