Tag Archive for DJ Rhettmatic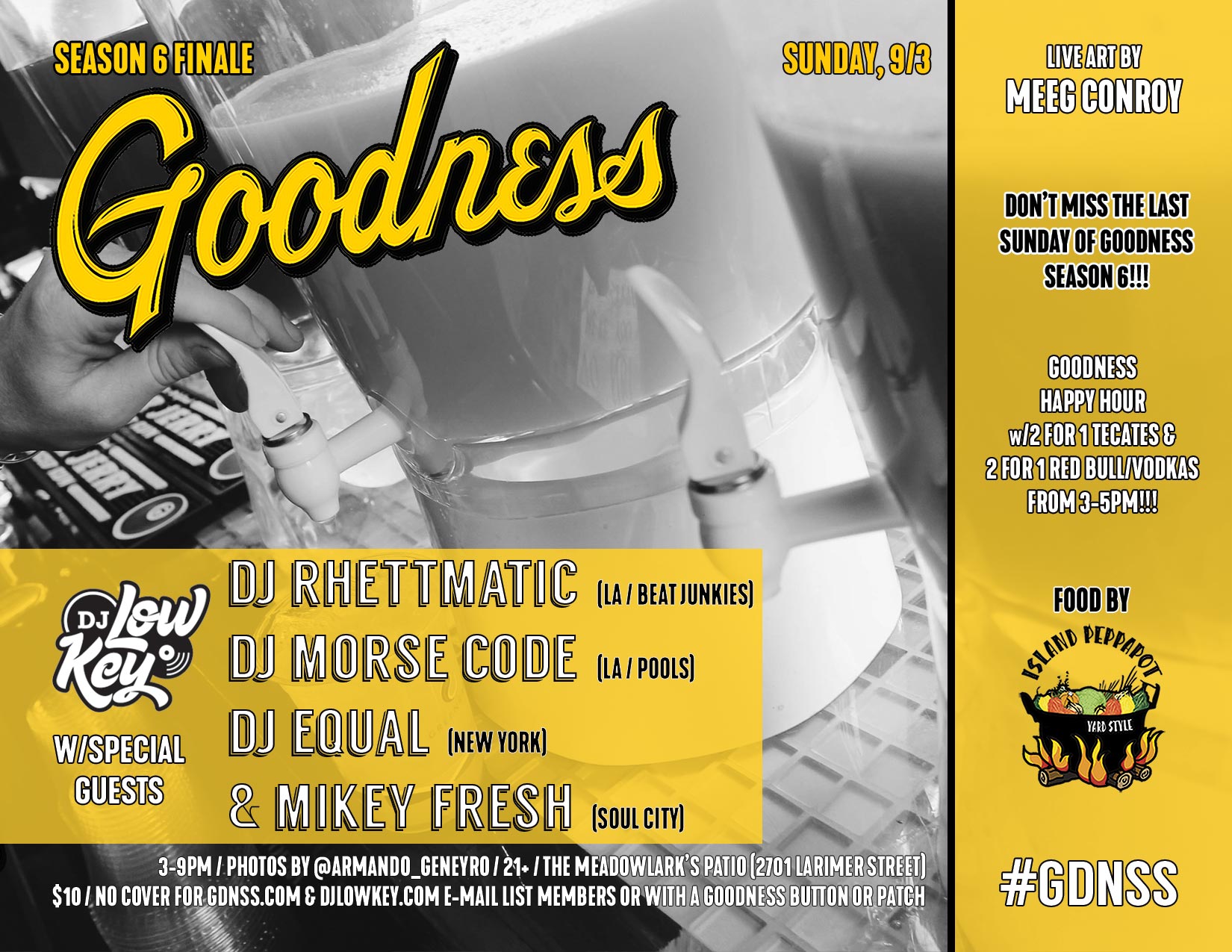 Join the e-mail list at GDNSS.com before noon Sunday or wear a Goodness button/patch/etc to avoid the $10 cover…
P.S. Sunday is the last Sunday of #GDNSS Season 6 on the calendar – don't miss it (although you probably should make sure you're on the e-mail list in case more fun pops up after Labor Day weekend)!!!
Category:
djsiknow
,
events
,
Goodness
/ Tags:
Beat Junkies
,
DJ Equal
,
DJ Low Key
,
DJ Morse Code
,
DJ Rhettmatic
,
Goodness
,
Goodness w/DJ Low Key & friends
,
Island Peppapot
,
Meeg Conroy
,
Mikey Fresh
,
The Meadowlark
SATURDAY, 10/11 -> Wah dah tay, wah da tah! After tearing down Beauty Bar Denver a year and a half ago, we're super excited to welcome back the only and only DJ Rhettmatic of The World Famous Beat Junkies for the second installment of Sa Da Tay!!! Rhettmatic's a world renowned DJ who's played a HUGE role in the LA hip hop scene and beyond, the international turntablist scene and the overall culture of DJing and we couldn't be happier to team up with Beauty Bar, Miggy Camacho, Sailor Jerry's Rum & PBR to bring him back out to Denver! Ranacan on the panny sty Colorado!!!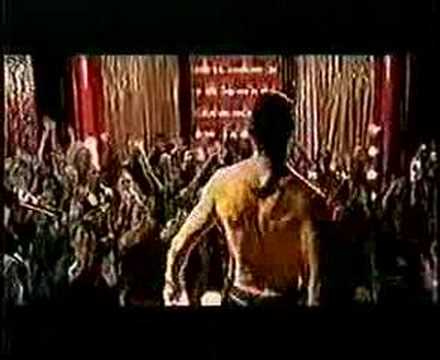 Me & Denver favorite DJ Dozen will be joining Rhett on the turntables for what should be a front to back night full of feel good music and good times. Come out early and say "wah dah tah" when you walk in for a free PBR (while supplies last) and we've got Sailor Jerry's specials all night long, so we'll catch you on the tippie tow my daimies! Beauty Bar Denver (608 E. 13th St) / $5 before 11pm / $10 after / 21+.
WEDNESDAY, 4/24 -> With The Solution w/DJ Low Key & Lazy Eyez back to weekly status every Friday night and winning awards for it, we realized that Fridays should stay focused on the straight up party vibe at the Meadowlark and decided to move The Solution Showcase and it's concert/party/beat showcase/etc mixed vibe over to Beauty Bar Denver (608 E. 13th St) so we could have more flexibility and a bigger stage to play with.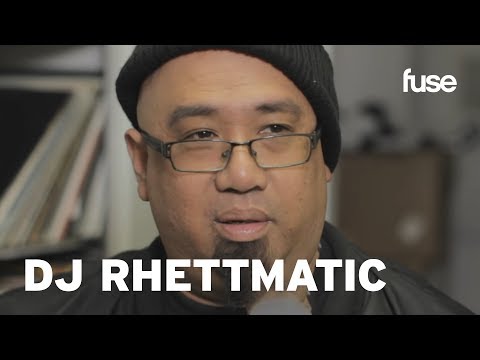 UPDATE: Blu, TiRon & Ayomari are canceling /postponing their tour and we're disappointed to say that because of that they will not be performing at The Solution Showcase #14.  With that said, we're excited to announce THE LEGENDARY DJ RHETTMATIC of the WORLD FAMOUS BEAT JUNKIES will be taking their place as our out of town special guest instead.  Rhettmatic is a legend in the LA scene, having been a fixture of their nightlife circuit, working with artists like Cypress Hill, The Visionaries & Buff1 while winning quite a few DJ battle titles as well.  Expect him to smash the turntables like only a legend can.
This month's featured Denver act is recently formed CO supergroup Fly4Wird (aka Babah Fly, DJ Fast 4Ward & Mike Wird) and our featured producer is 2013 Solution Beat Battle winner Spyda T.E.K., who blew a lot of Denver heads away en route to winning the 2013 title.  Solution co-founders DJ Low Key & Sounds Supreme as well as Welcome to the D.O.P.E. Game's DJ Dozen will be holding down the turntables as well and our friends at Red Bull are hooking up the first 50 people through the door with complimentary new Red Bull Editions.  $8 pre-sales at the weekly Solution via DJ Low Key or Lazy Eyez or at any Family Affair / $10 at the door / 21+.
.:Order pre-sale tickets to The Solution Showcase #14 online for $8:.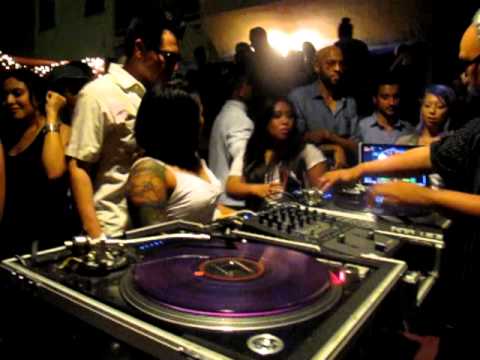 Category:
events
,
The Solution
,
The Solution Showcase
/ Tags:
Beat Junkies
,
Beauty Bar Denver
,
Blu
,
DJ Dozen
,
DJ Low Key
,
DJ Rhettmatic
,
DJ Sounds Supreme
,
Fly4Wird
,
Joseph Martinez
,
Sounds Supreme
,
Spyda T.E.K.
,
The Cafeteria Line
,
The Solution Showcase
,
TiRon & Ayomari
,
Welcome To The D.O.P.E. Game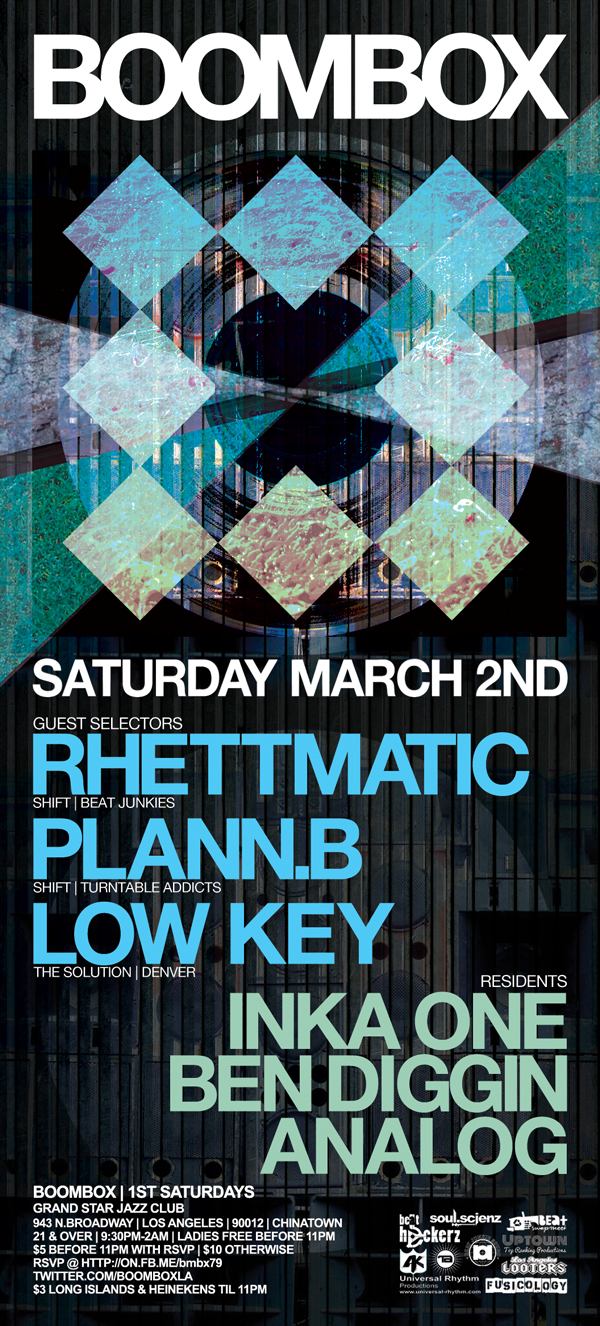 FRIDAY, 3/2 in LA -> Super excited to be heading back to LA and rocking at one of the city's best parties, Inka One's Boombox.  For years, Inka's been featuring top MC, DJs, producers and more at The Grand Star Jazz Club and it's an honor to head out west to rock there, especially alongside Rhettmatic of the World Famous Beat Junkies and Plann.B, whose party Shift is a staple in the LA scene.  Here's more info on Boombox, hopefully all my LA people can make it out!