Tag Archive for DJ Pat Allen
SUNDAY, 7/6 from 3-10pm -> Last weekend's Goodness w/DJ Low Key & friends double surprise was a blast, big up everyone who came out and catch surprise guests Vikter Duplaix and DJ Largechild joining me & DJ Discord for a day packed full of a great music. We've got another three guests in store for this Sunday, with Solution co-founder Sounds Supreme, my favorite female selecta in Denver, DJ Izer, and DJ Pat Allen (aka DJ Boo Bear) joining me on the turntables for some Red, White & Blue Goodness over the Forth Of July weekend.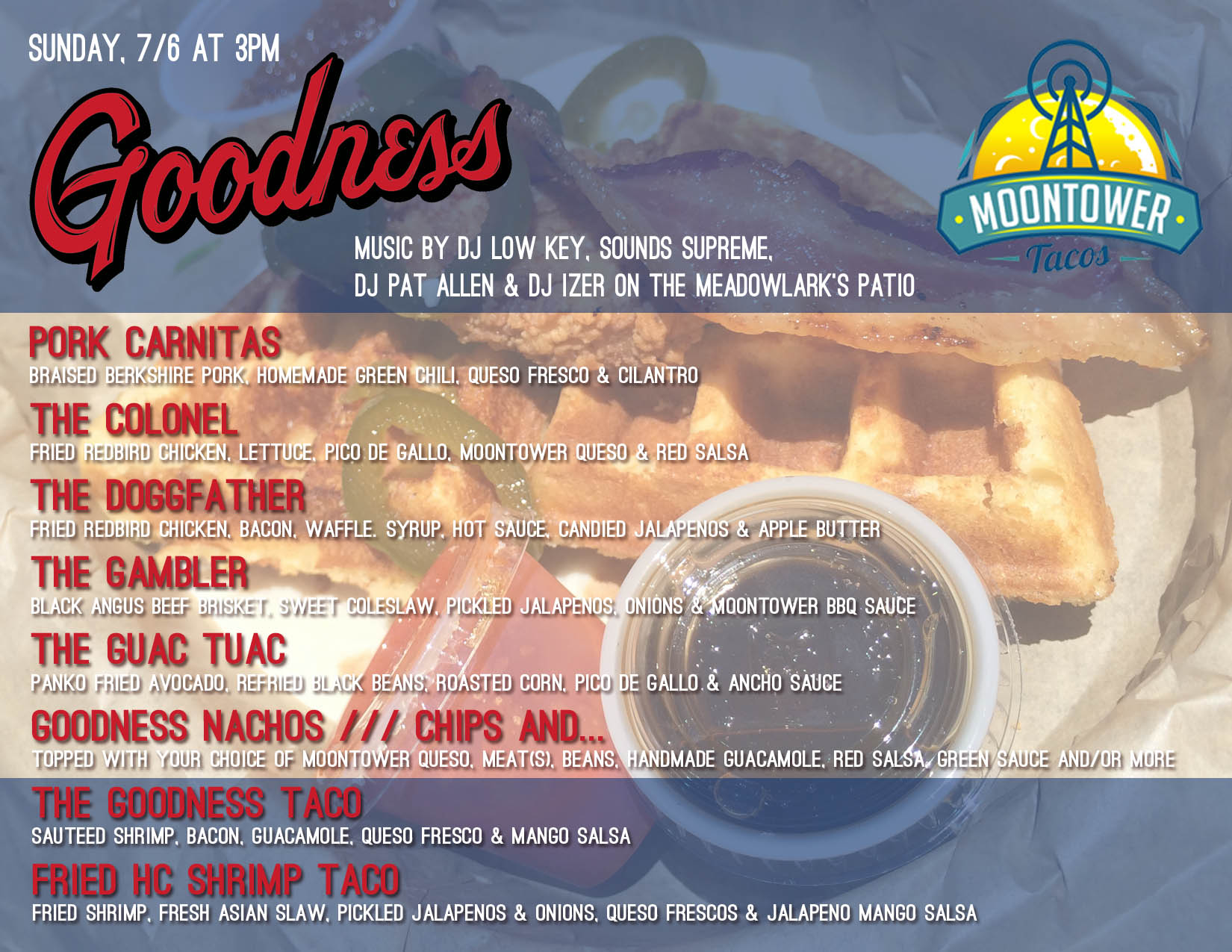 Moontower Tacos will be on block making taco magic and we've also got complimentary stadium style Goodness cups for the first 25 people to get drinks, as well as complimentary buttons for everybody!
Special guest photographer Kenneth Hamblin III will be taking pics of the party (follow us on Instagram: @GDNSS), El Chingon is brewing refreshing agua frescas for us, ZenOne will be back & more on the Meadowlark's constantly improving patio (2701 Larimer St), come rock with us!!! No cover / 21+ / 3-10pm.
P.S. Next Sunday, 7/13 is the most important Goodness of the year and starts early at 1pm. Put it in your calendar now and click here to learn why.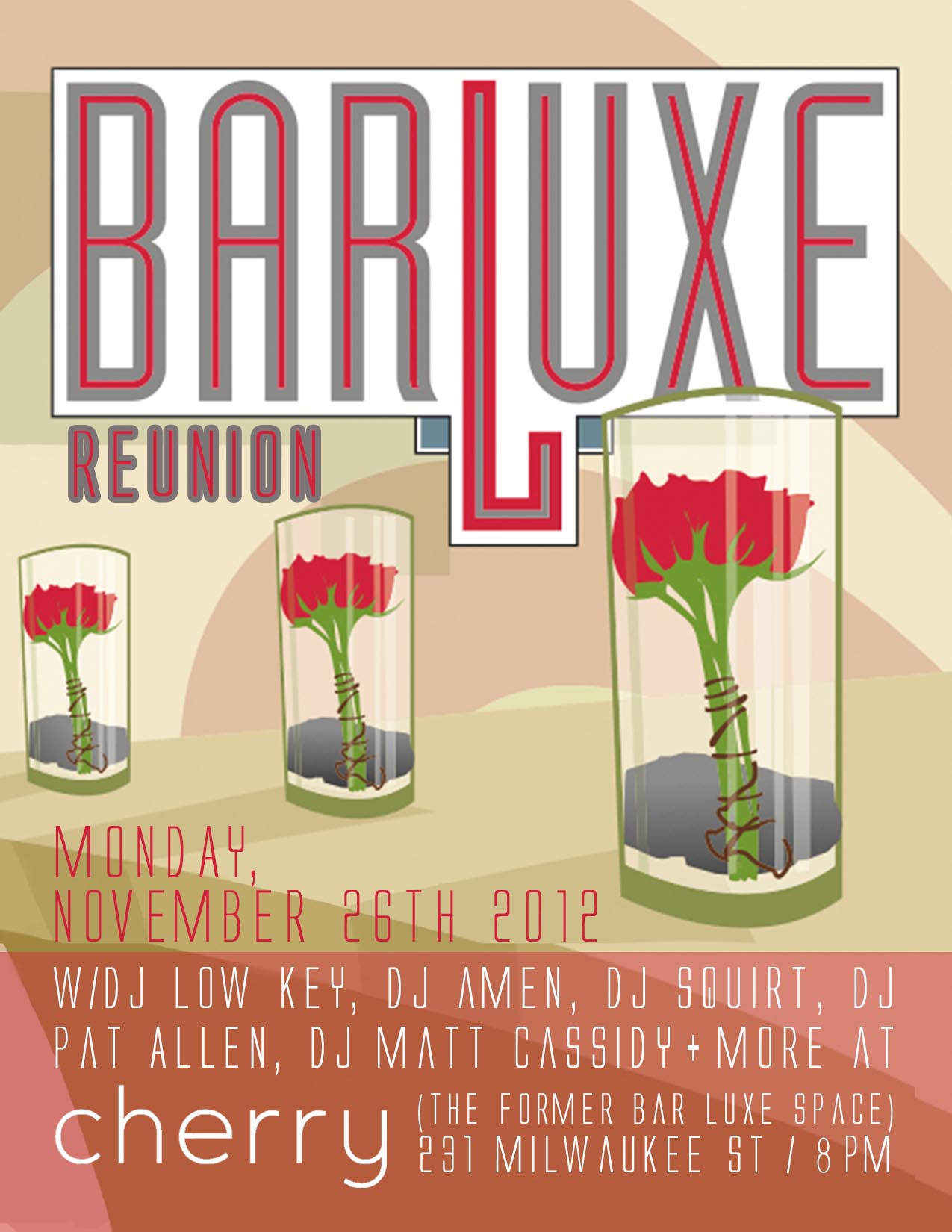 MONDAY, 11/26 at 8PM -> We're reuniting the DJs and crew from the infamous Cherry Creek martini bar, Bar Luxe, for one night only.  Me, DJ Amen, DJ Squirt, DJ Pat Allen & DJ Matt Cassidy will be manning the turntables, rocking the best in Luxe-era jams at Cherry (the former Bar Luxe space at 231 Milwaukee St), while drinks flow and we all reconnect with the great vibes and music that Luxe was known for.  The party starts at 8pm, there's no cover and if you ever made it to Bar Luxe, you already know it's gonna be a good time.  See you there.
P.S. We're trying to reach all the old Bar Luxe regulars so if you see this and know someone that might be interested, please let them know.  Thanks!
P.P.S. In case you missed it back in 2006, check out the Bar Luxe Late Night Soundtrack by me & DJ Amen here.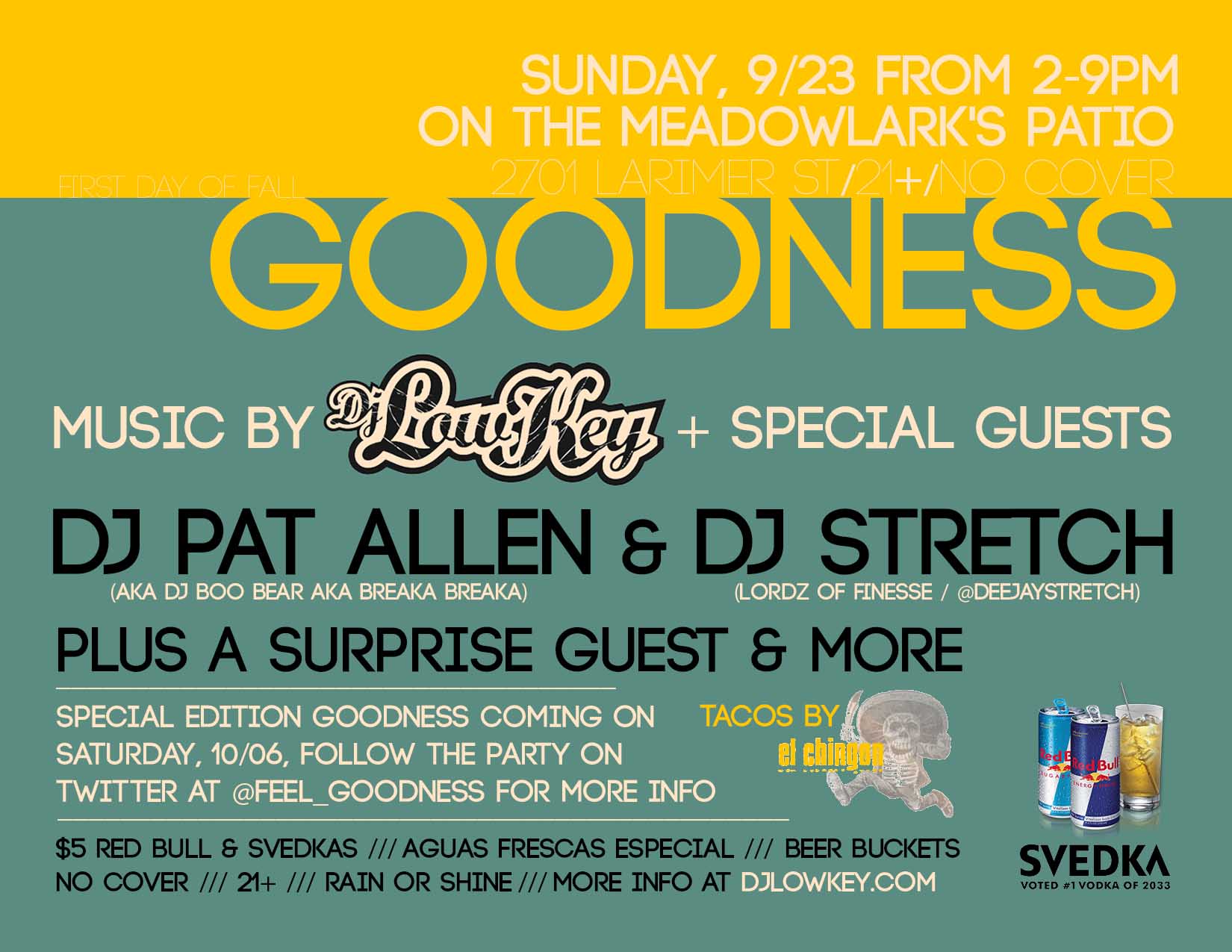 SUNDAY, 9/23 from 2-9PM -> Even though this Sunday is technically the first dayof Fall, Goodness is still going strong with another dope lineup and a forecast of 81 degrees and sunny as we make the most of the last few weeks of warm weather.  This time around I'll be joined by b-boy/DJ phenom DJ Stretch from L.O.F. and DJ Pat Allen aka Boo Bear aka Breaka Breaka and if you know these two dudes, you already know it's gonna be a fun one.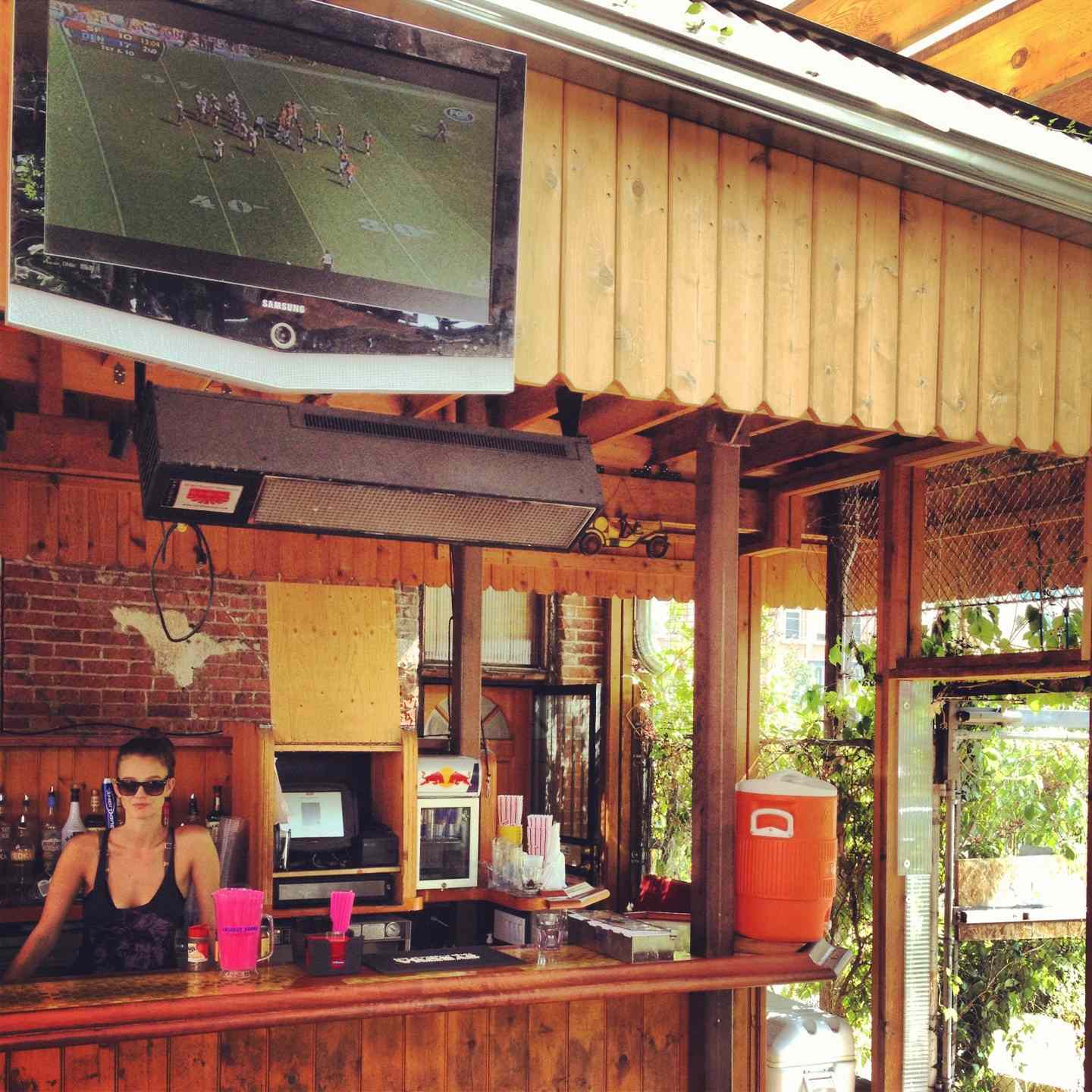 As usual, El Chingon will be serving delicious tacos, the vibe will be top notch and the people extra cool as we make the most the Meadowlark's super dope patio before Winter hits.  Last but not least, just wanted to remind you that we've mounted a TV on the bar so you can catch the Broncos and the rest of the day's football games at the party.  21+/No Cover/2701 Larimer St.
Red Bull & Svedka "Bomber Pops"
Agua Frescas Especial (con Svedka)
Ice Cold Beer Buckets: 4 Beers for $10 domestics /// $12 imports
$5 Red Bull & Svedka's
+more