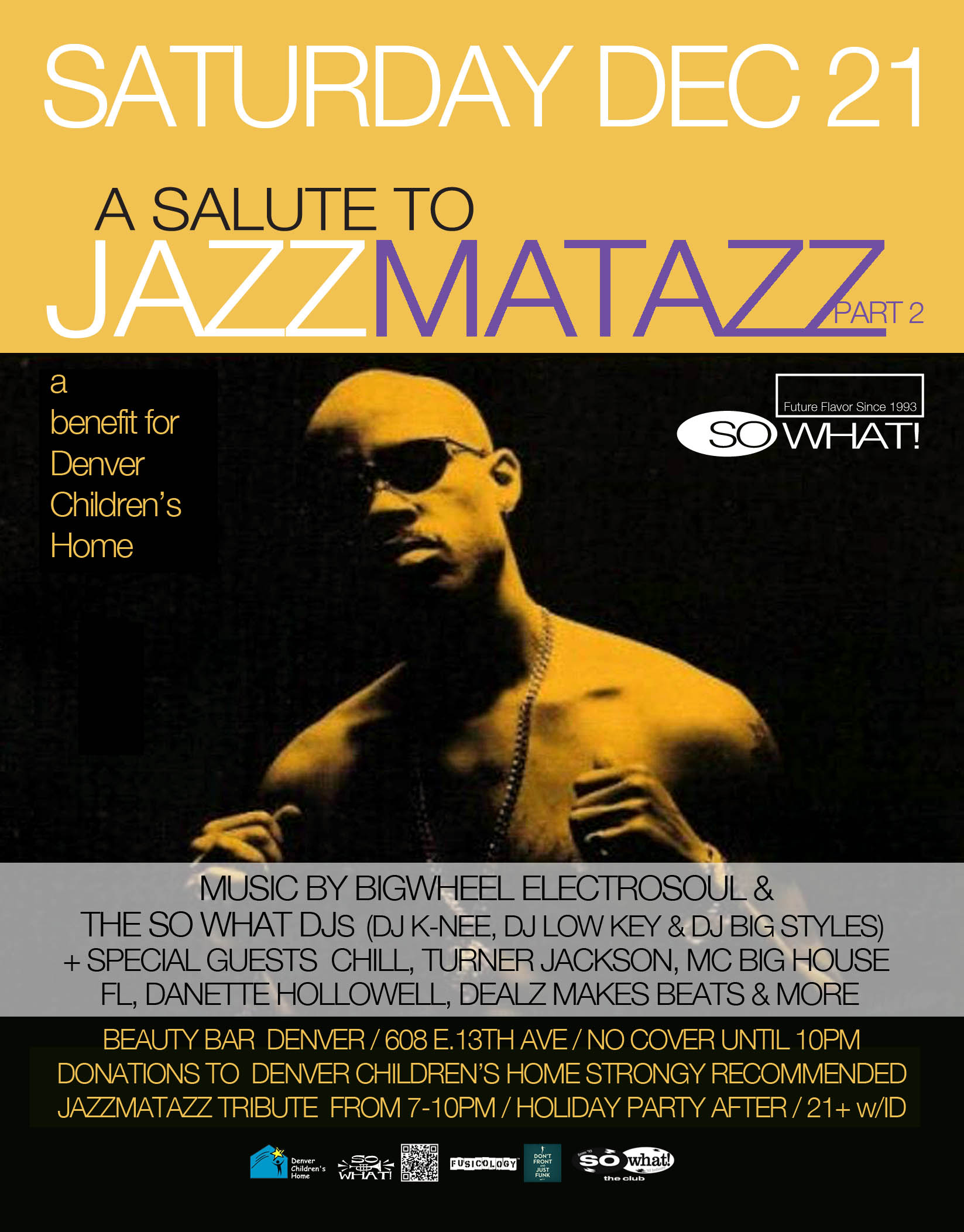 SATURDAY, 12/21 at 7pm -> A FREE benefit for Denver Children's Home. So What! the Club believes in the power of music and we need your help to make a difference in the lives of some special kids. So What! has put together an all star band of musicians to recreate the best songs from the Jazzmatazz catalog all to raise money for Denver Children's Home!
Who:
So What DJs Low Key, K-nee, Big Styles and of course our hostess Ms. Deirdre, BIG WHEEL ELECTROSOUL and some of our favorite Denver artists (full artist lineup coming soon!).
What:
A Benefit Concert for the Music Therapy program at Denver Children's Home featuring all your favorite songs from Guru's Jazzmatazz series.
Where:
Beauty Bar Denver
DOORS OPEN AT 7PM, SHOW AT 8PM
ADMISSION IS FREE! THAT'S RIGHT FREE! However, we strongly suggest donations to Denver Children's Home at the event.
Why:
As you know music can help you deal with adversity, and in the case of the kids at DCH they are dealing with some challenges beyond just normal kid stuff. That's why the music therapy program at DCH is so vital. The music program depends upon charitable contributions to operate and that's where YOU come in!
Just a few dollars from everyone in the So What! family will make a huge difference in the lives of some kids who deserve it. We need your help! Please make your tax free donation now, Let's be the difference in the music program at Denver Children's Home.
Rest in Peace to Keith "Keith EE" Elam aka The G.U.R.U.
Thank you so much!
DJ K-Nee, DJ Low Key & DJ Big Styles.
.: DONATE to So What!'s Fundraiser for Denver Children's Home :.
Then at 10pm, things continue on at Beauty Bar with our annual Soulstice Holiday Party, a longtime So What! tradition that's always a fun way to close out the year. After 10pm, a five dollar cover kicks in; so come out early, catch the performance early and put that $5 towards a donation to Denver Children's Home or good drink to get the night started.
 P.S. In case you can't make the party, live out of town or don't have extra cash this month, it's all good, please help spread the word and know that our efforts to help Denver Children's Home are going all the way through Saturday, 12/21 online (and really longer than that, but we're trying to raise at least $3,000, and hopefully a lot more, for them by our annual So What! Christmas party that night), so please feel free to donate whenever you can.