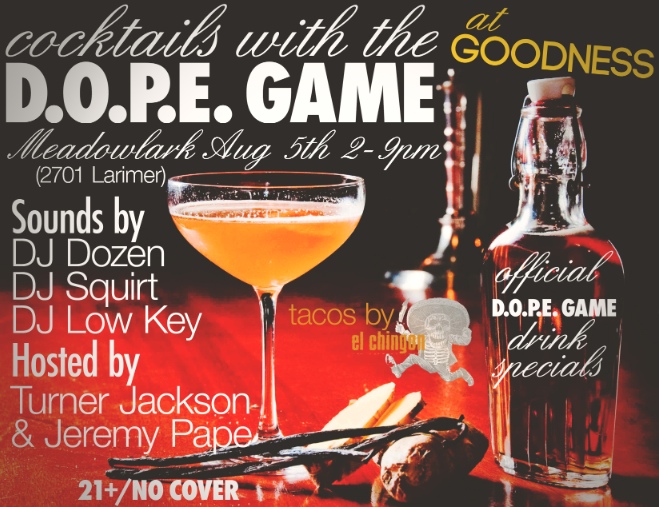 SUNDAY, 8/5 from 2-9PM -> This Summer just keeps getting better and better.  Last Sunday at Goodness was the busiest yet, our guests blessed the crowd with amazing music and the vibe was damn near flawless.  This week we're keeping the wins coming and teaming up with one of my favorite crews in Denver, The D.O.P.E. Game, for cocktails, music and more fun. D.O.P.E. stands for Don't Oppress Positive Energy and these dudes are full of positivity, as anyone who comes out to join us for cocktails will soon see.
For Cocktails With The D.O.P.E. Game, I'll be joined by the crew's DJ, DJ Dozen, as well as the one and only DJ Squirt; two of my favorite young DJs in Denver.  Your friend Teej aka Turner Jackson and Denver's favorite videographer Jeremy Pape will be your afternoon's hosts, along with the rest of the crew, who'll be hanging out on the patio all afternoon and giving PBRs to the first 50 people that come out.  As always, El Chingon will be putting other tacos to shame with their delicious assortment of carnitas, shrimp tacos & culinary magic while the agua frescas stay be flowing (this week's special is Agua De Limon so think extra tasty lemonade, then think about mixing it with the strawberry aguas and try not to drool…lol).  The misters will be in effect, the music will be top notch & the vibe bordering pure nirvana on the Meadowlark's beautiful patio (2701 Larimer St), so come join us.  Last not least, we'll also be celebrating Phill's Broncos & Bronsolini Birthday Bash, so if you see some girls going wilds to an Action Bronson son, they're with him…LOL. 21+/No Cover.
Red Bull & Svedka "Bomber Pops"
Agua Frescas Especial (con Svedka)
Ice Cold Beer Buckets: 4 Beers for $10 domestics /// $12 imports
$5 Red Bull & Svedka's
+more
P.S. After Goodness ends, the party continues on at Fifty/50, the new service industry night at Tryst (1512 Larimer St) w/me & Jessica Simmons, featuring some of the best drink specials I've ever seen and of course, dope music.  Get all the details here.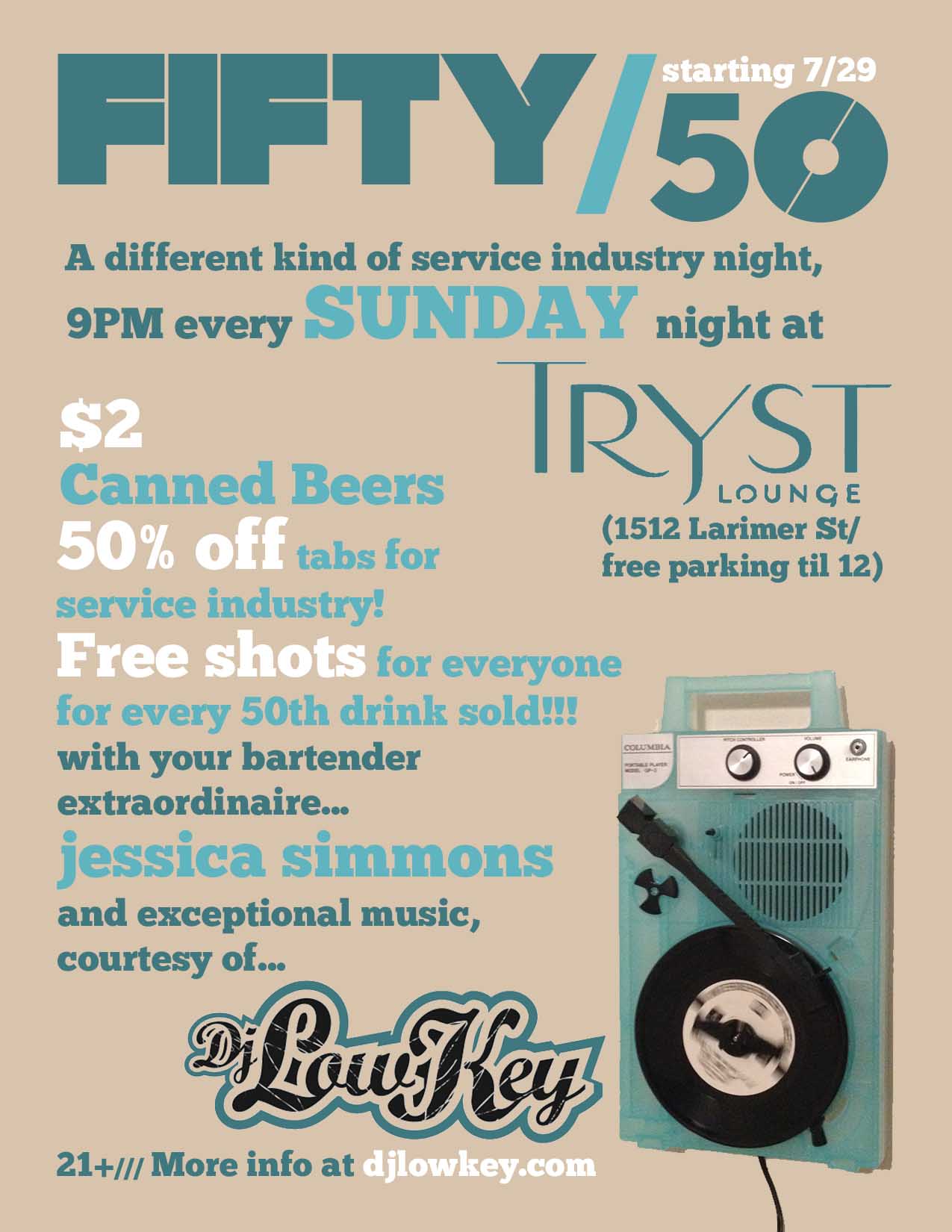 P.P.S. Take an Instagram pic of either party and tag it #DenverDiggers for a chance to win one of 12 Frank151 Denver Diggers fitteds, details here.