Tag Archive for Dre Day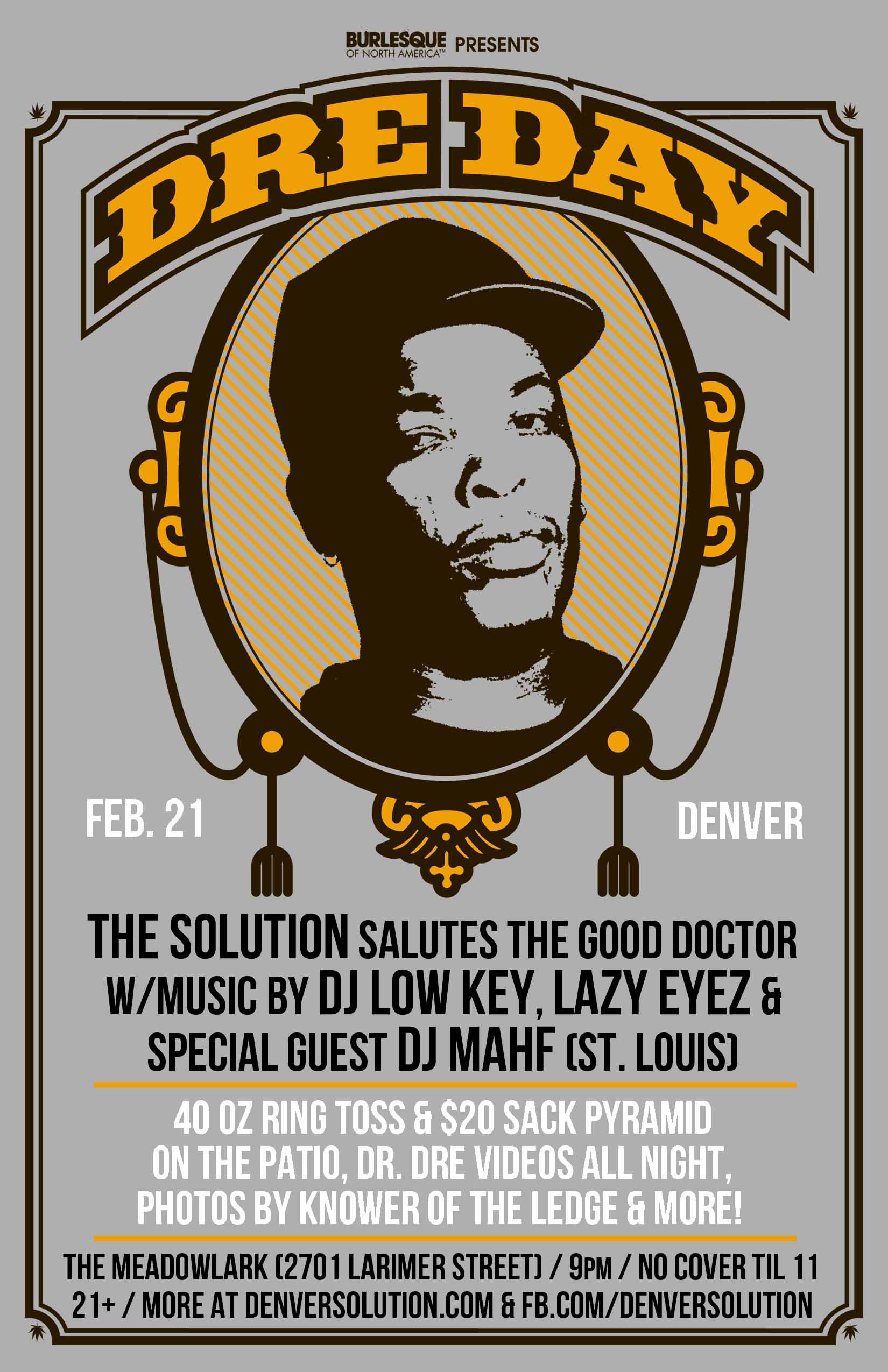 FRIDAY, 2/21 -> Don't ever act like you forgot about Dre. It's that time of year again and The Solution's excited to celebrate the good Doctor Andre Young aka Dr. Dre at The 2nd Annual Denver Dre Day. We'll be bringing in special guest and former St. Louis Red Bull Thre3 Style Champ DJ Mahf to join DJ Low Key & Lazy Eyez in spinning all the best Dr. Dre songs, production, remixes, features, samples and so on, all night long.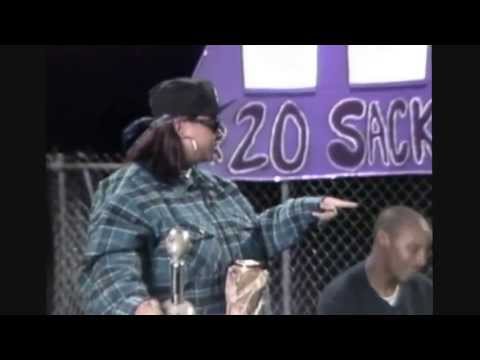 The music is guaranteed to be the chronic, but we'll also be featuring 40 oz ring toss and The $20 Sack Pyramid games on the patio, Dre videos all night long and photos by Knower Of The Ledge to add to the fun. Things get started at 9pm and with so much incredible music to cover, we highly recommend you show up early. 2701 Larimer St / 21+ / No cover until 11, only $5 after.  More info on the party on Facebook/Twitter/Tumblr/Instagram.
FRIDAY, 2/15 -> Before we even talk about Dre Day, I gotta shout out everyone who came out to our weekly relaunch/6 year anniversary party/#TheSolution6 kickoff last Friday at the Meadowlark.  I knew it was going to be a good night, but calling it a good party would be an understatement; after a wall to wall packed turnout, complete with a super cool crowd going wild to great music from the likes of Kendrick Lamar, Donald Byrd & Dilla, I think it's safe to say The Solution's new weekly home is a hit.  Special guest DJ Izer, Sounds Supreme, Lazy Eyez, and surprise guest DJ Chris Karns aka the DJ formerly known as Vajra aka 2011 DMC world champion, DJ legend and Yelawolf's touring DJ all tore things down while the crowd went on one wild musical ride (my set went over pretty well too, check out what I played here).  Whether you made it out or not, there are a ton of beautiful pictures of the party on Westword.com and via the Meadowlark's photobooth on The Solution's facebook page that you should take a look at.
So let's talk Dre Day.  Dre Day is a national phenomenon that's popped up over last few years, as parties all over the country are taking it upon themselves to honor to music and career of Andre Young aka Dr. Dre.  I'm not sure if there's been one in Denver before, but we're excited to make one happen.  Me, Lazy Eyez and special guest DJ Dozen (Welcome To The D.O.P.E. Game) will be holding down the turntables and spinning everything Dre related, from the World Class Cru days through the N.W.A-era into the Death Row dynasty and onward to the Aftermath and "Detox" eras, complete with guest spots, original samples, features, other production and everything else Dre's been affiliated with, all the way up to his Kendrick verses.  21+/Free until 11/$5 after/2701 Larimer St. – DJ Low Key
(Pictures via Ken Hamblin for Westword, full gallery here)
Category:
events
,
The Solution
/ Tags:
#TheSolution6
,
DJ Chris Karns
,
DJ Izer
,
DJ Low Key
,
DJ Vajra
,
Dr. Dre
,
Dre Day
,
Lazy Eyez
,
Sounds Supreme
,
The Meadowlark
,
The Solution