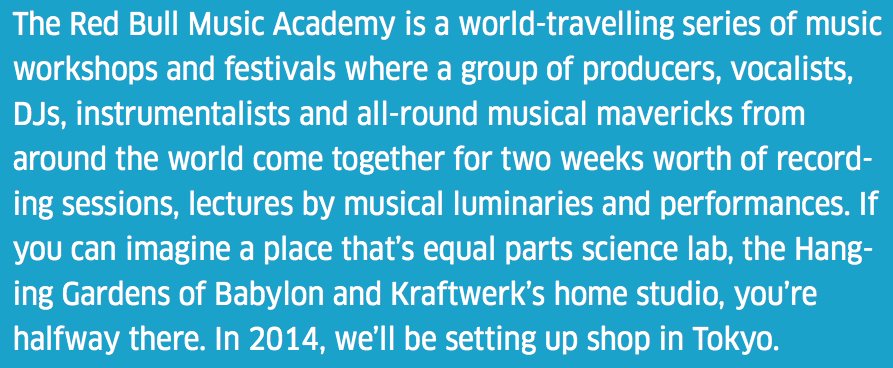 Today's the day.  January 15th, the first day you can apply for the 2014 Red Bull Music Academy in Tokyo.  I tell people it's the closest thing to a real-world musical scholarship you can get.  Lectures by legends, collabs with some of the best talent in the world, shows at nights, access to multiple dream studios worth of equipment, in a foreign country, on Red Bull's dime?  Yeah, that's what I'd call a seriously great opportunity and like all scholarships and great opportunities, there's an application process that's a little more involved than just answering 5 minutes worth of questions.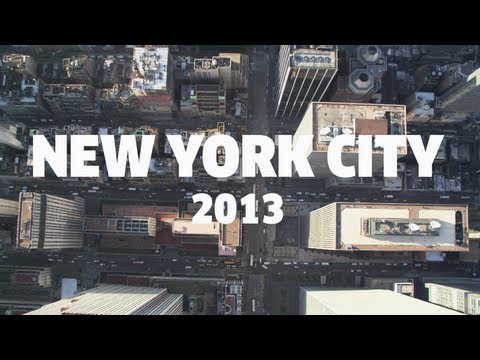 With that said, if you're serious about the music you make, play, sing, rap, etc, take a minute to head over to RedBullMusicAcademy.com to get the 2014 RBMA application and more details on everything involved.  Over the last few years, artists like Aloe Blacc, Oddisee, Ta-Ku, Flying Lotus, Hudson Mohawk, Tokimonsta have applied, been accepted and have gone as far as to say "it changed my life", amongst other rave reviews.  You can apply until March 18th, but take it from someone who's applied before, the last thing you want to do is not get started until then (trust me, you want to check it out now).  Good luck!!!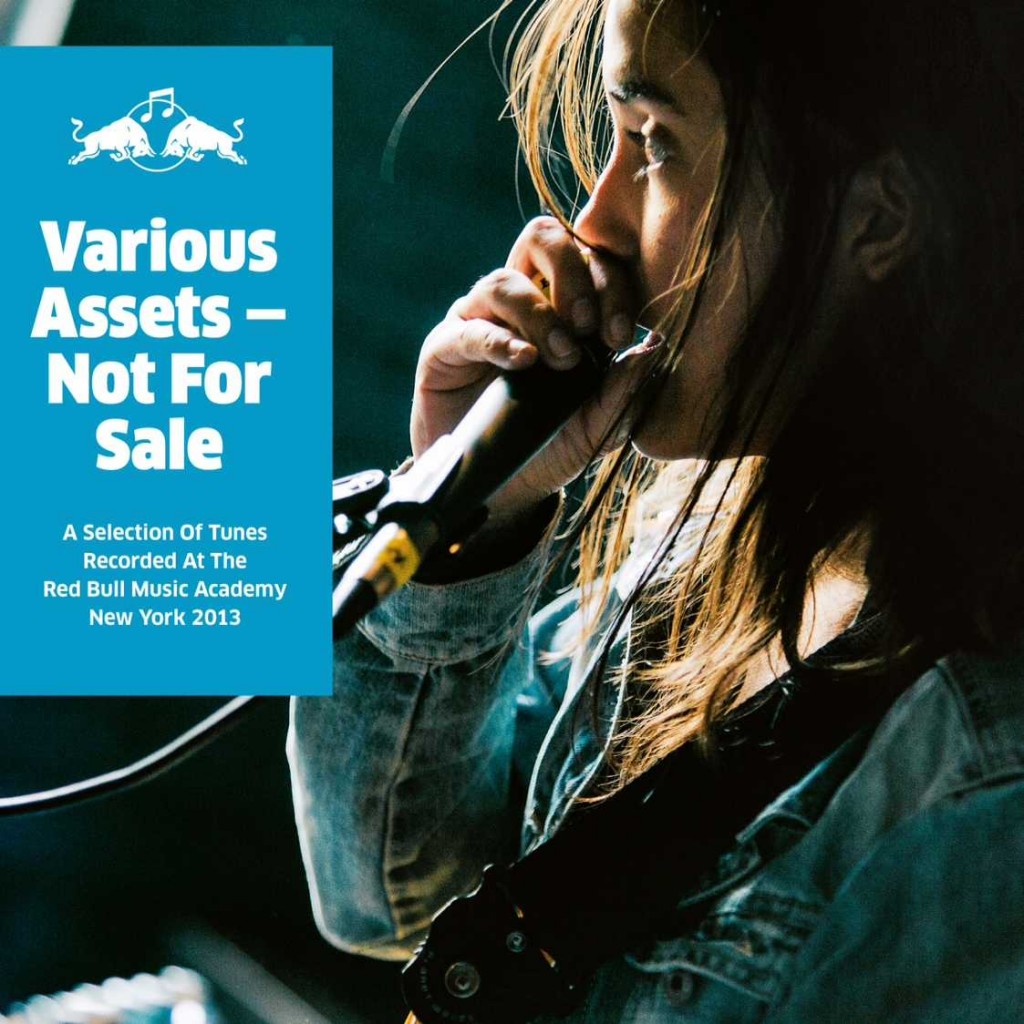 Check out Various Assets 2013, a compilation of music created at the 2013 Red Bull Music Academy in New York, featuring the likes of Dam-Funk, Thundercat, the 62 different artists from all over world who applied to the Academy and were accepted & more.  It's a double CD worth of material that will give you a taste of all the varieties of that get involved at RBMA every year.
Below you can catch links to a dozen of my favorite in-depth lectures featured at RedBullMusicAcademy.com to give you a taste of how deep the learning goes, but make sure to check out the site for hundreds more and RedBullMusicAcademyRadio.com for thousands of podcasts, live shows, interviews & more.
Also, stay tuned for What Difference Does It Make?, the 15th anniversary RBMA movie and For The Record: Conversations With People Who Have Shaped The Way We Listen To Music, the 400-page Red Bull Music Academy book; both of which are coming soon.  I'll be posting a few different ways for you to get a copy of For The Record shortly, so stay tuned for details on that.

For The Record
The Red Bull Music Academy is creating the future of music by bringing the vanguard of the industry together. In the book For the Record, the leaders shaping the current musical landscape offer their insights on today's most relevant topics and how they will affect the evolution of music production.
For the Record includes conversations between luminaries such as Nile Rodgers and Martyn Ware—the forces behind some of the biggest tunes in disco and pop from the likes of Chic, Daft Punk, David Bowie, Madonna, The Human League, and Heaven 17—who compare notes on the best way to create chart-topping hits. Erykah Badu, one of neo-soul's defining voices, shares career advice and psychedelic wisdom with up-and-coming New York rap duo The Underachievers. DJ Harvey and Ben UFO, two different generations of DJs, talk about the good old days, the present day, and the uncertain future of selecting records for a living. Jamaican visionary Lee "Scratch" Perry is paired with UK dub producer Adrian Sherwood. Those familiar with Perry's unique worldview will not be disappointed by this surprising and funny conversation.
More About This Book
In a similar fashion, For the Record also explores the topics of live performance, instruments/interfaces, conceptualism, drumming, rhythm, and many more. Together with stunning visual design by Chris Rehberger's Double Standards agency, the results make for one of the most insightful publications on the current state of music and the music industry.
About the Academy
The Red Bull Music Academy is a world-traveling series of music workshops and festivals—a platform for those who make a difference in today's musical landscape. The Academy began back in 1998, and has been traversing the globe ever since, bringing together producers, vocalists, DJs, instrumentalists, and all-around musical mavericks to shape the future of music. It has already made stops in Berlin, Cape Town, São Paulo, Barcelona, London, Toronto, New York, and beyond. If you can imagine a place that's equal parts science lab, the Hanging Gardens of Babylon, and Kraftwerk's home studio, you're halfway there.
What the Press Have Said About the Academy
"The annual Red Bull Music Academy electronic music symposium lets its students hone their talents, access studio equipment, and learn from the best in the business."  The Guardian
"For music fans, it is a cornucopia."  The New York Times
"Inspiration Overload"  The Wall Street Journal
For the Record Conversations
João Barbosa x Kalaf Ângelo x Mulatu Astatke
Bernard Purdie x Jaki Liebezeit
Martyn Ware x Nile Rodgers
Kerri Chandler x Patrick Adams
Gareth Jones x Metro Area
Carsten Nicolai x Olaf Bender x Uwe Schmidt
Benny Ill x Moritz von Oswald
Lee "Scratch" Perry x Adrian Sherwood
Matias Aguayo x Sly & Robbie
DJ Harvey x Ben UFO
Cosey Fanni Tutti x Nik Void
Modeselektor x Mykki Blanco
Erykah Badu x The Underachievers
Just Blaze x Paul Riser
Robert Henke x Tom Oberheim