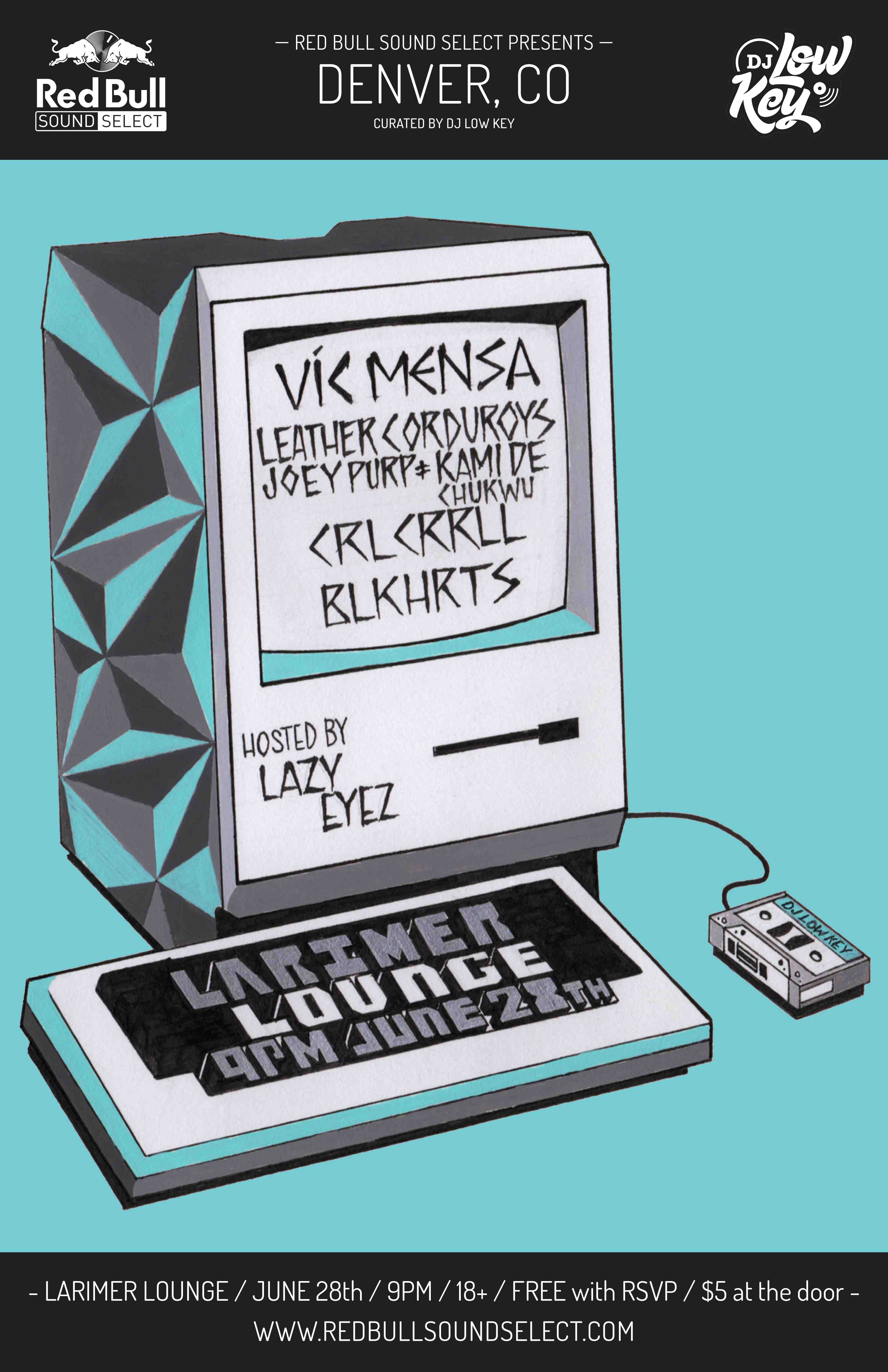 .:RSVP for FREE admission HERE:.
SATURDAY, 6/28 -> Back in April, it was an honor to bring Bun B out for his unfathomably long overdue Denver debut in my first Red Bull Sound Select Show show. Time to curate my second RBSS show and I'm super excited for some Denver debuts of a younger sort; Save Money favorites and Chicago's own Vic Mensa and Leather Corduroys (aka Joey Purp & Kami De Chukwu) at Larimer Lounge!!! They'll be joined by two of my favorite Denver acts to date, extra live rap monsters BLKHRTS and multi-talented, experimental producer/singer CRL CRRLL, as well as host extraordinaire Lazy Eyez, for what should be one of the craziest shows of the year!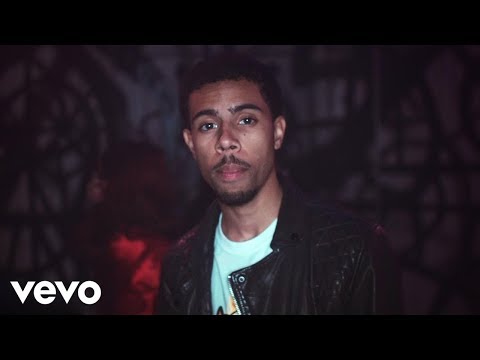 Fresh off of appearing next to fellow Save Money crew member Chance The Rapper on the recent XXL Freshmen cover and touring the globe with Disclosure, Vic Mensa's continued to make a name for himself as one of the most interesting new voice in music. At just 20 years old, Vic's diverse variety of styles and unique approach to songwriting made last year's INNANETAPE one of my favorite projects of 2013 (download it for free HERE) and his latest single, "Down On My Luck", picks up right where it left off, mixing top notch rap skills, inventive production and a catchy hook with all the makings of a Summer anthem.
Whether you're familiar with them or not, Leather Corduroys (aka Leather Cords) are the next part of the Save Money army primed to follow Chance & Vic's success. Members Joey Purp & Kami De Chukwu are both formidable solo MCs, with Fake Shore Drive's Best Of Joey Purp and Kami's Light both getting a ton of play in my system and rave reviews across the country. With that said, the two recently partnered to create the group Leather Cords and dropped Porno Music Volume II:TSFR to critical acclaim, with more heat to follow.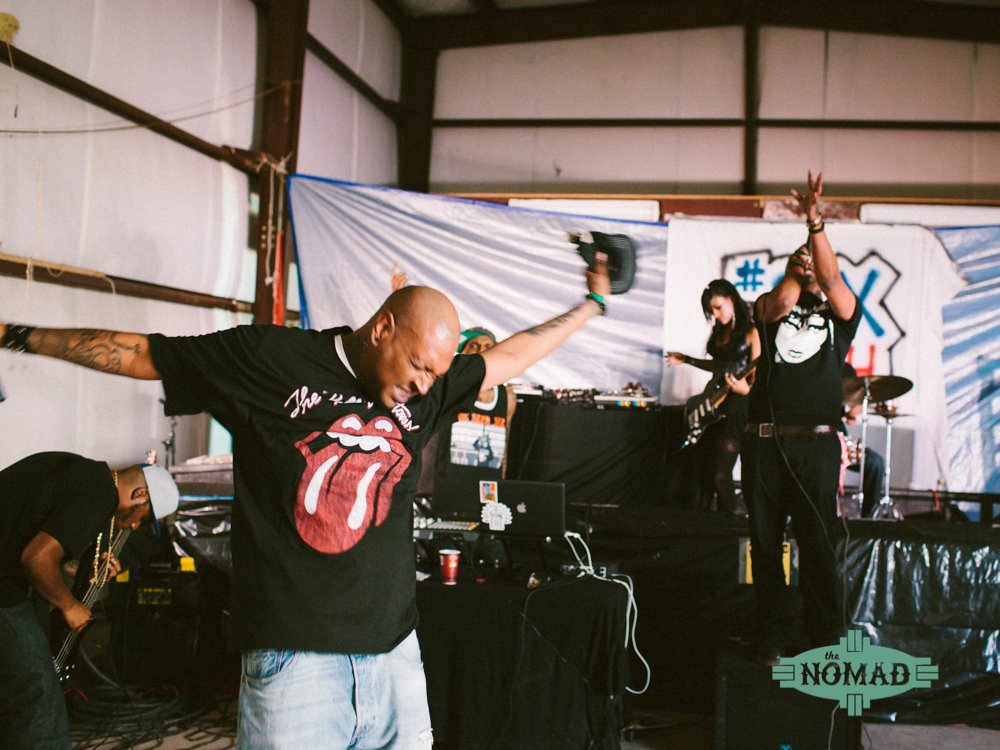 Ghetto goth, industrial hip hop, rock something or other, etc…Call it what you want, but once you hear them, you'll definitely remember BLKHRTS. While the band has been splitting time between here and LA since their recent signing with ORGMusic/Federal Prism for their official label debut, you better believe that they stay repping Denver to the fullest. Rappers Yonnas Abraham, King F.O.E. & Karma and their ridiculous band smash performances with unparallelled energy and trademark ferocity, earning their spot as certified local legends with bigger things to come.
CRL CRRLL's sound is just as unique, but tougher to pin down. Regardless, the producer/singer has been on a roll the last few years, making fantastic music that has a hard time fitting into a box, whether it's soulful dance tracks, emotive downtempo joints or sophisticated pop anthems. Regardless of what you call his music, as he makes his presence in the city and beyond more known, it's hard to deny CRL CRRLL's musical talent and ear for quality.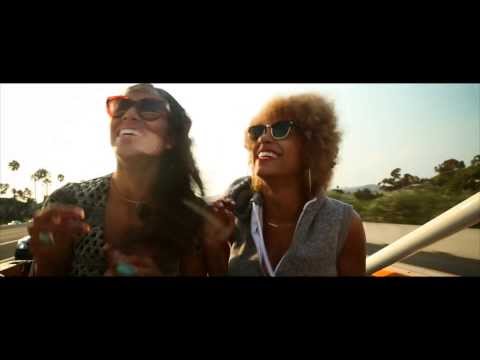 Things get started at 9pm sharp and with a crazy thick lineup, small venue and Vic Mensa exploding on the national scene, the show should should be packed out early, so I'd highly recommend getting there early. As if the stacked bill wasn't enough, you can RSVP at RedBullSoundSelect.com for FREE entry (that's right, get in FREE!!! It's first come, first serve though, so come early) and also get access to some great music, videos and more online. Otherwise, it's still quite a deal of show at $5 (just make sure you show up early, because being ready to pay a $5 cover does you no good at a sold out show). Last but definitely not least, big up Joseph Martinez (fresh off of doing the artwork for Blu's recent Good To Be Home album) for the ridiculous flyer art! 18+/9pm/2712 Larimer Street.
.:RSVP for FREE admission HERE:.
P.S. Stay tuned for more great monthly Red Bull Sound Select shows and new music in Denver, curated by myself, Holy Underground, Souls In Action & The UMS, all year long!!!