Step 1:Head over to the 400 (at 1010 Bannock) between 7-10 on Friday, June 1st for a great art exhibit from RIDICULOUS Denver based artist Path One. There'll be free food & drinks (adult drinks, feel me), plus the best variety of limited edition shoes & gear in town. Make sure you tell some friends so they don't hate later, when you're tellin them how sick Friday was.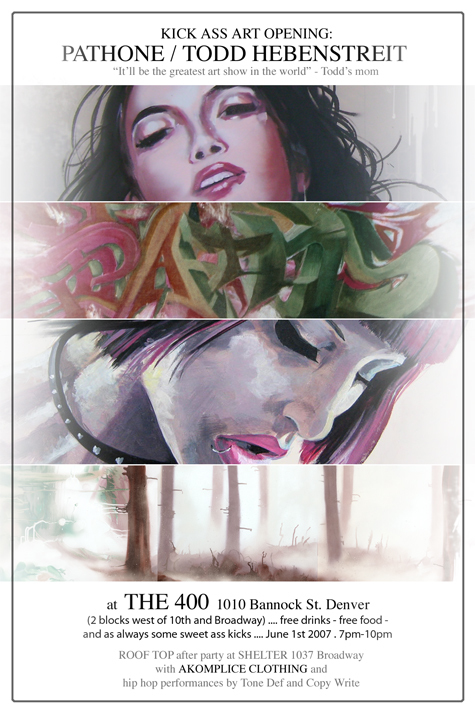 Step 2:While you're at the 400, make sure you grab a pass for the afterparty at the Solution (In case you're still sleepin, the Solution takes place w/DJ Low Key & Sounds Supreme every Friday on the Shelter's rooftop deck at 1037 Broadway). The pass is good for free cover and a free drink, which you'll want for step 3.
Step 3:Walk around the corner from the 400 to the Shelter's rooftop deck for the 400's First Fridays Afterparty + Akomplice Clothing Season 6 Release Party at the Solution featuring a fashion show, performances from Akomplice artists Tonedeff & Copywrite, the best in hip hop & more from Sounds Supreme & DJ Low Key plus some other suprises.