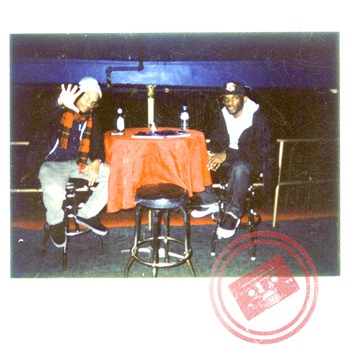 Drop what you're doing and head over to TanyaMorgan.bandcamp.com to download Tanya Morgan's new EP, You & What Army?. It's free (with an option to cop a dope, limited edition tee), ridiculously good (I'm biased, so check for yourself) and drops just in time for you to listen and be thankful that dudes like this are making music. If that wasn't enough goodness, your favorite DJ contributed cuts on "We Rollin" and an Aeon beats listening session at my house over the Summer led to "Rock The Bells".  Once you download and enjoy the songs, check out these great liner notes, courtesy of Von Pea from over at VonPea.com to make it an even better listening experience:
Disclaimer: this is long.
You & What Army. The latest attempt at proving we're supposed to be making music. Not so much to you, but to myself. I wont speak for Don, but we've absolutely had talks about proving ourselves right as opposed to proving anyone wrong. As I sit here watching this hip hop video show and wondering why there's no actual hip hop in this current video that's playing (not in a "this aint real hip hop!" way, the song is literally not a hip hop song at all. its not a rap beat, and there's no rapping), I cant help but feel like we all look like Disco Stu from The Simpsons. Its as if we're holding onto something that doesn't exist…but it does.
Most of the guys we all consider great are still doing it. Most of us relatively new guys still care about being skilled and saying something…or at least evoking good emotions through music.
All we need is you. For more than one listen.
In the past, Tanya Morgan has been about the act. Every album was like a play for us. The concepts and themes and characters were all about creativity. Making actual cassettes to go with the concept of Moonlighting, city planning-accurate maps to go with Brooklynati, or how Don Cusack was supposed to come in a DVD case and PGHI in a mini 3 ring binder. All that is fun, but It all started to feel like a cute lil high school play to me. To keep that metaphor, I feel like we have to turn this play into a good ass movie in theaters everywhere. Or at least get it on IFC. This EP is meant to serve as a reintroduction. We have always aimed to bring fun and our perspective on life, as well as what we go through as artists. I personally feel like there's a lot left to say and do that we haven't even scratched the surface on.
Intro
If you have Brooklynati you know that it starts with "On Our Way" and formally ends with "Just Arrived". Ilyas Jr. also asks "are we there yet?" throughout the album. I had another one of those "it would be dope if!….naaah" ideas and as usual Don says "lets try that!". Just in case its not clear to everyone that hears it: that is in fact Ilyas, the former 3rd member of TM, leaving the group…ON the album intro.
So I get to talking with Il about this intro and how it could be done in a way that metaphorically answers all questions. He was with the idea and further went on to explain how he was going to do an intro from his perspective on his next LP…what happens/where he goes when he gets out of the car. Whats cool about that is we did the same "skit from 2 perspectives on 2 different albums" thing on the Sunlighting mixtape and Moonlighting. He's always TM regardless. We all are. Our friends Filthy and Aeon said it was sad. Evoked emotion FTW.
Do It Tanya
For people with short attention spans that don't really want to give us a fair listen anyway, they might just turn the album off after thislikethemarkassbustasthattheyare. I call this the Tommy Boy jam because while it reminds me of "Me Myself & I" (De La, not Beyonce), its really inspired by "Doowutchalike" and "Kiss You Back" by Digital Underground. I think the latter is amazing to this day…both songs sound more like 'hanging out over music' than actual songs and that's what we were aiming for with this one. I'll explain why it comes back on at the end of the album later.
Whatever That's Mine
I'm halfway done with a joint album with Danny! called PeaSwain and this was a track that I'd sent to him, but he'd chosen another. I had the beat names confused and thought he DID pick this, but I'm glad I was wrong because the idea for this song was brewing. The one he actually did pick is dope too so win win. This track sums up the year we've had without the "woe is me!"ness. It's more about realizing you made it through whatever and you're making it through whatever. We all are out to get what we feel we earned…if you got enough of the answers right, you expect to pass that exam. If you punched in, you want them hours on your check!
Gotta Get Over It
Haha…If you're a Roots fan and know the "Break You Off" story, this is our version of that story. There were a few different people either singing the hook or scheduled to, but in the end we went back to our people's from "Plan B", Napoleon. We were doing a Lessondary album and had 2 roughs: "We Get Drunk" (which ended up on Spec's album) and this. Aeon sent the music to everyone and the 3 MC's you hear on it today are who jumped at it, but none of us ever really recorded to it and once "We Get Drunk" was gone the idea of the album just Faded away (see what I did there? ha!). I wanted to salvage the joint, but then the beat was lost in a Hard Drive crash so Aeon and I (mostly Aeon) remade it from scratch and it was back. I'll admit, back when it was me mumbling my original verse and Aeon singing the hook in the background, I thought this joint would come out sounding like if Illmatic was produced by Jesus. While its not as amazing as it sounded in my head back then, it did come out a Jam.
Rock The Bells
Stolen from Aeon's Betamax LP, Its another one of those Aeon beats that everybody liked but never stopped to make a song with until now. Let me tell you something about Don and Che *prepares to throw them under the bus* they both will take alllllllll your beats and use them 60 years later. haha…so I believe this may have been a case of "ah forget it I bet (insert the other person here) has this beat already". Thanks to DJ Low Key we were convinced to make a vocal song out of it (as it was already released instrumental like I said). Lyrically its just some fly declaration/call and response shit to perform.
In The City/Borrow That
Astronote – The Raw Tape <—-have at it
In continuing our stealing beats (with permission from the producers) we went with the Honey/In the City 1-2 punch from our new frequent collaborator Astronote off of his Raw Tape project. Don and I sat down one day and listened to beat after beat after beat after…trying to find the right inspiration for us. A lot of it just wasn't right so we gave up. Don then set his itunes to random and the beat that became "Borrow That" came on. I yelled out "WHY CANT WE GET SHITS LIKE THIS?!?!?!?" he laughed and told me what it was. It was worth asking if we could use it and Astronote said of course. In The City sounded even better so we got greedy.
In The City speaks for itself. Like I said earlier, there's a lot we haven't scratched the surface on. We've been so busy in imaginary cities you haven't heard much about our real birthplaces…well, from us. Don gives his perspective on returning to his hometown on visits, and though I've never moved away I totally understand your hometown becoming unfamiliar. I touch on that and also do some reminiscing of my own. All facts. Some of that bleeds into Borrow That as well, but its more of a general song with a chorus poking fun at the line that started the LL/Canibus beef. You'll have to look that up on your own. Rap nerd trivia. Jermiside will be on every TM project one way or another forEVAR. The brother is fantastic.
We Rollin
Go back to what I said about beat hoarding earlier. When I looked at my phone and saw a new Brizzo beat tape in my email, I literally rushed to the computer and started claiming shit (hahaha) I was like "YO BEAT 11, 22, 5, 8, 13…." just so I could stand a chance. Brizzo writes back about a half hour later "Che just picked the same ones but you were first! haha!" This one took some convincing for Don, even after he'd already did his parts. I thought it was going to end up being given to Che, but it worked out…it was more of a compromise thing. Don may not have done a track like this on his own but he realized why it was a good one. Its all about…spacing our shit out. We don't want everything to sound "TM typical" and to us this isn't, but at the same time is still us.
Together
We recorded this for the Exile Mixtape but I think we were late. We then did the song over with Ex rapping too and made it for this EP. We actually had an Exile track for Brooklynati but we (myself, Don, and Il) never got our song idea together (no pun intended) so we never ended up using it. Don wanted to do a song with Ex rapping for YEARS now and we finally got around to both. I think Ex is a wizard with the beats and creative as hell. His techniques are nuts. I'd absolutely want him to produce a TM album. Thats right yall, make it happen! haha!
Now, the reprise. That's my personal subliminal message to myself. it fades in with those dark sad ass chords…and then some light peeks in…"do it…we gonna do it, baby…we gonna do it, baby…" brighter days ahead. Just get out of bed, pull the curtain back…you can do it…
and I'm out to get…whatever that's mine.)