Pic by Lightworks, check out their full Rappers I Know SXSW photo booth at RappersIKnow.com
After a nonstop week of Colorado shows with Tanya Morgan, TiRon, Whygee & King F.O.E. on the Ahead of the Class Tour and throwing the Foreign Exchange's Denver debut concert with RBMA midway through, it was off to Austin for my third SXSW trip.  As usual, things in Austin were RIDICULOUS; a ton of homies from all over the country scattered across the city that I wanted to link with, more shows you wanna see than you can physically attend and the craziness of Austin in general all fighting for your attention from the time you touch down.  With that said, me, Donwill, Von Pea & Dominic Del Bene were all so exhausted from the week before that we took our first night there easy, on some calm before the storm ish.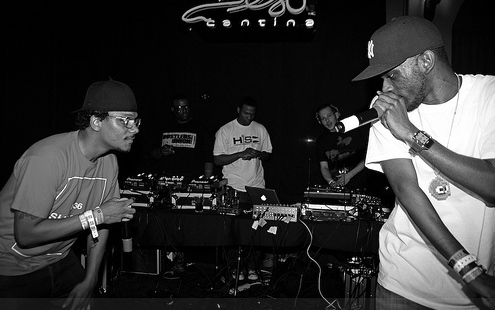 Rappers I Know showcase, check out more pics from the show courtesy of Mel D. Cole here.
Thursday, 3/17: After getting a good night's sleep, we hopped in Lil' Car (aka our undersized rental and parking blessing in disguise) and hit up the chaos that is 6th St/downtown Austin during SXSW.  I saw something on TV Wednesday night saying that the official attendance for the festival was up 30% and you could definitely tell by the parking mess and floods of people in downtown Austin.  We checked out the Fader Fort for a little bit and made our way to the Rappers I Know showcase for our show.  The crowd was mad cool at the showcase and thing were off to a good start until the entire sound board stopped working and the room went quiet during Donwill's super long (48 bar?) verse on "Headphone Rock" .  When the music stopped, Don just kept rapping his entire verse without a pause and the crowd went fuckin' nuts.  It was a great MC moment to witness and by the time he had ended the verse, the soundboard was back running again so we didn't miss a beat.  We ducked out after we rocked to catch a quick and very fun Wallpaper show around the corner. After geeking out at the Wallpaper show, we came back to the Rappers I Know showcase and caught a surprise appearance from the Alchemist (for an Alchemist/Just Blaze soundclash at that), a Just Blaze/Saigon set and a very entertaining H.I.S.D. set to close out the night.
Friday, 3/18: Friday was probably my most hectic day of SXSW.  During the day I DJed for Tanya Morgan at the 2 Dope Boyz aka #Fuck2DopeBoyz showcase.  In one of the weirdest moments of my DJ career, the bouncer at the Dizzy Rooster initially wouldn't let me into the venue with my DJ bag until after 10 or so tense minutes in which me, Meka from 2DopeBoyz.com and a variety of people tried to reason with the asshole bouncer.  Eventually the owner let me in and bought me a beer to apologize.  Our set was between Big K.R.I.T. and the Black Hippy Crew (Schoolboy, Kendrick Lamar, Jay Rock & Ab Soul) and we got mad love from the nearly packed house before wrapping up as a fight broke out between a west coast rapper who will remain nameless and the aforementioned asshole bouncer.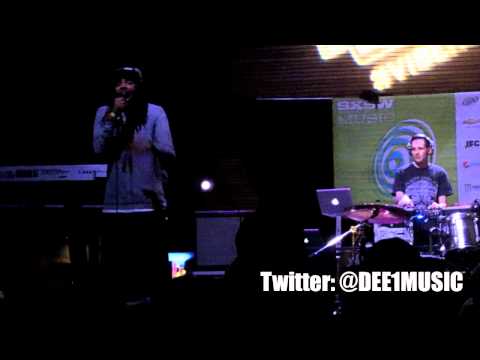 Later that evening I linked up with the homie DJ Trackstar and we traded off as house DJs for the night at the RIDICULOUS Vibe.com/Cashmere Agency SXSW Showcase aka the Vibe House w/DJ Quik, EPMD, Slaughterhouse, Collie Buddz Blu, Shad, Dee-1 & more (shouts to DJ Hyphen & Jasmin).  We walked in the door and caught the end of Blu's soundcheck before I was introduced to Dee-1, who I ended up DJing for later that evening.  I wasn't familiar with Dee-1's music before the show, but man, I was very impressed once I heard it.  He's got that trademark New Orleans sounding flow a la Weezy mixed with a touch of incensey Common's lyrical content but he rocks it in a style all his own.  Download his latest project, I Hope They Hear Me Vol. 2 to get more familiar with one of the better surprises of my SXSW trip.  I rocked a couple of intermissions between acts before handing the house DJ duties over the homie Trackstar the DJ so I could rush over to the Move Forward Music Showcase.  Check Trackstar's recap over at djtrackstar.com for his take on the night, including when he played "What We Do" and Freeway tapped him on the shoulder to perform it live (I am a little jealous of that).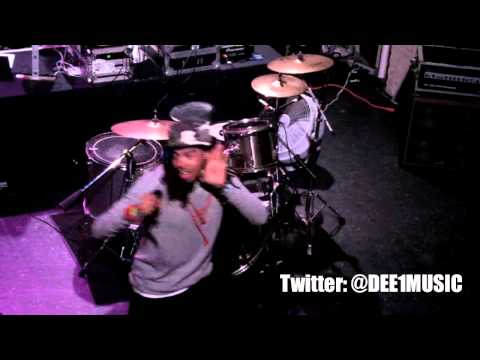 I couldn't be mad though, I got to the Move Forward Music Showcase and the spot was packed sardine thick.  Homeboy Sandman was putting on a rap clinic (if you've ever seen him live, you know what I'm talking about) while girls were practically headbanging to his set, it was quite a sight to behold.  Me, Tanya Morgan & Che Grand rocked a set to a dope response, punctuated by an extra intense Von Pea acapella to close out the set (I hope someone got video of that ish).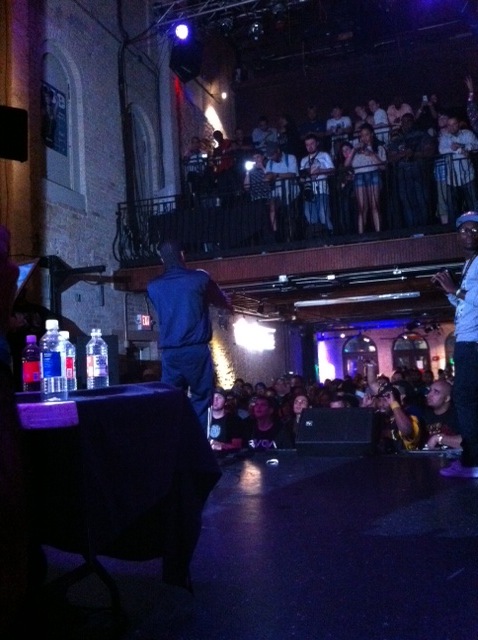 After the packed Move Forward Music showcase, I had to rush back to the Vibe House to DJ some more.  In maybe my biggest geek out moment of the trip, I got to meet Sway of Wake Up Show/MTV (but way more importantly, Wake Up Show) fame backstage before spinning a west coast set until DJ Quik took the stage.  After Quik's set, EPMD hopped on stage for their SXSW debut and tore the house down to close out the night.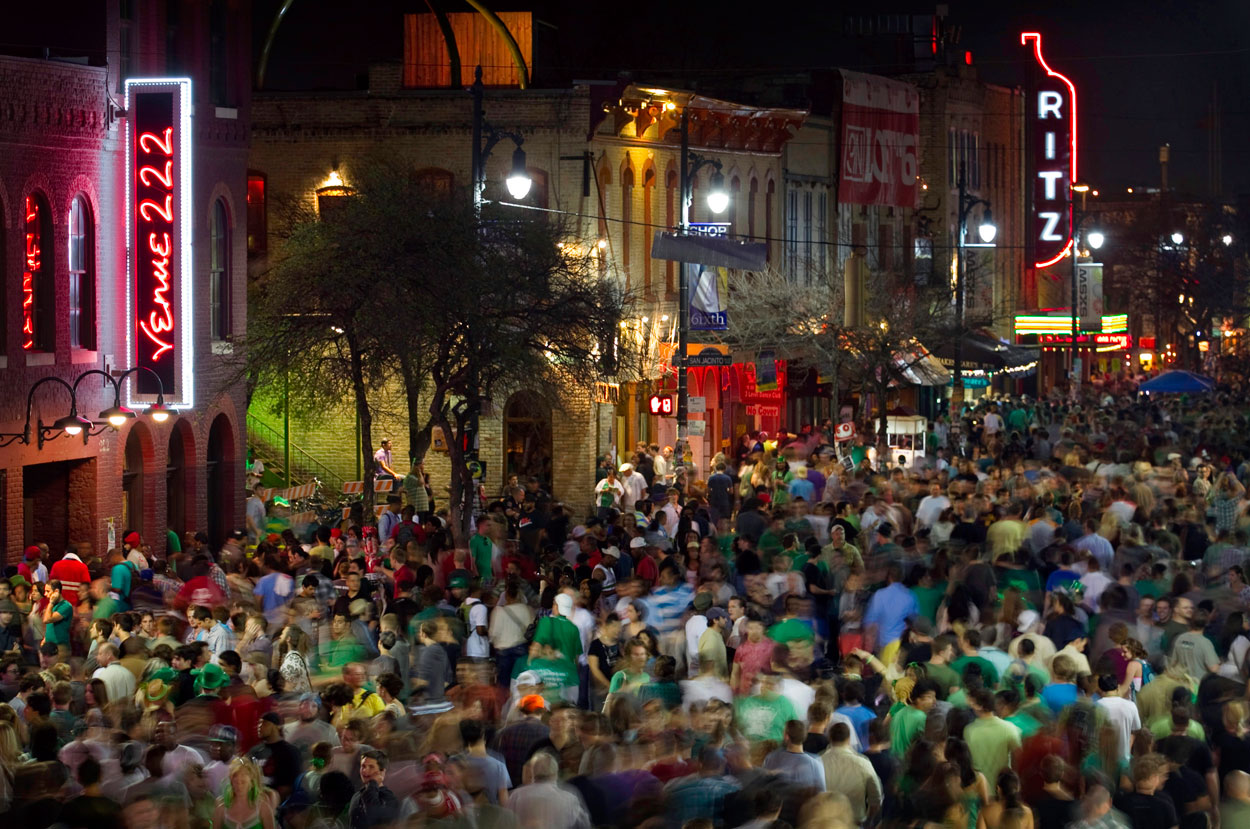 Pic by Jay Janner, imagine 6+ blocks this packed and dozens more nearly as packed, now times that by 4 days and that's just the music portion of SXSW
Saturday, 3/19: The Saturday of SXSW is probably the craziest Saturday of the year for shows.  Everybody's trying to go extra hard for the grand finale of the biggest music festival in the country and it's overwhelming.  The main focus of the day was the DJing for Tanya Morgan at the Billboard Magazine showcase (check TM mentioned on the cover below and catch us rocking "And You Say" with Che Grand in the video below that) and for TiRon & Ayomari at the Vibe.com Respect The West Showcase.
During the day on Saturday, I got to meet Uzoy (check her mixtape and collabs with the guys from TM, Che Grand on our Fixtape Two and Denver Big Tune champ Boonie Mayfield), caught up with Skillz (it still bugs me out that he recognizes me and says what's up, I grew up on dude's music) and DJed for Tanya Morgan at the Rocksmith Showcase. After the show there, it was off to soundcheck (the only one I got in the 7 events I DJed at in Austin) for one of the biggest Tanya Morgan shows to date, the Billboard SXSW stage.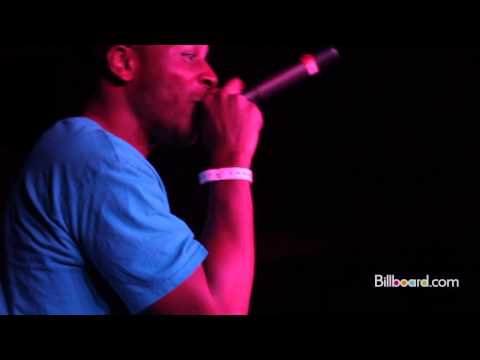 More video from the Billboard Show: Alleye Need & Bang n' Boogie /// The Yorker /// Laura's Song /// We Be /// Love Junkie (Remix)
As you can probably tell from the video links above, the Billboard show was pretty damn good, definitely one of the best TM shows to do date.  From there, I rushed over to the Vibe.com/Cashmere Agency Respect The West Showcase to perform with TiRon and Ayomari.  That show was great as well.  It was the largest crowd I've ever rocked with them (a 2 level wall to wall packed Vibe House) and, in my humble opinion, the best show I've ever rocked with them energy-wise.  It was a great slot on a perfect bill and TiRon and Ayomari came out with their A-game.  The homie Brandon Cruz took some fancy looking, high quality video that I'm sure will pop up soon, stay tuned for it.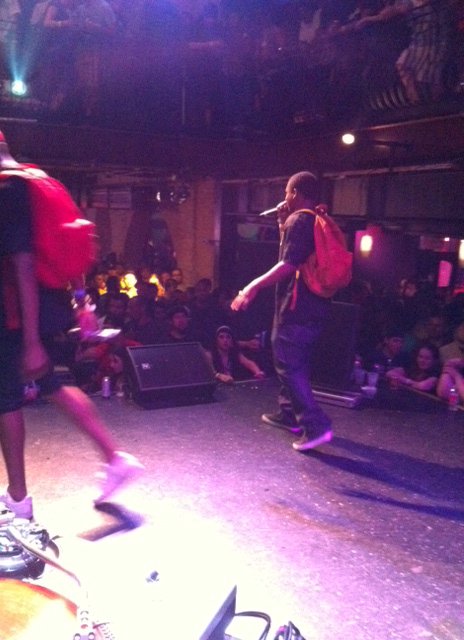 That wrapped up my work schedule for Austin and I spent the rest of the night running around a little too much.  Me, Von, Don & Che caught a brief Pac Div set and rushed off to catch part of the insanity that is Red Bull Thre3 Style Austin.  We caught the end of De La Soul's set, most of Z-Trip's set and then rushed back over to the Vibe House to try to catch Snoop, Warren G and DPG's Nate Dogg tribute.  Snoop's people must have shut shit down because we couldn't get back in, even with my artist band from performing an hour earlier.  Devastated, we rushed back over to the Red Bull VIP area where I caught the homies D-JR, Mick Boogie & Kyle Berg spinning to close out the night.  I spent the rest of the night catching up with them, M-Squared, Marlon, DJ Scuba Gooding Jr and the only and only Keith Clingman before I grabbed some incredible tacos on 6th Street and it was time for me, Che and the guys from TM to call it a night.
Sunday, 3/20: The Park's BBQ has become one of my favorite events of the year.  If you're not up on them, the Park are an amazing band out of the Bay area who, along with the wonderful Ragen Fykes and producer Keelay (of '& Zaire' fame) make up the group Grillade, who you definitely need to check out.  Anyways, the Park hosts and INCREDIBLE BBQ after SXSW wraps up featuring a bunch of their friends hanging out, eating, drinking and playing music on some too good to be true backyard jam session ish.  I was lucky enough to go last year and this year was even crazier.
Some of the highlights included the aforementioned Wallpaper rocking his "Love Junkie" remix with Donwill as well as covers of Montell Jordan "This Is How We Do It" and The Whispers "Rocksteady" like only Ricky Reed could that had the crowd cheesing, Von Pea, Donwill, Che Grand, Moe Green & STS (Sugar Tongue Slim) rocking the mic early, Ragen Fykes' warm vocals, DJ Toure from Hieroglyphics hopping on the drums (I had no clue he even played) and The Park and A B and the Sea rocking music that had the whole party grinning ear to ear.  Wallpaper said it best on twitter "Havin the most musical BBQ throwdown today. SHAMING corporate shit."
After that I spent a couple of extra days, post-SXSW madness in "regular" Austin too.  "Regular" Austin is a beautiful bubble of live music, quirky college town charm and all the possible good applications of the Texas state of mind (in a way that's completely unique to all of Texas).  I was already feeling burned out from SXSW but it was well worth the extra days to catch up with my college friend Chisum, soak in the true Austin lifestyle & enjoy the magic of the County Line BBQ's 5 meat BBQ combination, Taco Deli's unbelievable variety, Mexican vanilla ice cream and the high fructose corn syrup free deliciousness of Mexican Coke and Dublin Dr. Pepper.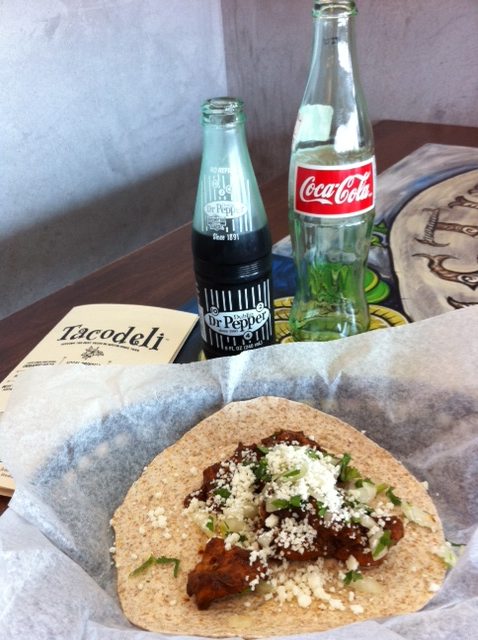 I also got a chance to check out Austin legend DJ Mel's long running "hip hop night at Nasty's" on Monday night (8+ years, clap for him!!!).  Pretty much everyone in Austin knows about Mel and his night, which had an awesome vibe (very similar to a great night at the Solution), featured a guest spot for my former RBMA Mr. X colleague Prince Klassen and was packed, despite being on a Monday, having a $4 cover and being at what might the roughest looking venue of the 30 or so plus that I've been to in my five Austin trips.  It's always inspiring to see parties based around quality music and Mel's is an institution, it had me excited to come home and work on four more unforgettable years of the Solution.  After one more day to wind down my Austin trip, it was back to Denver to play catch up from the busy weeks before Austin (which is part of why it's taken me a month to knock out this post…LOL).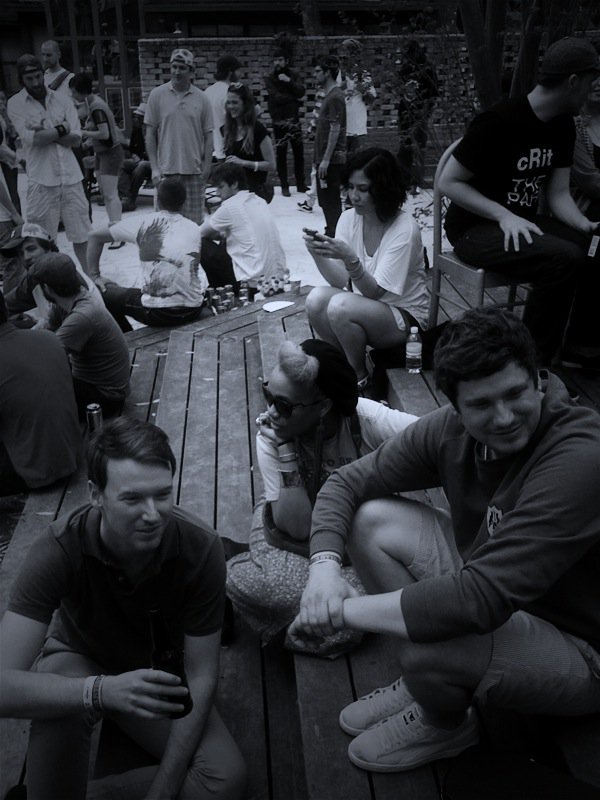 Shouts to the homies I rocked with, caught up with down there or met: Donwill, Von Pea, Che Grand, Dominic Del Bene, TiRon, Ayomari, Mario, Jasmin from Cashmere Agency, Trackstar the DJ, DJ Hyphen, Dee-1, Ragen Fykes, The Park/Grillade, Ricky Reed/Wallpaper, Chisum, Alex from Move Forward Music, Frank from Rappers I Know, Meka & Shake from 2Dopeboyz, JC & MZ from the Smoking Section, Billboard, Y-O, Jake One, Skillz, Brandon Cruz, Homeboy Sandman, Brandun Deshay, Add-2, YC, Nicknack, DJ Mel, Prince Klassen, Uzoy, The Are, Scuba Gooding Jr, Mick Boogie, D-Jr, Kyle Berg, M-Squared, Marlon, Truth Live, Moe Green, the Audible Treats crew, STS, DJ Toure from Hiero, DJ Flash Gordon Parks from H.I.S.D., Jarrell from Clear Soul Forces, the guy who owns the house for the Park's annual BBQ, whoever it was who let us into the Fader Fort so we didn't have to wait in that crazy line and anybody I forgot, sorry there's way too many names to remember a month later.
P.S. It was definitely different this year at SXSW than the last two.  This post is already long enough with my recap, but I'm gonna post up an article that sums up the differences pretty well shortly.